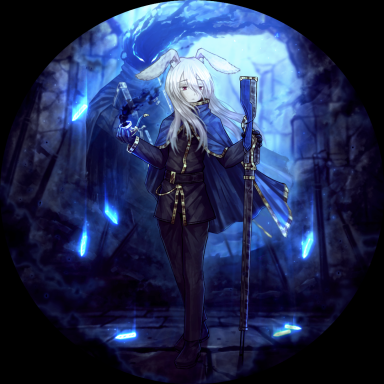 Invitation Status

Look for groups
Posting Speed

Speed of Light
Multiple posts per day
Online Availability

whenever
Writing Levels

Give-No-Fucks
Intermediate
Advanced
Preferred Character Gender

Male
Female
Futanari
Genres

Any works.
Pulling a chair out, Gohh would take a seat and lean back into her chair. The light ambience of the cafe wasnt bad! Her left hand would come to rest on her bunny plushes head where she would fuss it, her eyes looking over parts of the cafe. Her eyes would catch the small female trotting ovver to the large coated man with the news paper, she looked quite energetic! She certainly had a smile for the energy she had, but she looked liike she was enjoying herself. But she also looked fairly busy. Her head leaning back a bit as she continued to fuss her bunny plush, her legs gently swinging, her toes brushing the ground. She wasnt a tall girl, but today she had spotted someone smaller than herself.
As she would wait for her order to be taken, her spare hand would reach for the salt shaker on her table. Gohh was a fiddler, and the salt shaker just happened to be the closest object she would find some entertainment in. "
Do you wan't a sandwich, or a tart, bunny?
" Gohh would mumble quietly to her bunny plush as she idly played with the salt shaker. After a moment of silent fiddling, would shake her head. "
No... I have a checkup soon. No big sweet's this time i think.
" A soft sigh leaving her as she mumbled to herself. She had to go to the dentists soon. Last thing she needed was to get in trouble again. But once that appointment ends? All the sweets would be hers! A soft smile appearing on her face as she thought of all the sweet's she would get once she had her checkup.

After a minute of playing with the shaker would chuckle softly before leaning back into her chair. Turning the shaker over and getting a bit of salt onto her finger. Placing the shaker down and then enjoying the bit of salt on her finger. When it come's to food, gohh isnt fussy. She would eat rock's if it would taste good. Although rock's take a while to digest. Salt reminded her of the rocksalt spit's from the forest before she left. Salt was always nice. Super convenient it comes in a powder now instead of neediong the rock!

Giving it a little thought, she would tilt her head a fraction to the left. "
That's right, we need new needles too. More sock's!
" She would chuckle to her bunny plush, making a note to go by the Craft's shop on her way home.

Her mind now turning back to the cafe, she would think what kind of sandwiches they had in. Salt was nice, but a nice big sandwich would do better!