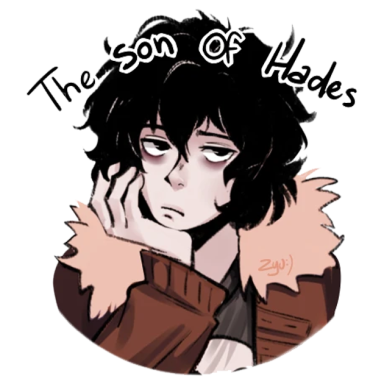 The One True Pibbles
Original poster
((Made this banner, then forgot that Iwaku got rid of banners, so I'm showing it off anyways because this is a few hours of work!))
----------------
Oooooo~ SPOOKY STORY THREAD!
​
But all silliness aside, here's the bottom line; over the last few months, I started watching Riverdale and really liked it (I have a thing for creative attempts to revamp existing properties and was actually surprised that the show could make me care about Archie and his friends again and made them relevant to a new audience (though
Archie's Weird Mysteries
will forever hold a place in my heart).
But it got me thinking. Since they plan to make a spin-off show for Sabrina the Teenage Witch in a similar style (which I imagine would play up a more serious horror-angle compared to previous incarnations), I started thinking of what other kinds of IPs could use a slightly-edgy reinvention for a modern age.
Then, I figured it out. I pulled the proverbial mask off of the villain and announced how it was secretly planning to terrorize the people of the town to track down the moon-gold buried beneath the swamp!
... or, you know; I just started writing this thread like a normal person.
So; what franchise did I figure out could use a fresh coat of paint, filled with drama, darkness, and general teenage angst just in time for Halloween?
————
In the heart of America lays the quaint little town of Coolsville. Established in the 1600's, the town is listed among the oldest active communities in the country and has become a popular tourist destination in recent years due in part to it's historic, if not sinister, past.
Any who have heard of Coolsville, no doubt, have also heard of it's long, troubled history. It seemed like whenever there was a disaster looming over the horizon, Coolsville was there to take on the full brunt of it's force. Cave ins at the Breakneck Ridge Mining Town, hurricanes hitting Rocky Point Beach, wild animal attacks and disappearances in Weirdo's Woods (a misnomer since it's actually a Swamp, but nobody has bothered to change the name); all on top of the rumours that the town was founded by an occultist group who sought to resurrect an ancient demon lord to reign bloody vengeance upon the world.
Of course, the latter half was all just a bunch of silly rumours and on the one hand, they paint the history of misfortune in Coolsville as something caused by evil forces and somewhat disrespect those who died as a result of these catastrophes... But on the other; "Ghoulsville" and the supernatural allure of a town long plagued by unexplained events is great for tourism!
Now, summer has come to an end, signalled by the leaves undergoing their yearly colour-alterations and accompanied by a rapidly developing chill in the air. But something is amiss; a general feeling of unease hangs over the citizens like a seasonal flu virus as they approach their annual Founders Day celebration, ironically, on Halloween.
Although nobody can quite explain this strange phenomenon of apparent dread, there is one thing that everyone can agree on: Something is not right in Coolsville. Though exactly
what
is wrong... Is still very much a
mystery
...
"Welcome to Coolsville; we're just dying to meet you!"​
​
​


————​
So I'm still working out a few details concerning how exactly the 'plot' will develop (have the basic outline, just more or less need to see who we have here in terms of characters), but the general idea is as follows; we will play students (aged 16-18) attending Coolsville High. Although our characters may or may not be friends before the RP begins, they will be brought together by a mysterious tragedy. Knowing there is more to the incident than things appear, they begin an investigation of their own and slowly wind up uncovering all of the dark secrets the town of Coolsville has to offer.
In terms of characters, obviously the 'Gang' are up for grabs for everyone (Fred, Velma, Daphne, Shaggy), but since the main cast of Scooby-Doo isn't as expansive as something like Riverdale, I will be allowing some liberty when creating more original characters, though you can also take up these canonical roles if you do wish;
• The Hex Girls
• Relatives of the Gang (ie. Brother/Sister/Cousins)
• One-off Characters (ie. characters who only appeared in one series/film like Flim Flam (
13 Ghosts
), "Hot Dog Water" (
Mystery Incorporated
) or Mary Jane/Patrick (the two theatrical live-action films).
• De-aged side-characters from any of the series (ex. a young Vincent Van Ghoul)
Whatever character you decide to take on, feel free to reinvent them as you see fit! We're aiming for that Riverdale aesthetic, so don't be afraid to make the characters a little 'iffy'. Is Daphne a stuck-up princess who thinks anyone who's parents don't pull in 250k+ a year is sub-human filth? Are the Hex Girls actually real-life witches who practice their spellcraft in the hopes of achieving fame and fortune, but also to torment anyone who tries to stop them? Did Fred run over Scrappy-Doo one day and bury the body in the backyard like he was nothing? Whatever you want; go for it! Everyone will be allowed to claim up to two characters, so if you want to mix and match, then by all means feel free to do so!
But also to address the big dog in the room;
Scooby
himself will be an NPC to start with, but will be offered up as an additional character should anyone want to play him.
Also to note; talking animals aren't a thing in this universe, so when he does start yapping; I'd imagine it would be pretty shocking.
In closing; we'll be needed at least four (4) additional players to get this up and running. If you're interested, please post below and let me know what character/type of character you'd like to play so I know how the group is gonna balance itself out.
As for myself; I'm gonna be taking on the role of a more mature, but still generally dopey,
Norville "Shaggy" Rodgers"
.
Last edited: