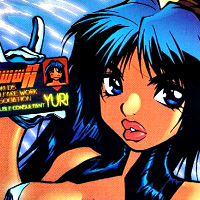 死神
Original poster
LURKER MEMBER
Posting Speed

Speed of Light
Multiple posts per day
1-3 posts per day
One post per day
1-3 posts per week
One post per week
Writing Levels

Beginner
Elementary
Intermediate
Adept
Advanced
Adaptable
Preferred Character Gender

Male
Female
Futanari
Primarily Prefer Male
Primarily Prefer Female
No Preferences
Genres

Fantasy, Scifi, Modern, Magical, Mecha, Furry, Anthro, Horror, Historical, everything really.
Deep within the Evil Eye Galaxy, the universe's most vile criminals are held in the Spiral Serpent, an asylum and prison spaceship. Only the most renowned soldiers in the Universe are in charge of overseeing the ship and inmates. The system was perfect, until an unexpected meteor smashed into the Spiral Serpent, obliterating more than half of the giant prison and pushing it to the far corners of the galaxy. In order for survival, the soldiers and inmates must work together or suffer a slow fatality. Question is, can they work together without killing each other?
​
There are no limits to what your character can be, has accomplished, etc.
Name:
Division: (Pick one of four: Soldier, Crew-member, Criminal, Psycho)
Age:
Species:
Race:
Appearance:
Personality:
Abilities/Powers/Skills:
History:
Strengths:
Weaknesses:
Fears:
Other:
You get ten *'s. Please choose wisely.
Physical Strength:
Endurance:
Agility/Dexterity:
Luck:
(Place Special Ability Here):
I.E.
Physical Strength: ***
Endurance: *
Agility/Dexterity: **
Luck: **
(Place Special Ability Here): **
Character will get winded easily, but can take a punch or an energy blast. Has good reaction skills, luck and special ability.
Star Chart:
* - Great
** - Skilled
*** - Professional
**** - Supreme
***** - Legend
Division Chart:
Soldier: A renowned warrior.
Crew-member: Chef, intelligence, custodian, etc.
Criminal: Sane and dangerous.
Psycho: Insane and dangerous.
Anyone interested?
Last edited: