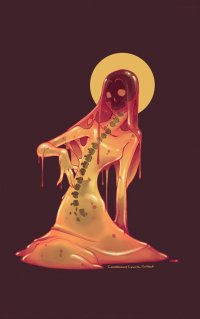 A Very Hostile Pudding
Original poster
FOLKLORE MEMBER
Invitation Status

Looking for partners
Not accepting invites at this time
Posting Speed

1-3 posts per week
Writing Levels

Give-No-Fucks
Beginner
Elementary
Intermediate
Adept
Advanced
Adaptable
Preferred Character Gender

Male
Female
Transgender
Primarily Prefer Male
Genres

Cyberpunk, Horror, Bizarre/Surrealism, Paranormal, Romance, Fantasy, Sci-fi, Supernatural, Grimdark.
This is a private roleplay.
Something is wrong with Verdantas. The lush green forests are graying and the magical folk seem less lively each day. Only a few have noticed these subtle changes to their beloved land of magic but it won't be long before the symptoms become severe. Something must be done, but what? And who will do it? Who is willing to fight an unknown enemy in order to save the forests and cities, skies and waters, mountains and valleys, and of course all who reside in these places?
[dash=gray]The Sleeping Forest is rightly named, for those who step foot in its sea of centuries-old trees often find themselves taken by the sweet lullaby of forest sounds and swaddled by the soft, soothing atmosphere. A collection of magical creatures reside there, ranging from sprites and flower fairies to the beautifully seductive tree nymphs. One so nymph, the mother nymph in fact, is the smartest and most beautiful of all the girls. She is the big sister, and often has all the answers. When she doesn't, she visits The Great Tree Spirit, Kenbo, like she had done just recently.
Kenbo had been having a terrible dream and was ever thankful to the mother nymph for waking her from it. The nymph's concerns lay with the forest growing sickly and it was then that Kenbo realized the cause of her terrible dreams. "Something evil is approaching our beautiful Verdantas, mother nymph," she said in her wavering voice. Manifesting a crude face out of bark on her trunk, her lips creaked as she spoke. "If you truly love the forest and the other nymphs, you must leave us all behind and venture into strange lands." The Great Tree Spirit had no doubts that the nymph girl would agree and so told her of her task. "In the human city of Milia Lumen, there exists a strange old witch with the power of insight. She will surely know the solution to this problem." Kenbo knew this task was a dangerous one and had she not become one with her tree many moons ago, she would have spared the nymph and gone herself. Alas, all she could do now was pray and hope the nymph would have what it took to save not just the forest, but all of Verdantas...[/dash]
Requirements:
Your character must have a reason for visiting the witch in Milia Lumen whether it be related to the plot or something simple and personal.
Mother nymph - Magentara
Jui - Toria
Satoshi - Dawn
?? - Loveless
CHARACTER PROFILE
[noparse]
Character Name:
Gender:
Race:
Job/Role:
Age:
General Appearance:
Current Goal/Purpose:
General Personality:
General History:
[/noparse]