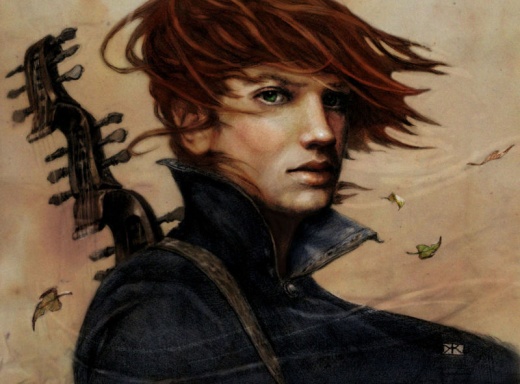 A Warrior in a Garden
Original poster
Heavy fog was settling on the city, a portend of torrent promised by a wall of black clouds overhead. Visibility was a valued commodity in this environment, and few left the safety of their homes on whatever task may, or even perhaps may not, wait for daylight. Even had the sun been shining, it was likely it's golden beams would have failed to pierce the clouds, failing to expose those for whom anonymity was a valued commodity. Thugs. Thieves. Murders. Cons. Prostitutes. All did their work best in the darkness, away from the prying eyes of the law.
A crack like thunder echoed through the alleyway. A muffled scream accompanied it, filtered through a cloth gag. Downtown Houston was peppered through with small getaways such as this. Perfect for conducting business. Perfect for … an interview.
"Stop crying; tell me, and you will live long enough to regrow your arm."
Lance Bringham hoisted the shotgun onto his shoulder, too ambivalent to bother with reloading it. Before him, laying some fifteen feet away, and quite noticeably partially disarmed, a form stared up at him in terror. The figure's right shoulder was a gnarled stump, already healing through the power of the blood within. The left arm was pinned awkwardly behind, formerly tied to a right arm that was now dissolved into ash. Left hand finally unfettered, the Kindred reached around and yanked the gag free.
"You fucker!" Tense and twisted in pain, he nevertheless spoke in quiet tones. Better to die quickly at the hand of this maniac than to break the Masquerade and suffer long decades in the Prince's torture rooms. The damned Sheriff, for his part, would likely have his shortsighted firearm discharge overlooked. "It was one Childe! One Embrace! Let it fucking go!"
"And what: let a whole pack of you Gypsys running about? Can't. Won't."
With a beleaguered sigh, Lance pumped the shotgun, easing it forward to point at his prisoner's face.
But the prisoner had disappeared. In his place was a girl, perhaps no more than seventeen, wearing the formal attire of a boarding school. She lounged where the prisoner had sprawled, and seemed to be closely examining her fingernails.
"Gehenna isn't too far off, you know," she teased with all the utter lack of respect for authority her apparent age belied. "The Antediluvians will come back. You'll see. And the Kuei-Jin have to be put down before that."
"That why? You actually going to tell me why you Embraced a-?"
"It doesn't matter to you. Recruitment is mostly in Asia; she was a passing fancy, one I immediately regretted. Just as I was a passing fancy to you, one you will regret yours-"
Another blast echoed between the structures, amplified by the close alley walls. But no one heard, or at least, no one worth caring about. Buckshot stuck pavement, and the girl never faltered.
Dammit. Chimerstry. Illusions.
Favored Discipline of the Ravnos. Lance's eyes shifted focus as he pumped the weapon, and he felt the power of his blood surge. He had his own methods of bypassing such tricks, or he was no good as a Sheriff. The erstwhile prisoner's aura flashed into view through his use of Auspex. Without ceremony, Lance turned his shotgun to follow the figure and pulled the trigger again. This round, a 1oz steel slug, blasted from the barrel, and quicker than blinking, it ripped a hole through the Ravnos' head. Even as it fell, the body crumbled to dust, and shortly, there was nothing left. Business concluded, Lance left. He had other business to attend.
The Sabbat grew bolder, Embracing and abandoning without regard for- well, anyone, it seemed. More than once, he'd had to clean up their messes. If only he could root out their nest… In the meantime, the Childe that had led to this whole endeavor would be left alone. She was with an established Neonate who, while not the ideal teacher, would nevertheless guide her. The Anarchs did at least value the Masquerade.
It didn't mean he trusted them. Even now, with the threat that loomed over the city, Lance didn't trust them any. Even after visiting a few of their hideouts to pass along the invitation from the Prince.
For the good of our city.
Okay. We'll see what happens.
Prince Rick Washburn, Toreador prodigy turned politician, sat on a rotting bench that overlooked the harbor. A storm was rolling in, but it was taking its damn time about it. He wished vaguely that it would hurry the hell up; the streets could use a good wash. Just as he could use a cigarette.
They didn't do him any good, of course; for all the love of hedonistic pleasures his Clan had a reputation for, there was little satisfaction actually found in them. But the action itself as satisfying, even for a bit. Having gotten a nice smolder on the end, the Prince took a long drag from the cigarette.
"Should not be too much longer," came a familiar voice suddenly beside him. Washburn didn't bother looking; Lance had the typical tone of patience that irritated the Prince so much. How could the Muscle give so little of a damn?! "I've got a gargoyle on either side of the walk, if things get hairy."
"They won't."
The Prince answered with a confidence he didn't feel. And maybe even a confidence he didn't exhibit. Ripped jeans, black sport coat, and a short mullet was his favored look, but it did him no favors for establishing authority.
But maybe, between the rumor of a Coma Pandemic and his own reputation as a vindictive and exceptionally thorough revenge artist, maybe they'd keep the peace long enough to find a solution.
They just had to see who would show up first.
∆∆∆∆∆​
And here we go! Please feel free to create whatever circumstance is right for your character prior to arriving at the docks by 2am, as requested by Sheriff Bringham. Please also feel free, once you're there, to interact with others present, or even the Prince and the Sheriff!
As of the posting of this thread, there are still some of you who need to update your CS per my requests. Once that's done, you're welcome to reply here!
@Kuno
@Doctor Jax
@Applo
y'all are good to post.