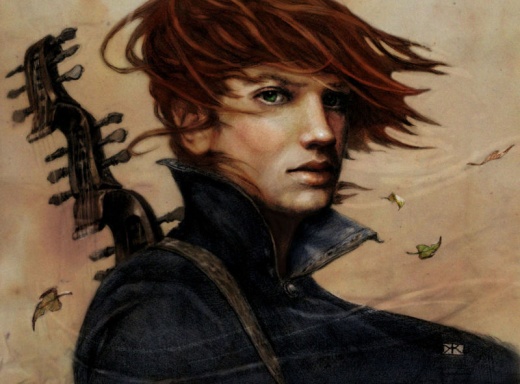 A Warrior in a Garden
Original poster
FOLKLORE MEMBER
Posting Speed

1-3 posts per week
One post per week
Slow As Molasses
Writing Levels

Adept
Advanced
Prestige
Preferred Character Gender

Male
Female
Primarily Prefer Male
Genres

Fantasy, SciFi, Modern, Magical

​
To live the Unlife of a Kindred is to live conflict. It is intrinsic to us, evident externally in the struggle between the mutually antagonistic sects the Camarilla and the Sabbat, with the Anarchs unwillingly caught in the crossfire, and evident internally, a matter of continued existence as we restrain our beastly nature that rages to be set free against our predators and prey alike. There is competition between the Clans, each pursuing some obtuse and often unknowable goal to the detriment of the others while simultaneously relying on their enemies. Within even the Clans, Elders and Childer fight, seeking their own betterment, an increase in their own power.
Yet at times, Kindred of disparate backgrounds find themselves with the same goal, needing companionship from enemies the same as allies. At such times, even the Veil might shake, leaving the night walkers desperate for the understated fear of Unlife.
Houston, Texas is a bustling hub of economic activity. The Toreador Clan-led Camarilla keep close eye on the movements of goods and services, and on the Sabbat thugs who seek to undermine and uproot their carefully laid machinations. There is regular action between them, the ports to the Gulf of Mexico a location of regular contention due to the heavy traffic of goods via ocean lanes. The Anarchs, for better or for worse, have here been left mostly alone; the inner city Wards a haven from Kindred sects and Kine police alike, they conduct business with little trouble and rarely get involved in politics.
But the status quo is being disrupted, and the Camarilla Prince has called for representatives from all Clans regardless of affiliation. Catatonia has began to affect the Lunatics, the Malkavians, on a wide scale, even striking those who might have never suffered from it before. And with the mental strength their subconscious collectivity possesses, who's to say what might keep this madness from spreading beyond their Clan…?
∆∆∆
PROLOGUE:
Houston, Texas. October 10th, 1999.
An otherwise routine evening interrupted by a knock on your door.
"Good evening. My name is Lance Bringham, Houston's Sh- Hm? Intrusion? What do you mean? I'm here on the Prince's business … The Prince of
Houston
, you-
"Hmph. Listen. I can't say I like being here any more than you probably like having me here; I prefer cracking heads over speaking to them. But what I have to say is of utmost import; Prince Washburn wouldn't have sent his Sheriff otherwise. The Camarilla has learned of a growing blight affecting the already fragile psyches of the Lunatics, the Malkavians. And given their rather pernicious habit of affecting the minds of those around them, I needn't impress upon you the urgency of-
…
"Comas, okay!? Whole swaths of them are falling into the deepest catatonic states that no amount or level of Discipline can seem to break! And any Kindred with even the smallest amount of mental acumen is feared to be susceptible.
"Which is why the Prince is calling a conference to determine how to handle this. Either you volunteered or were voluntold; I don't care which. All I care is that you be at Barbour's Cut Container Terminal, at the Port of Houston, at 2am on Wednesday the 13th. And you had best be polite; who knows who may actually show up, and we don't need a bloodbath."
∆∆∆​
Life, or rather Unlife, has been various shades of kind, or maybe unkind, to you. Maybe you were led into this world of the vampiric Kindred willingly, trading your mortal soul for the hedonistic pleasures of immortality; more likely, you were brought into the fold kicking and screaming for some talent or connection you had that could prove useful to someone else. Regardless, your existence is the Night, a violent thing filled with keeping the Beast within contained to prevent drawing unwanted attention from the kine, the humans, while allowing just enough of it loose to keep yourself alive. For blood is your life: it sustains you, and it powers you.
Descended from a variety of progenitors (usually called Antediluvians, though that can be fuzzy for some groups), Kindred are subdivided into Clans, each with powers or "Disciplines" often unique to them. The occultist Tremere can channel magic into the blood or the blood of others with Thaumaturgy, forcing it to do their will. The aristocratic Ventrue can Dominate the minds and wills of beings weaker than themselves. The Malkavians can force mental illness on those around them, with results ranging from the subtle to the dramatic. Yet one cannot apply these Disciplines haphazardly, for the Kindred reply on the Masquerade for safety. Any overt display of vampiric power is met with decisive and often fatal action from those who deem themselves in command. Or from forces outside the ken of Kindred society but no less dangerous to them.
That command is often in dispute. The Camarilla are the closest thing the Kindred have to an organized government. The Prince makes the laws, and the Sheriff enforces them. With jurisdiction over a city, the Prince seeks to keep his citizens happy and complacent while also balancing the Masquerade.
Not that the Sabbat much care for it. At obvious and often violent odds with the Camarilla, the Sabbat revel in stoking the Beast within and the power it brings. Often with a more aggressive and less organized mindset, the Sabbat's mission statement can be difficult to define, save the pursuit of power.
There is a third sect, though they are often overlooked save as a potentially ally to either of the others. The Anarchs are as advertised: preferring to be left alone and ungoverned, the Anarchs mostly keep to themselves unless provoked, minding their own business in the areas of town they control. To live and let live, as it were.
And to each sect, to the local head of each Clan within the sect, the deceivingly slight if lengthy frame of Sheriff Bringham, the enforcer of Prince Washburn's laws, has appeared. Perhaps he was greeted in friendship; perhaps he had to put a few bitches down before he was listened to. But he always delivered his message: there is a spreading catatonia, and it has no regard for party affiliation. And you, whether weary Kindred Embraced in ages past or Childer newly Turned not but a month prior, you have been appointed to answer the Prince's summons. To see if you can find an answer to this question of the Lunatics' sleep.
RULES:
Always abide by Iwaku rules. Failure to abide by this is grounds for immediate dismissal.
Keep OOC in the OOC. Up to and including drama between characters. This shows up in every ruleset in every RP. Let's be pleasant, yeah? If you have problems with another player, please be mature and handle it in DMs. Barring that, I'll mediate. Failure to abide by this is grounds for immediate dismissal.
No god-modding. You're playing a Vampire, so obviously you will be capable of achieving extraordinary feats. But no Vampire save Caine himself is able to travel the speed of light or lift Mt. Everest. And likely not even him. Failure to abide by this is grounds for immediate dismissal.
Please read the rules. Please read the rules. Please read the rules. Please read the rules. Please read-
No sex on screen. No nudity on screen. I've not marked this red star for a reason. While this absolutely isn't for kids, it's not smut. If you wanna get characters busy, fade to black. FAILURE TO ABIDE BY THIS WILL RESULT IN IMMEDIATE DISMISSAL. I ain't playing with this one.
On that note, this is a Vampire game, which means horror and to a much lesser degree aspects of gore-rer. Please understand this before even putting up a character sheet, as I really don't want to have to deal with complaints of scary or tense moments later. If an amalgamation of disparate body parts screaming your character's name is too much for you, this may not be your RP.
Posts are expected loosely every 1-2 weeks, with 2 paragraph minimum. I'm not expecting Voltaire, but please put effort into your work. And collabs are great! I love collabs. If you decide to do one with another party, please ensure to respect the post frequency.
This will not be first come / first served. I would like to see what everyone has to offer and will therefore have something like a 2-3 week window in which to post a character sheet. There will be 6-8 accepted characters.
Please be prepared to do your own lore research, especially as regarding character creation and character knowledge. As stated in the Interest Thread, the lore is massive and expansive, and while I may not be respecting the official timeline, I'm going to do my best to respect the foundational stuff. If you have questions, please let me know! We can figure out application of lore together. I will absolutely be posting links to the World of Darkness wiki.
Please read the rules. Please read the rules. Please post a red rose at the bottom of your character sheet. Please read the rules. Please read the rules.
I know these are a lot of rules, guys, but I also want y'all to have fun. VtM is such a rich, dark, and fun world to play in, and I look forward to seeing what you bring to the table.
CLANS AVAILABLE:
Though there are 13 commonly recognized Clans, I'm not allowing all of them. Playable Clans are as follows:
Brujah
The Brujah are one of the thirteen clans of Kindred in Vampire: The Masquerade. Scratch the surface of a Brujah, and these days you are more than likely to find a Brujah thug underneath. However, the clan is a fallen clan, still mourning the death of their Carthaginian paradise and decaying from...
whitewolf.fandom.com
Gangrel
gangrel: Middle English, "A vagabond; a drifter." Possibly from gangen, "to go." Tied to Old Norse "Gangleri," a name for Odin meaning "wanderer, wayfarer" The Gangrel are one of the thirteen vampire clans found in the World of Darkness. Nomads who hold closer ties to the wild places than most...
whitewolf.fandom.com
Giovanni
The Giovanni are the usurpers of Clan Cappadocian and one of the youngest clans. The Giovanni has historically been both a clan and a family, and more recently a bloodline, due to the formation of Clan Hecata. They Embrace almost exclusively within their family, and are heavily focused on the...
whitewolf.fandom.com
Lasombra
Once the leading lights of the Sabbat, clan Lasombra are shadowy predators and ruthless social climbers. The Lasombra exist for their own success, fighting for personal victories rather than solely for a crown to wear or a throne to sit upon. They believe that might makes right, and are willing...
whitewolf.fandom.com
Malkavian
Malkavians are the brood of Malkav and one of the great vampiric clans. They are deranged vampires, afflicted with the insanity of their Antediluvian progenitor. Malkavians are an enigmatic and deeply disturbed group of Cainites. Members of the clan have assumed the roles of seers and oracles...
whitewolf.fandom.com
Nosferatu (you are required to have an excellent character concept, due to their curse of disfigurement)
The most visibly cursed of all Kindred, the Embrace warps each Nosferatu into a hideously deformed creature. The archetypal Nosferatu resembles Max Shreck's Count Orlok, though the curse has any number of variations. The Nosferatu are the spymasters of the dead, collecting information and...
whitewolf.fandom.com
Ravnos
The Ravnos are one of the thirteen clans of Kindred in Vampire: The Masquerade. Known as wandering tricksters, mystics, and vagabonds, the Ravnos are incurable daredevils who gleefully pursue the art of unliving dangerously. Nobody in the west understood the old Ravnos, and now it is far too...
whitewolf.fandom.com
Toreador
The Toreador are a clan of vampires known for being some of the most beautiful, sensual, seductive, emotional and glamorous of the Kindred. The Degenerates are responsible for the legends of vampires who seduce and entice their prey with beauty, love and sensuality. Famous and infamous as a clan...
whitewolf.fandom.com
Tremere
Clan Tremere is the second youngest of the vampiric clans, having just come into existence during the Dark Ages. In the (comparatively) little time since their founding, the Warlocks have made incredible inroads within vampiric society and are arguably the most powerful clan in the modern...
whitewolf.fandom.com
Ventrue
The Ventrue is one of the thirteen clans of Kindred in Vampire: The Masquerade. The Ventrue have long been one of the proudest lines of vampires. Its members work hard to maintain a reputation for honor, genteel behavior, and leadership. A sense of noblesse oblige has long pervaded the clan...
whitewolf.fandom.com
CHARACTER SHEET:
Name
Age
Gender
Height / Weight
Clan
Generation (how far removed are you from the original vampire in your Clan. The lower generations are more powerful but are usually more prone to giving in to the Beast)
Sect Affiliation (Camarilla, Sabbat, Anarchs)
Appearance (a face claim will do, as will realistic art; anime will not be accepted. Please keep written descriptions 1-2 paragraphs long)
Personality (1-2 paragraphs)
Biography (3-4 paragraphs)
Mundane skills of note (3-5)
Disciplines (only Clan specific; include which if any they excel at, and to what degree)
Feel free to go crazy with coding, provided it's mobile friendly. I do basically all my RP on mobile (which, among other reasons, is why it ain't fancy), so anything I can't read gets rejected outright.
DISCLAIMER:
Vampires are monsters.
I know I put this in the rules, but I want to make sure it's understood. Vampire: the Masquerade deals heavily with characters desperately trying to hold on to their last shred of humanity while also trying to navigate their ruthless and terrible new existence. Kindred very often give in to the Beast inside and are capable of despicable acts, both mundane and supernatural. While I don't wish to scare anyone off, as such instances of this trauma will be few and far between, it will happen from time to time. Though Vampire is a mostly social game, it is still at its core survival horror.
I also wish to point out that, due to the nature of the Malkavians and the threat of spreading psychosis, there will be depictions of mental illness, some extreme, some less so. I have some familiarity with what they look like and will do my absolute best to research them further to make their description in writing as realistic as possible, but I'm sure I will make errors along the way. This isn't meant to minimize anyone with a mental illness, but is rather an innocent failing on my part when I thought I was otherwise treating it respectfully. Again, this is mostly a social drama, but many people have hidden illnesses that aren't often seen until later.
EPILOGUE:
If you've gotten this far, I thank you deeply. While I never got into the LARP aspect of VtM, I've loved the setting a great deal since first being asked to join a VtM tabletop back in college. I'd love to discuss character concepts and creation with you, should you find you need or want it.
The Vampire: the Masquerade Wiki can be found here, with links to the Clan Wikis in the Clan descriptions above.
Vampire: The Masquerade
Description of what a Vampire is to VtM:
Vampire (WOD)
Feel free to ask any and all questions.
Thank you, and good evening.
Join me on
Discord
.
Last edited: