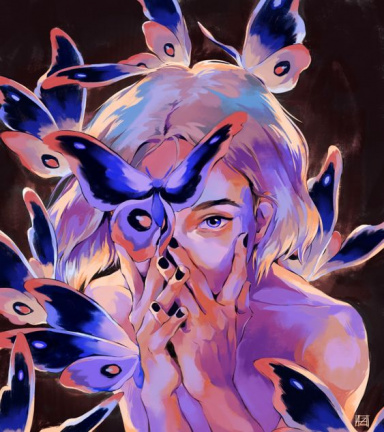 The Suffering Slav Problem Child
Original poster
Invitation Status

Looking for partners
Posting Speed

Speed of Light
Multiple posts per day
1-3 posts per day
Online Availability

Always online tbh lol
Writing Levels

Intermediate
Preferred Character Gender

Male
Female
Primarily Prefer Female
No Preferences
Genres

I generally like a little bit of everything, but my favorite would be Romance and Drama.

Hey, There!
Hello there! So, I have re-watched a game play of Vampire the Masquerade Bloodlines and just a massive WAVE of nostalgia hit me like a goddamn tsunami! I remember seeing my older siblings play it, but I never really got a chance to play it myself, but it still holds a special place in my heart.
Basically, I am just looking for folks to play with. I had a thread posted which I used for a long time, but it became cluttered so I just figured I'd make a new one.
Anyway, let's get down to business.
​
I am a student and work part time, so keep that in mind that I might not have the energy to reply. However, I will let you know if I don't have the time to reply and generally I keep my partners updated.

​

I like to have a good relationship with my rp partners. Like most people, I like to talk and am always up to chat a bit.

​

I could be a bit forgetful, so if I seem to forget to reply, please do tell and just feel free to bug me, honestly.

​

My english isn't anywhere near perfect, I have quite a bit of room for improvement, but I am working on it. It's my third language, just a heads up.

​

I'm from Slovakia, so our time zones may wary, but usually it's not that big of a problem. That actually depends which part of the US you are from, or which country you're from. However, I am an hour ahead of the UK, so my timezone is basically CET? I have no clue, I'm a bit dumb.

​

I go to an art school, I studied animation and art history and such and right now I'm doing my after grad studies which include graphics and media and communication so, that's an interesting bit I guess.

​

I very much prefer to play with people who are above 18, so only message me if you're 18+, thanks
About my writing​
I like to write long starters. Not many people like that from what I've seen, as I have been ghosted just because of that a few times. In my book regarding my own personal rules of role playing, a starter should be long and have openings for the main characters to meet, while establishing the rules and characteristics of the world and side characters if there are any. Basically, it should be an introduction to the world and the characters.

​

I am always a sucker for mushing drama and romance into role plays. It just makes everything a bit more entertaining to me, so if you aren't the biggest fan of romance we could try something, but that just depends on you, really.

​

I have a problem with playing multiple characters, as sometimes I just have too many. Sure, they don't have to be in every damn scene and such, which would be a bit stupid actually, but still. My mains are usually females however and I feel most comfortable when playing those, but I am willing to play dudes too.

​

I am NSFW friendly, I don't have a problem with playing out NSFW scenes, although I may be a bit awkward regarding those. I like to keep an open mind and I usually don't judge, so anything goes to be honest as long as the characters are of a legal age.

​

Generally, I prefer to use third person to first person, but I have been trying to use second person and it's pretty entertaining to be honest. So, I'm flexible!

​
The Plots
​
SCP Containment Breach

- This is a game which I seriously liked for a long time. I love how involved the fandom is, I love just browsing the web site and looking up SCPs which are fairly harmless. Despite knowing some of the lore and such, I am not an expert on this game by any means. Which is why this plot is mainly open for edits. I am fine with playing a scientists, or anything really.

​

Vampire the Masquerade Bloodlines

- Most people must be familiar with this RPG which is a huge cult classic. It actually depends if you like shopping at hot topic, hate the sunlight and love sucking off homeless people's blood in dark ally ways. To make you familiar with the lore, it all starts in the old testaments so whip out your bibles, you sinners. Basically, there was Cain and Abel, they made offerings to God then Cain dis-ABEL-ed his brother with a rock and God instead punishing him gave him super powers. Thus Cain became the granddaddy of all vampires, etc. Now, the whole game takes place in "modern" L.A. and the whole lore revolves around the Masquerade. There are multiple clans, but the most important ones are malkavians which you should only chose if you beat the game once as malkavians are batshit off the walls unhinged as hell and basically know things they shouldn't and will spoil the game. Anyway, this one is open to debate and I would be happy to have an rp set in this world and such. We could just set down our own rules and such.

​

Vikings and Norse Mythology - This plot of mine seems to be cursed, as it just usually ends up with me getting ghosted lol. Anyway, basically the whole plot is about the chieftain and how a runaway comes into the settlement under strange circumstances. ​

The Demon King

- Another re-used plot that I actually really like. Basically, it's set in medieval times with a fantasy twist. Because of political reasons, or just 'cause.. a certain Demon King who is feared amongst every race and species decided to marry one of the daughters of a king who's kingdom has been slowly growing. Well, hearing the older daughter volunteers and just marries the king, travelling away to his kingdom. It's basically a slow burner as the young lady slowly learns that perhaps he isn't as bad as he looks. Sort of like the Beauty and the Beast situation.

​

The singer in the lounge is drunk

-

Imagine this, you're in charge or entertaining a bunch of guests in a certain lounge in a big ass hotel. Got that? Yeah, well it is involved with some shady business and the previous singer was fired as she wasn't too good and also insulted some guests. One night after a terrible shift you decide to head into your usual bar, unknowing that it's having a karaoke night and there, you finally find someone who could pull you out of this mess. It is a very drunk gal singing obnoxiously loudly 'pour some sugar on me'. Right away, you approach her, stuff like five name cards into her pocket and make sure she gets home safely. So far this is all I've got regarding the plot to be honest, but it could be expanded and such.
This would be all, I think? I might add some more plots and such later on, but right about now this is all I got. I mainly play on Discord, so feel free to just send over your ID and such I'll get back to you as soon as I can.