Fluffy
Guest
Original poster
[bg=#663300]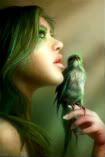 Charlotte is the princess of a planet called Durin. The alien inhabitants of Durin are very in touch with nature; their planet is abundant with green, and animals. There is a rival planet, named Lith, which has more frigid temperatures and lots of snow. Since the death of their ruler, the Liths' society has begun to crumble, because their prince has limited knowledge abour being a leader. He has asked for Charlotte's hand in marriage so they can bring the planet back to order. In exchange, he promised peace between Lith and Durin, plus his support for when there may be a war. Should Durin ever get involved with a battle, they can count on the Liths to assure victory.

"I will marry him, and my people will help his people grow food where the soil isn't frozen. His people will help my people learn to defend themselves. Our race is always teased, our planet is always targeted. It is for the best."

Charlotte knew she would be unhappy in the new environment, but still promised her parents, and her friends to visit when possible. The King and Queen did not want their daughter to marry someone she wasn't in love with... Nonetheless, they were proud for her decision.

She planned to depart from Durin today, after much preparation of mapping where she needed to go, what she was taking with her, and hiring her bodyguard. When he was summoned, they received the reply that said he would arrive as quickly as possible. Although she looked forward to meeting her protector, part of her wished he would take his time. Charlotte was really going to miss her planet...
[/bg]