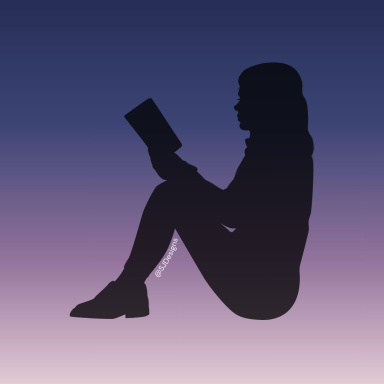 Always looking to write
Original poster
Invitation Status

Looking for partners
Posting Speed

1-3 posts per day, One post per day, 1-3 posts per week
Writing Levels

Intermediate, Adept, Advanced, Prestige
Preferred Character Gender

Male, Female, Primarily Prefer Female
Genres

Fantasy, Historical, Magical, Romance (usually within other genres), Dystopia, Fandom.

---
Eleanor Marie Garcia
---
Eleanor Marie Garcia woke with her alarm, as per usual. She rolled over to slide the 'off' icon to the centre of her phone, as per usual. She then rolled back into her spot, facing up at the ceiling to stretch out her arms and legs, as per usual.
What was not usual was the body that laid in bed beside her.
The young woman turned her head to look at the naked figure that was sprawled out on the other side of the bed, eyebrow raising as she propped herself up onto her elbows. She was surprised he had stayed over, considering they both had a rule about that sort of thing. Fuck Buddies 101, never sleep over. Snorting softly, she pushed herself out of bed without a care for modesty to grab her towel from where it hung on the back of her bedroom door. With a yawn, she wrapped it around herself, casting a final look to the man in her bed before slipping out of her bedroom to head down the hall for a shower.
It wasn't long before Eleanor was leaving a note for the man in her bed to help himself to a shower and breakfast foods, along with a spare key for him to lock her apartment door with before slipping it into the letterbox downstairs. She would have to ask him what compelled him to stay the night, since it was always him that pressed their 'no sleeping over' rule and repeated it over and over again.
Stifling a yawn, Eleanor made her way to the underground car park to get into her vehicle, starting it, and heading off to work.
---
It was a big day for Eleanor, and probably one she shouldn't have had a FWB stay the night. She should have been preparing, looking over old case files and Academy study texts, but she was nervous, and had basically been revising all weekend ready for when Monday morning came around.
She had a new assignment. Therefore a new team. Not to mention she had been told she would be the only new addition to the team she had been assigned to. It was a case that had been under investigation for months; a spot had opened up and, according to her superior, she had proven herself in The Academy and with her previous workload. This would be her next real test, and this time there would be no room for error.
A trafficking ring, she had learned. Nasty business. It had made her stomach turn, reading the case files, and all she could imagine was if any of those involved were her sisters, being treated that way. That thought had her blood then boiling, causing her to lose that nausea and gain a fire of determination.
She was to report to her new team leader on Monday morning, so as she placed the lanyard around her neck with one hand - the other holding a secure, closed handbag with all she needed inside - Eleanor strode down the corridor towards her new office... at least for now. It was a secret relief to see that others in the office were also dressed similarly to she: casual business attire. That had been another thing she worried about, whether or not she would be dressed too casually or too smart. She needed to make a good first impression, she was determined to do so.
Her own outfit consisted of black cigarette trousers, a white blouse which was underneath a grey jumper with the collar pulled out, and a splash of colour with red heels. Her hair was tied back, at least for today, and make-up as it always was - neutral and natural.
Eventually Eleanor reached the office she had been told to report to, leaving her to clear her throat softly and straighten her shoulders. Butterflies fluttered in her stomach, but the young woman stepped up to the door to knock carefully against it. Once summoned in, she opened the door to stick her head in, "Agent Haner? I'm Eleanor Garcia, I believe I've been assigned to your case--"
Second Heartbeat
Eleanor Marie Garcia
NAME
Eleanor Marie Garcia
NICKNAME/S
El || Ellie ||
BIRTHPLACE
Anaheim, Los Angeles ||
BIRTHDATE
8 October 1995 ||
AGE
25 ||
NATIONALITY
American ||
EDUCATION
High School || College || University || The Academy ||
OCCUPATION
FBI Agent ||
TATTOOS
To the side of her right breast
||
Quote on left ribcage
||
Right hip
||
PIERCINGS
Left ear || standard lobe x1 ||
Right ear || standard lobe x1 ||
MARKINGS
Birthmark on left shoulder blade (medium) || birthmark on inside of left knee (small) || beauty spot on right edge of jaw, near chin || small scar over right hip, above groin, from stabbing when being mugged five years ago || small scar on the fleshy space between thumb and index finger from slicing it when chopping peppers two years ago ||
FACE CLAIM
Jessica De Gouw || Actress ||
Dracula
||
Arrow
||
Pennyworth
||

PERSONALITY
Sassy, sarcastic, strong and confident. Eleanor knows when to keep quiet but also when to speak up and voice her opinion. She may stay silent for the first meeting or so with people she is coming to know, but she isn't afraid to get stuck in and offer her thoughts on matters. Eleanor won't stand for anyone treating her like she is stupid, and definitely not like she's an assistant rather than the agent that she is. She's rather good at controlling her temper, but when her last button has been pushed, she will make it known.
LIKES
Beer (larger) - mainly Peroni || BBQ Chicken wings || NHL || Murder/mystery documentaries || Cheeseburgers || Dirty fries || Proving people wrong || Memory-foam pillows || An organised desk || Yankee candles scented linen, cherry or cotton || The colour red || The odd cigar || Old-fashioned typewriters || 20s, 40s and some 50s fashion || Whiskey with a splash of lemonade ||
DISLIKES
White chocolate || Ales || Sambuca shots || Spicy foods || Hot dogs || Being the only newbie || Being laughed at || Blue ink pens || Green ink pens || Being touched without giving permission || The smell of cheese and onion || The colour brown || Being called pet names || Being undermined || Vodka || Rum || Green beans ||
HOBBIES
Supporting the Anaheim Ducks || Going to the gym || Watching mystery/murder documentaries || Going through cold case files ||
TALENTS
Hand to hand || Marksmanship || Crochet || Embroidery ||
FEARS
Drowning || Crows/blackbirds || Someone dying on her watch ||
__________Background
FATHER
David Garcia || 52 || Detective at LAPD ||
MOTHER
Lisa Garcia || 50 || High School Teacher of English ||
SIBLINGS
Two younger sisters. Daisy is on a sports scholarship at College while Chloe is a senior in High School.
FRIENDS
Eleanor has a few friends that she continues to stay in touch with, but with how busy she is at work, she doesn't often have the chance to make the meet-ups they arrange.
EX-RELATIONSHIPS
A few romantic relationships, but nothing serious due to her work and long hours ||
PETS
A family dog and cat who live back in Anaheim with her family ||
OTHER RELATIONSHIPS
She's currently in a 'friends with benefits' which suits her just fine, thank you very much.
__________History
Eleanor probably had one of the most boring, mundane lives growing up, not that she would have wished for anything differently. She was born in Anaheim on 8 October, 1995 at 3.48am to Lisa and David Garcia. Her father used to joke that from there on in, she would be a night owl. As a baby, she seemed to sleep more during the day than she did in the night, which obviously made things a nightmare for her parents once they were off maternity and paternity leave.

However, as she grew up, Eleanor found her best work was done in the evenings and night time, often leaving her in the library at College and University way past midnight with cans of empty energy drinks to keep her company. After her time at University, where she studied Criminology, Eleanor spent two years in the LAPD as a rookie. She had a few arguments with her father about her time there, who had seen some of the worse sides of LA as his time as a detective in the force.

David Garcia wanted his daughter away from the career pathway as a cop or detective, his fears no ill-founded after Eleanor had been stabbed at the age of 20 during a mugging. She had been walking home from a night in the library at University, armed with only her phone, laptop, University ID and wallet which held a few loose, scrunched up dollar notes.

The stabbing luckily didn't cost her her life, but it did result in a night or two in the hospital, a handful of stitches and an overwhelming anxiety of leaving the house for a few months.

However, Eleanor was also fortunate to break free of that paranoia, realising that she wasn't about to let some criminal affect her life forever. So, with the help and support of her friends and family, she returned - through baby steps - back to her normal life. She attended lectures, returned to the library to work - but didn't stay so late, or if she did, she ensured to have a group with her.

During her time at LAPD, Eleanor found herself engaging and thriving within a fast, problem-solving and pressurised environment, and it wasn't long until she was offered a spot at the FBI Academy. She had believed it to be a mistake, having only been with the LAPD for two or so years, but upon discussing the opportunity with her Captain and her father, Eleanor knew it was best to take the opportunity with both hands.

At the Academy, Eleanor continued to excel in whatever she was thrown into. She plunged headfirst into each and every challenge, where she often came out on top. Her smaller stature meant she was a little less fortunate when it came to hand-to-hand combat, but with her research inside and outside the classroom, she was soon able to keep up with the best of them, even if her style was more defensive than offensive. She learned how to turn her weaknesses into strengths, and keep her strengths hidden until the time was right.

After graduating, she was treated with the same respect as any of her fellow graduates. However, she soon noticed she was getting called more pet names than others, and often touched without her permission more times than she liked. It began to irk her and thus Eleanor began to call people out on it, uncaring as to whether it made that person uncomfortable or not. Especially if they were the same rank as her. She didn't believe she ought to go along feeling uncomfortable because she didn't want to hurt someone's feelings, all because she wanted to keep her body to herself and be treated with the same respect as everyone else.

She wasn't anyone's sweetheart or doll or angel. She was an agent.

She would be treated as such.

Because of that, she earned a bit of a reputation for being a tough, no nonsense woman (though sometimes she heard the word bitch). However, Eleanor didn't care. She got the job done, and in her eyes, that was all that mattered. She worked well in a team, and wasn't rude. She simply called people out on their bullshit.



Hex Code: #25241e
Last edited: