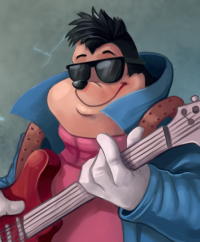 The Janitor Bear of Iwaku
Original poster
FOLKLORE MEMBER
Invitation Status
Writing Levels

Give-No-Fucks
Adept
Adaptable
Preferred Character Gender

No Preferences
Genres

Horror, Modern, Modern Fantasy, Multiverse/Panfandom, Mystery, Paranormal, Scifi, Survival
The IC is up!
Sign-Ups will still be accepted until about half-way into the RP.
Traversing Aether
Welcome to the Aether facility.
Ripped out of your world by unknown means, you wake up in a state of utter confusion, finding yourself locked inside a facility home to all kinds of horrors. In the midst of an outbreak, you and a group of strangers will find yourselves arriving at the worst possible time. Not only will you be subjected the facility's strange experiments and machinations, but you will also have to contend with those who would seek to silence you or add you to the ranks of the facility's monstrosities.
Whether you and your fellow survivors choose to band together or not, you're in for one hell of a ride.
---
In this roleplay, characters will have very little information provided to them to begin with. Driven by survival, the characters will have to fight their way through facility and uncover not only why they are there, but who is ultimately in control of their new prison.
This roleplay is a part of the
Murder Series
lore, but no knowledge of the series is required to join or play.
1. You must follow in accordance to
Iwaku's rules
.
2.
There is no limit to what kinds of characters can be played, but most powers possessed by characters will be removed.
If you need a particular reason for how this happens, just think of the process that took them also removed their special abilities. It is for this reason suggested you play a character without powers, but not necessarily required.
3. No OOC talk in the IC. This includes posts consisting only of tags or images. Please take all OOC discussion to the group's
General Chat
and all roleplay discussion to the group's
RP Discussion
. This thread will only be used for sign-ups and announcements.
4. No god-modding or meta-gaming. If you're not sure what those terms mean,
this blog post
might just be for you!
5. There will be no dice rolls for fights. Some certain actions and events might require them, but only if I or someone assisting me says so.
6. Duos are allowed, but only if you can provide strong reasoning for them to come in together. Only up to five people will be allowed duos.
7. OCs are allowed, but only up to a limit of five. I would rather fandom characters outnumbered OCs.
8. Please post once a chapter. Not doing so will result in your character possibly being removed from the game. At the very least, PM me if anything comes up and I'll do my best to keep you around.
Characters will be stripped of their powers under almost all circumstances. You may ask for an exception, but don't count on it, especially for offensive powers. Possible exceptions
may
include slightly above-average strength and agility.
Appearance:

Character Name:

Age:

Attributes/Skills:
[Your strengths/weakness, skills, and abilities are included here. Do not include powers or special equipment, as your character will not have them]
Personality/History:

Canon:
[What they're from, basically]
Other Info:
[Optional]
DUO SLOTS FILLED: 5/5
OC SLOTS FILLED: 1/5
~CAST LIST~
@Atomyk as Nathan Prescott [Life is Strange]
@TheSpringwoodSlasher as Locus [Red vs Blue]
@Mighty Roman as Leo Elster [Humans] and The Doctor [Doctor Who]
@Gummi Bunnies as Nezu Jirou/Rat [Tantei Opera Milky Holmes]
@Cromartie Sarkissian as Ash Williams [Evil Dead] and Johnny [The Room]
@C.T. as Doctor Emily Grey [

Red vs Blue

]
@Gibbons as Sendo Takeshi [Hajime no Ippo]
@The Silver Paladin as Yuriko Omega [Command and Conquer: Red Alert]
@OrlandoBloomers as Max Rockatansky [Mad Max]
@Kaykay as Huang Rong [Legend of the Condor Heroes]
@Jerelin as Cersei Lannister [Game of Thrones]
@Klutzy Ninja Kitty as Carl Grimes [The Walking Dead]
@Jeremi as Rhonda Kerske [Dead Rising] and Roberta Mendez/Captain America [Marvel Comics]
@york as Jean Kirstein [Attack on Titan]
@Gummi Bunnies as William "Will" Owen Herondale [Infernal Devices]
@Lizzy as Shion and Nezumi "Rat" [No. 6]
@BarrenThin as Jean-Luc Picard [Star Trek]
@Gen. Gwazi Senpai as The Master [Doctor Who]
@Lissamel as Catherine [Gregory Horror Show]
@CookieMonster as Jenny [Doctor Who]
@Ryu Keiko as Daniel Angelle [Original Character]
@ResistingTheEnlightened
as
Alan Wake
[Alan Wake] and
Sherlock Holmes
[Sherlock Holmes]
@Arcadium
as
Travis
[Mother 4]
@Saint Guillotine
as
Emily Kaldwin
[Dishonored]
@Thuro The Assassin Potato as
Richard B. Riddick
[Pitch Black]
@TheColourlessRainbow
as
Cleo Price
[Life is Strange (AU)]
@siontalk
as
Ayano Tateyama
[Kagerou Project]​
Last edited: