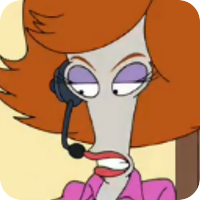 Can I transfer you to my manager?
Original poster
Roleplay Invitations

Group Roleplays, Chat Roleplays
Writing Levels

Intermediate, Adept, Advanced
Genders You Prefer Playing

Male, Female
Playing Style- Passive or Aggressive

I'm good with both! I can lead or follow and I'm equally okay with either. (Although it can change depending on the scene too!)
Favorite Genres

Adventure stories! They can be fantasy, modern, sci-fi, all kinds! Give me some good world travel stories and I'm all over it! I also enjoy romance stories and even though I tend to play females I love playing gay men.
Genre You DON'T Like

Smut. It's not that I dislike it, I just can't write it out, I'm better at just writing smut scenes by myself.
Chief Inspector Amuro looked at her desk. The reports kept piling up and every time she solved one crime the next one had appeared, twice as confusing and three times more dangerous. Each one of her spies were always in danger of being kidnapped or caught by the Yakuza and now there were even more reports of strange creatures and demons. She tended to ignore those, focusing instead on the immediate threat of the Yakuza. Tokyo was on the verge of destruction and the citizens had no clue, what an awful place to be caught.

She picked up the phone and called Detective Kotetsu, who was investigating down in Harajuku, hoping that he would have caught onto a lead or something by now. Patiently she waited for him to answer.

"Hello?" He said, his voice tired from the late nights they both had to pull lately.

"Yes, Amuro here, head over to Tokyo Tower, looks like there might be a lead over there."

"Understood." She heard the click and hung up as well.

Quickly she rubbed her eyes and turned back to her files that never seemed to end. She knew one of her cops was on the Yakuza payroll and the way one of her other ones was acting she'd almost believe demonic possession, but she usually figured it was lack of sleep, food or both. This city needed to be fixed and fast, that's why she hoped her samurai team would be able to figure this out before long...