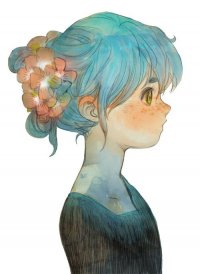 Starlight Keeper
Original poster
FOLKLORE MEMBER
Invitation Status
Posting Speed

1-3 posts per day
Writing Levels

Intermediate
Adept
Advanced
Prestige
Genres

I really like modern roleplays, especially hings involving romance and family. I also love fantasy, especially anything involving magic, mythical creatures, or gods and goddesses. Fandoms are nice, if I can play an OC. Since history is one of my passions, I like doing historical roleplays, mostly renaissance, 1800's, early 1900's, ancient civilizations, and anything wild west-like or based on pioneers. I do like Sci-Fi, mostly dystopian with some sort of rebellion or strict customs, something like that. I also like roleplays that take place in space if they have a good explanation of the universe that it takes place in. I'm not a big fan of horror or mystery, unless the horror is a sub-element to something else.
"I knew from the moment we met what you were going to mean to me."
We call them Soulmates. That instant connection. Love at first sight. However, love isn't always that simple. There are bumps and there are complications along the way. However, we make it through it. We push past the hardships and crawl over the hills on our hands and knees to create something beautiful. And when that beauty becomes something so tragic you think that you can't move on, the one you love is there to pull you back up and support you, even if it causes them their own happiness.

Because, after all, isn't that what love is?
In this city of Phoenix, love is blooming just a fervently as it does in the rest of the world. Six couples, tied together by the red strings of fate are destined to face the hardest time of their lives, otherwise known as high school. Will their relationships be able to push past everything else in their lives and say the simple, but beautiful words "I love you"?

The Couples

He's popular. She's not. It was the most unlikely match, but here they are. If his parents knew, they would kill him. If her friends knew, they would ridicule her. Maybe it's best to ignore these strange feelings. Maybe it's best to act like it never happened.
Harper Seville|17|Female|Top of her class, is a huge nerd, and wants to be a musician~Best friends with Help Me Stand Girl|TAKEN... Felilla

Kyler Stokes|18|Male|Captain of the soccer team, student body president, and doesn't want what everyone else wants for him~Older brother of You Keep Me Warm Female 1~Friend to Stoically Impressionable Boy|TAKEN... Brea


He's always stoic, never a smile or a frown, just stoic. She is the most emotional person at the school. His expressionless facade holds a whirlwind of emotions. Her smiling exterior is an empty shell. Maybe she can ease a smile out of him? Maybe he can get a true emotion out of her?
Rowan Thorne|16|Female|Feels fake on the inside, bottom of her class because of lack of interest~Younger Sister of Blair Thorne~Best Friend to You Keep Me Warm Female 1|TAKEN... Alice Falling

Name|Age|Male|A raging storm of emotions on the inside~Friend to Kyler Stokes|
OPEN
A one night stand that led to what she thinks will be the end of her life. Thankfully, her childhood friend is determined to help her get through it, even if it costs him his reputation.
Blair Thorne|17|Female|Recently found out she's pregnant~Childhood Friend to Accidents Happen Boy~Older sister of Rowan Thorne|RESERVED
Name|Age|Male|Fairly popular around school~Childhood Friend to
Accidents Happen Girl~
Best Friends with Help Me Stand Boy|OPEN


She can't walk. He can't run anymore because of an accident that messed up his leg. They say he'll be able to walk again soon, but now he doesn't want to unless it's with her standing next to him.
Adeline Williams|17|Female|She's never been able to walk~Best Friends with Harper Seville|TAKEN... Creepy

Samuel King|17|Male|Former Captain of the track team before injury~Twin Brother of You Said "Forever" Male 1~Best Friend to Accidents Happen Boy|TAKEN... Sashakiki


They're both girls and they are both madly in love. Do they care when people see them? No. Recently though, their relationship has become a bit rocky with the introduction of Female 1's ex-girlfriend.
Name|Age|Female 1|Her ex-girlfriend recently moved back~Best Friend to Stoically Impressionable Girl|RESERVED


Esme Hardy|17|Female 2|Is Jealous of Female 1's ex~Younger Sister of You Said "Forever" Male 2|TAKEN... XWhySoSeriousX


They loved each other dearly once, but now they've moved on. Well, at least Male 2 has, but Male 1 is determined to win him back. It's obvious to nearly everyone that their love is far from over.
Name|Age|Male 1|Doesn't want to Move On~Twin Brother to Help Me Stand Boy|OPEN

Name|Age|Male 2|Has moved on~Older Brother to You Keep Me Warm Female 2|RESERVED
CHARACTER
SUBMISSION
{Realistic Picture}
.:Name:.
{Answer Here|First, Middle, Last}
.:Nickname:.
{Answer Here|Only if it applies}
.:Age:.
{Answer Here|14-18}
.:Gender:.
{Answer Here}
.:Role:.
{Answer Here}
.:Sexuality:.
{Answer Here}
.:Health Ailments:.
{Answer Here|Optional}
.:Hair Color:.
{Answer Here}
.:Eye Color:.
{Answer Here}
.:Height|Weight:.
{Answer Here in Pounds, Feet, and Inches}
.:Personality:.
{Answer Here|At least include four or five traits.}
.:Hobbies:.
{Answer Here|At Least Two}
.:Talent{s}:.
{Answer Here|At Least One}
.:History:.
{Answer Here|Optional}
.:Other:.
{Answer Here|Is there anything else to know about your character}
RULES
~ No godmodding, etc... Every character should have their weaknesses as well as their strengths.
~ Every character has an important role, so don't worry about your character not being important.
~ If the roles are filled, PM me and I may open up a role for you.
~ Please be literate. Cussing is allowed, but don't put "fuck" in every sentence unless the person is blatantly angry. It's very annoying.
~ You can have as many characters as you want as long as you can keep track of them all.
~ Romance is encouraged, but it should not be the focal point for all relationships.
~ Originality is very much appreciated.
~Please, PM me if you have a question.
~ You can add anything you want to the character sheet, but please at least keep the information provided.
~ Do not physically maim another person's character without their permission.
~ Please note that I reserve the right to reject any character I feel is not up to standard
​
Last edited by a moderator: