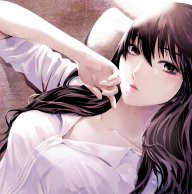 Bookworm Librarian with a pen
Original poster
MYTHICAL MEMBER
Invitation Status
Posting Speed

1-3 posts per day
One post per day
1-3 posts per week
One post per week
Preferred Character Gender

Male
Female
Futanari
Genres

Fantasy, romance, yaoi/yuri, vampires (non-twilight vampires preferred) though right now I'm VERY interested in finding a romance fantasy
The young woman stood off the the right of the room. She had been called here because she had one of the better grades out of her class. She was starting to wonder when the teacher or the Hokage would appear here to tell her what was going on. She was all right with waiting really, but at the same time she could be off hanging out with the few friends that she had. Hadn't the letter afte rall said not to be late? Maybe she shouldn't have come--but it had been a call from the Hokage herself, and if Tayla wanted to get anywhere in her life as a ninja, it would be better if she just went along with the Hokage's whims.

With that in mind, the young woman sat down in her little corner. Her black shorts stopped about mid-thigh and hid more skin that her friends' did. she had never understood the short short's that some of the other ninja girls wore. A gentle blue-grey shirt covered her upper body. Comfortable but fashionable boots wound their way up to meet the ends of her shorts.

Keeping her mind on the things to come before her, she sighed and scanned the room. She wasn't going to be alone at least. She had been told that at least. keeping that in mind she closed her eyes and relaxed back.


The Hokage had been late. She had been stopped half-way out of her office to discuss the latest requests for teams with one of her subordinates. She rolled her green eyes as she walked quickly down the hallways, passing by people with a look of anger on her face that made the people get out of her way as fast as possible. Grinding her teeth, she entered the room she had directed people to take the two new students and the teacher to when they arrived.

The woman looked around as her black hair swirled around her face. She was finally getting the ones that she wanted to pass her knowledge down to and she had been late. She internally kicked herself several times. How had one request confirmation created several more and more until she had been late? She wanted to kick someone else--probably the one that had first stopped her.