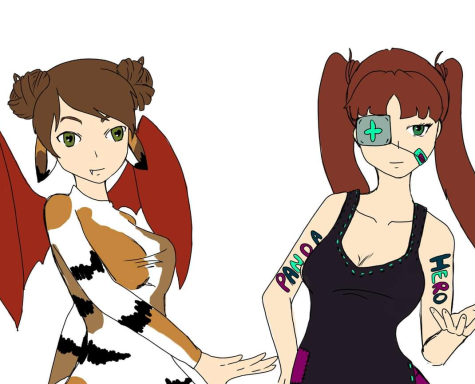 Chillaxed
Original poster
Posting Speed

1-3 posts per day
One post per day
1-3 posts per week
Slow As Molasses
Online Availability

AEST : 10am-10pm
Writing Levels

Give-No-Fucks
Elementary
Advanced
Adaptable
Preferred Character Gender

Male
Female
Transgender
Futanari
No Preferences
Genres

Action, Adventure, Animal, Apocalyptic, Comedy, Dystopian, Fantasy, Furry, Game, R. Harem, Horror, Modern Fantasy, Parody, Romance, Supernatural Modern

[tabs]
[tab=Info & Key]
Most of the time, I like to have two characters to go on an adventure and meet a lot of NPC and form relationships with many different people. A pairing does not mean a love pairing, this is a plot pairing.
*** Oh god, please. Really Craving ***
** I would love to! **
* Yeah, let's do it *
Everything else I am good to go
​
[/tab]
[tab=Orginal Pairings]

Fantasy Plot Pairings:
​
Dragons:

Dragon Riders
Dragon Soul Bonds,
Dragons Slaves
**Dragon Society**
Anything Dragon

Homebrew Slave species:

Galvents (Ask for more detail, these slaves can not disobey.)

Slave Rehabilitator and Slave
Prince/Princess x Knight/Guard
Romance Comedy Harem / Reverse
*Supernatural Person x Ghost*
*Polyamorous Relationship*
Helper at an Orphanage x the Head Mother
Demon x Newly Turned Demon
Magic Girl/Boy x Magic Girl/Boy
Assasin x Assasin
If it's not here, suggest it to me!
[/tab]
[tab=Fandom Pairings]

Cannon World Plot Pairings:
​
Pokemon: Rated-R (Blood, Scars and Permanente Damage)

Trainer x Trainer
Trainer x Evil Trainer
Evil Trainer x Evil Trainer
Pokemon Whisper x Evil Trainer
Normal Person x Trainer
Normal Person x Evil Trainer

***Wings of Fire****

The Lost Continent
***Another Tribe x Another Tribe***

Warriors

Clan Warrior x Clan WarriorClan
Warrior x Medicin Cat
Clan Warrior x Opposing Clan Warrior

**Monster Hunter**

Hunter x Hunter
Rider x Hunter
Researcher x Hunter

If it's not here, suggest it to me!
[/tab]
[tab=Plots]

Plots:
​
Supernatural Circus
(Currently Taken)
(Old Hunter 'MC' x New Hunter 'YC')
Traveling Circus Supernatural Hunters of Supernatural. The supernatural realm has gotten rather naughty over the last few years. They break rules and kill people for fun or even started being rather ballsy about reviling themselves. It's our job to make sure we keep them under control. Of course, we have to pay for our weapons and food somehow. So we might as well make use of our powers. What do you say kid, want to join?
**Summoner and Their Three Guardians**
( Thee Guardians 'MC' x The Light 'YC' )
The God of Sun and Light has seen the darkness inside of people grow. But they have also seen their vassal's light growing as well. It's time to awaken their power and give them their guardians. It's time to start the war against the creatures of darkness. Hopefully, the vassal is ready.
**Dimension Witch and Her Apprentice**
(Mentor Witch 'MC' x Apprentice 'YC')
For whatever reason, your character has come into the apprenticeship of the very powerful Dimension Witch Madame Buba. Under her care, you will learn magics, but she also treats you more like an errand jocky. Through her care and guidance, your character will meet Rivals, Friends, Lovers and More as you grow and bloom into a true mage of power. Your character is 100% made to how you please, as they will be brought from their world, into the modern world and lead through many other worlds. Keep an open mind about the setting.
*Monk of the Wise (MxM)*
(Monk 'MC' x Mercenary 'YC')
In this medieval fantasy world, the Monks of the Wise, well-trained passive monks are about to start their ritual of transforming the Wise Stone from the Moon temple to the Sun temple, said to help mother nature change the seasons from winter to summer and father time to switch the time back or forward. Many try and steal this gem, so you were hired to protect this monk as you go a detoured way with the real artifact, while a bigger caravan leaves with a fake artifact. Will they make the 3 month travel together? (MxM Requires More Dom. Male).
[/tab]
[tab=Craving]
Sometimes I get cravings that are hard to describe that I don't have a plot for. So in this section, I think I'm going to try and describe them the best I can to see if I can get some bites.
​
Forbidden Love
Now, this scenario is more for an idea of a clan of Dragons or a clan of some other fantasy species that fall in love with one another, despite the fact that such relationships are very looked down upon and the troubles of choosing a relationship over their clan loyalties. Feeling a more MxF vibe, but I am more than willing to double up with MxM or FxF.
Spirit Guardian
I was hoping to play a creature or person who looks out for or protects your own character. Although your character can interact with it, it can't interact with anyone else around it but you. I have a few ideas for guardians, but no plots concerning it. Love or no love, I'm ok with either.
Mythical Creatures
Not sure what, but I'd love to roleplay some mythical creatures.
[/tab]
[/tabs]
Last edited: