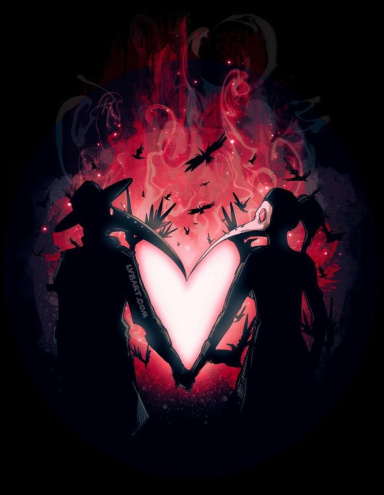 Bubblegum Bitch
Original poster
DONATING MEMBER
Invitation Status
Posting Speed

1-3 posts per week
One post per week
Slow As Molasses
Online Availability

Anytime, I have no life.
Writing Levels

Adept
Advanced
Douche
Adaptable
Preferred Character Gender

Male
Female
Transgender
Genres

Fantasy, romance, slice of life, anti-hero stories, "you're our only hope", fandom non-canons, soft scifi, transhumanism, magical girls, horror, suspense / mystery, monster girls, fractured fairytales

A thriller story by @IceQueen and @Pahn
OOC Thread Link
​
---
Monday October 12, 2020
Seattle, WA, US
​
Ding ding.
Something jumped on the bed and made its way slowly towards the pillows. Its fluffy white tail was swishing left and right with pride as it sat on a pillow right beside Maryam's sleeping face.
Ding ding.
"Mraaaaw."
The white cat shifted and made his bells ring again, extending his paw to prod the woman's face. When she didn't move, he got closer and gave a rough lick on the tip of her nose.
"Mraaaaweeeooow."
Just as his paw was back on her face, an alarm clock went off and Maryam Jindal jerked awake, scaring poor Snowbutt away.
"Ugh... what time..."
The woman reached over to her phone and slid her fingers all over the screen in hope to make it shut up. It didn't. With a groan, she grabbed it and squeaked an eye open: 7:15 AM. Damnit, this was already the fourth snooze?! Pushing the covers off, she jumped out of bed and made a quick affair of placing them back in place. Old habits died hard, even when she was late.
Special Agent Jindal showered and dressed in a surprising short amount of time. She wore her usual tight black slacks and white tanktop covered by a deep purple blouse. She hated wearing pencil skirts and pantsuits, they were office-wear and were not comfortable when she was on the field. Not that she had any on-going investigations at the moment, but today she was supposed to spend time at the lab with her nerd squad. Her CO had demanded she
bond
with them, to create a team spirit and build trust. If that meant being given hot cases, she was all for hanging out with lab dorks.
At 7:45, Maryam was out of her loft after feeding her cat Snowbutt, filling her travelling coffee mug, and grabbing the day-old croissant left in her fridge. It was far from a filling breakfast, but she didn't have time to prepare a lunch either so she would have to eat out for lunch. While she was driving towards the lab, her phone rang in through the Bluetooth connection in her car. Glancing at the name, she sighed and pressed the button to connect the call.
"Morning Brenda. What do you want?"
Her tone was plain and short.
"Well hello to you too, Maryam. That's not a very warm way to greet your girlfriend."
The woman rolled her eyes and shook her head, her brows twitching in annoyance.
"We're not dating, dear. It was fun while it lasted, but I told you this already, we have to stop seeing each other. You're getting way too attached. Sorry."
She wasn't sorry at all. Brenda was clingy and represented the very stereotype about lesbians bringing a U-Haul to the second date.
"You're such a bitch, you know that?"
The woman on the speaker sighed obnoxiously and took an annoyed tone as she continued.
"So I guess I won't see you at the art show tonight at the university? I had bought you a ticket, you know."
"Yes, after I told you half a dozen times I wouldn't be able to make it. And then at least two other times after that where I said I didn't want to go. Look, Brenda, I have to go, I'm almost at work. Stop calling me every morning, we both need some space. Have a good day."
Before her ex could respond, she ended the call. Leaning her head back and closing her eyes, Maryam waited at the red light and breathed deeply. The other woman was immensely annoying, but it was better that she dealt with her calls instead of ignoring them. Last time, it had led to twenty missed calls and almost fifty text messages. This was manageable, at least, while she was single.
Finally arriving at the lab, Maryam took a long sip of warm coffee and grabbed her briefcase and purse as she left her car. Today was going to be a long and probably awkward day.