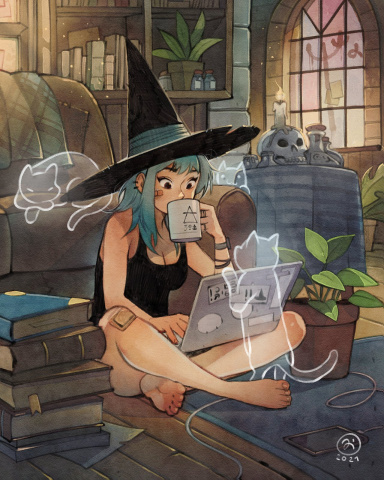 Moon Child
Original poster
Invitation Status

Look for groups
Looking for partners
Posting Speed

Multiple posts per day
1-3 posts per day
One post per day
1-3 posts per week
One post per week
Slow As Molasses
Online Availability

My schedule shifts often, but I am normally available after 6 PM, some days it'll be all day long!
Writing Levels

Intermediate
Adept
Adaptable
Preferred Character Gender

Male
Female
Genres

Fantasy, Modern Fantasy, Modern, Magical, Romance, Medieval, Sci-Fi, Thriller.


​
Rain fell hard on Blackridge today, and Nicole Blackwell, or Nikki, sat in her house admiring it from her living room. Rainy days always seemed to provide Nikki with enough excitement to carry out her day. Sipping her salted caramel coffee from her black and blue coffee mug, Nikki sighed. She had both work and school today, which was something she was use to but still disliked. There was something about school that upset her...maybe it was the fact her cousin, Summer-Raye, attended the school as well. From the time Nikki and Summer were little they did not enjoy the company of each other. Maybe it was the fact that Nikki was more down-to-earth and Summer was more materialistic, or maybe it was the fact that later on in life they were to be power rivals. Nikki took pride upon her powers, and sometimes felt that Summer abused hers, but there was nothing Nikki could really do about that. Summer was set in her ways.
Putting the cup of coffee down on a coaster, Nikki walked to the back of the house, where her bedroom was located, to get dressed. Upon walking in, Nikki saw her familiar, Blue, laying on her bed playing with a mouse toy. Nikki chuckled, as she walked to her dresser. Looking back at the cat she asked, "Having fun there Blue?

" The cat then replied with a meow before returning to her task of eating the stuffed mouse. Nikki shook her head, and pulled a top out of her dresser, along with her under garments. She then walked to her closet and grabbed out a skirt and a black jacket before changing into her outfit. Afterwards, she walked out of her room. Going to the her foyer, she grabbed her bag and car keys off the rack and table, before leaving and locking her house up.


Blackridge was relatively small and it didn't take much time to get from point A to point B, even if you were walking. Nikki pulled up to the Antique shop, which was neighboring the Witch's Brew bar that her cousin Tim owned. Tim was one of the two cousins that Nikki actually enjoyed being around; however, it wasn't something that Nikki went around telling everyone since it was obvious that certain people got along better in her family than others. Taking out her work keys, she unlocked the door to the shop. It was Monday, so it was Nikki's turn to open up shop and run it till noon. Since it was nine, she only had to work a three hour shift today. Normally the shop was a little dead on Monday, so Nikki found herself being bored out of her skull. After opening shop, and starting her inventory, Nikki pulled out her phone. Scrolling through her contacts, she found Al's number. Clicking on the message part, she text him.
-Hey, hows things going? The shop is dead and I am ready to get off work and its only been twenty minutes

-
Nikki sent the text and then went back to work. Al, short for Alaric, was one of Nikki's closest friends and lately she was struggling with her feelings towards him. Nikki didn't want to ruin their friendship by telling him that she was developing feelings for him, seeing that she valued his friendship greatly. Nikki sighed. The struggle was for sure real.
Looking at a lamp on a shelf, Nikki wondered where it had come from. It hadn't been there Saturday when she last worked, and the shop was closed on Sunday. "Where did you come from?" She asked as if the lamp could talk and tell her the answer. Pulling it down off the shelf, she walked it to the back desk. Maybe it was in the logs. Once she placed the lamp on the desk, she turned to the filing cabinet. Going through the records of the incoming merchandise, she found no record of the lamp in the inventory. Nikki rolled her eyes. Getting ready to look at the lamps tag, Nikki turned around to find it was missing. "What the?

" She questioned. Where had the lamp gone to? Nikki sighed. This was occurring more and more as Nikki practiced her magic. Strange things would appear and then disappear within minutes, making Nikki frustrated. Shaking her head, Nikki returned to the front desk and took a seat on a stool behind a counter.


Mentioned: Summer-Raye @Shattered♦Secrets™ Timothy @Poisoned Rose, Alaric @Poisoned Rose
Interactions: Alaric @Poisoned Rose
Outfit

​
A scream filled Harper's home, which originated from the blonde herself. Her maid Britney had broke one of Harper's irreplaceable vases. "You idiot!" Harper growled. "I specifically told you not to touch that vase." She continued. Looking at the maid, whom was scared out of her mind, Harper glared daggers into her soul. "That vase was worth more than your life." She added. "GET OUT!

" She yelled, point to the front door. The maid scurried off, while Harper adjusted her shirt. Normally Harper wouldn't have made a big deal about things break seeing that she could just buy more, but the vase was her last birthday present form her grandfather before he died. It meant the world to her and now it was in shards on her living room floor. Harper started to tear up, and she wiped away her tears before walking over the shards, which crunched under her heel, and walking straight to the broom closet. Grabbing the broom and dust pan, she went back and cleaned up the floor. She then throw the shards in the trash completely pissed off. Today was NOT going to be a good day. Harper sighed and decided to leave her house all together. The vibes she was getting from that place all together was not okay. Pulling out her Pink Iphone 6, she quickly sent a text to Beau.


~Today has not started well!! If you need me, I'll be at the bar till one, then my studio till four.

~
Beau was always a sweetheart to her, and Harper felt like she could talk to him about anything. AND, it didn't hurt that he was god's gift to the 'human' race or at least her. Going to her car garage, she got in and drove down the street; skid marks were left on her drive way.
Making her way into the center of town, Harper pulled up to the Witch's Brew. She worked there just for fun, and it kept her busy most of the time. She also worked at a local night club in town called Myth. Both places were pretty nice and fun to work at. Each with there own individuality. Witch's Brew being more laid back, while Myth was more of a party joint. Walking into the bar Harper saw her boss, Timothy, behind the counter. "Hey.

" She said sweetly. Timothy was chill, and well he did give her the job which meant she had more money. God, Harper loved money! Besides that Harper considered Timothy a friend.
Mentioned/ Interactons: Beau @Shattered♦Secrets™ Timothy @Shattered♦Secrets™
Outfit

​
Ian awoke to the dripping noise of his ceiling leaking. "Great.

" He muttered, as he pulled the blankets off his half-naked body. Ian found it easier to sleep in boxers than clothes seeing that his shift usually came at night and he had no control over it, also it saved him from always having to buy new clothes. Walking to the broken window, Ian looked out at the rain. Rain wasn't something that Ian was very fond of in fact he'd rather not have it seeing that he lived in a abandoned house out in the middle of the forest with a leaky roof. Ian had saved the house from foreclosing when his unexpected shifts began. He didn't have control over it, and found it safer to move out to the forest and change into a big spirit bear than in his apartment located in town square. Ian was slowly working on the house, and he had fully finished the kitchen, living room, foyer, half the bathroom, and both his and his cousin Amy's bedrooms. Though that was only one forth of the house.
Amy was also a shifter just like Ian was, except Amy turned into both a venomous snake and a eagle instead of a larger than average spirit bear. When Ian heard of Amy's mother's passing and her father disappearing, Ian didn't know what else to do but invite her to live with him. It had been a few months since he moved her in, and they seemed to be getting along fine. Both had similar personalities and did their own thing, and never really argued when they were together. Though their arguments were legendary when they happened.
Walking away from the window, Ian made his way to the broke down bathroom. Well, it was functioning but the condition it looked to be in was a bit ugly. Hopefully he would complete it by the end of this week so his cousin would stop complaining of it. It was slightly embarrassing living in this shit hole, but it made things a lot safer for others. Ian brushed his teeth, and did his morning routine. He had the day off so he figured that he would work on some of the house. Judging by the rain clouds he saw earlier the showers would cease and make working outside the house a lot easier.
Walking down stairs, Ian rolled his black v-neck long sleeves up mid-way. Going to his kitchen, he grabbed out a tall glass from the cabinet and then the orange juice from the fridge. Ian groaned. A few weeks back Ian had shifted and was out wandering the forest when a group of hunters had attack him. One shot at him, and thankfully it grazed his eyebrow, however the wound was still not healed all the way and he had the stitches on his eyebrow still. Sometimes it would give the brown haired male headaches at random. Rubbing around his stitches, he turned and poured his glass of orange juice. He then returned the juice jug to the fridge and drank the juice in the cup. Afterwards, he went outside and sat on his porch waiting for the clouds to clear. On occasion Ian saw hikers or trail runners up there, and it was nice to see someone besides the deer, Amy, or any other animal. A lot of the time Ian would get lonely up there having no one but his cousin to talk to, which increased his depression significantly; however, he knew he was doing the right thing by living in the woods far from the town. He would basically be devastated if he had killed someone...again.

​
Matthew Santos, or just Matt, rolled over in his bed. Finding a warm body inches from his, he opened up his left eye to find a female laying in his AC/DC shirt. Slightly propping himself up, he shook his head trying to get his memories back. Who was this chick? As he contemplated the question,
the blonde female started to stir. Matt looked over at her, as she slowly opened up her eyes and smiled at him. "
Hey there cutie.
" She said, touching his chest. Matt forced a smile. "
Um, hi.
" Matt said, his voice completely unenthusiastic as he removed her hand. He still had no clue who the girl was. "
I'm going to be straight forward with you...I have no clue who the fuck you are.
" He said, bluntly which changed the females demeanor to one of rage. "
Look, I bet we had a lot of fun last night, but now comes the part where you take my band T-shirt off, give it to me, collect your clothes and get out of my house. Can you do that?
" He asked as he held out his hand for his t-shirt. The female was wearing some underclothes which made the situation a little bit better...barely. Matt then stood up, and flung the shirt over his shoulder before walking out of the room, but before he did he called out a quick "
see ya
" her way.
Taking a shower, Matthew quickly changed into a pair of black jeans, red Vans, his AC/DC shirt and his leather jacket. He then made his way out of his house to his car. Getting in he started the engine and drove off. Half-way down the block, Matt saw the blonde walking. He honked his horn and continued driving. She flipped him off, and Matthew chuckled. It wasn't like she was cute. Driving to his club, Myth, he walked in and saw a few of his employees working on cleaning up the place. "
Good job.

" He yelled out before walking up a staircase to his office which overlooked the night club. He took a seat at his computer and started to look through financial records.
Last edited: