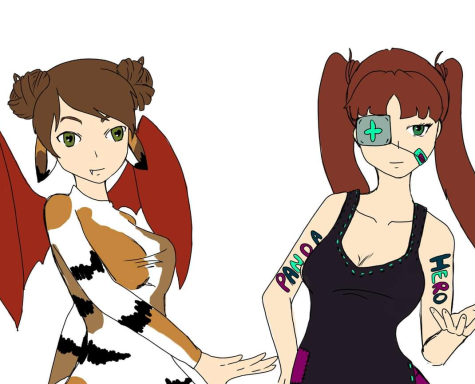 Chillaxed
Original poster
Posting Speed

1-3 posts per day
One post per day
1-3 posts per week
Slow As Molasses
Online Availability

AEST : 10am-10pm
Writing Levels

Give-No-Fucks
Elementary
Advanced
Adaptable
Preferred Character Gender

Male
Female
Transgender
Futanari
No Preferences
Genres

Action, Adventure, Animal, Apocalyptic, Comedy, Dystopian, Fantasy, Furry, Game, R. Harem, Horror, Modern Fantasy, Parody, Romance, Supernatural Modern

Buba had found Ophelia on another world. The girl obviously did not belong where she was. Her clothing was modern, her accent obviously not from the medieval world she found her in. Buba took aside the poor girl, feed her and asked her what happened. The story was really simple. She fell through a mirror that had somehow or another got connected to another world. Then she was here. Buba was quite confused. Ophelia did have magical abilities, she could see it in her, but they were no trained and still raw. Either way, Buba offered to help Ophelia find her way home.

That was two months ago.

Buba had no idea where Ophelia had come from and through searching through several modern worlds, Buba hadn't managed to find Ophelia's modern world. The heterochromia witch sighed as she put a hand mirror down from the chair she sat at in her dining room.

Shougen, her familiar, was lazing on the table in his black cat form. He was a demon that Buba had captured because he was terrorizing a town. She made a deal that he was to serve her as her familiar for a certain amount of time before gaining his freedom. It was that or she killed or turned him into a magical weapon.

Breakfast was on the table, Ophelia's room was upstairs, which was only a bunch of rooms for guests who traveled the world to stay. The stairs that went down into a living room with several bookshelves and a TV. Out of that room was a long hallway that went straight or right. Going right went to Buba's room, Buba's storage, which Ophelia was told never to go into, and the garage. Going straight lead to the kitchen, the bathroom, mirror room and the dining room, also where Buba took her guests. A doorway in the dining/sitting room took them out to a small shop, where in this world, Buba sold trinkets like tarot cards and magic stones.