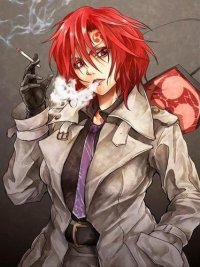 Excuse me? Do I have to kick your ass?
Original poster
FOLKLORE MEMBER
Invitation Status
Posting Speed

1-3 posts per day
Writing Levels

Advanced
Prestige
Adaptable
Preferred Character Gender

Male
Female
Genres

Horror, Yaoi/Yuri(for reasons), Sci-Fi, Modern, Magical, Fighting,
It seemed like so long ago that the world changed forever. At the battle of Marineford between the Whitebeard Pirates and the forces of the World Government, there were many casualties on both sides with some of the noteworthy ones being the son of Pirate King:Gol D. Roger and Second Division commander, Portgas D. Ace and Whitebeard himself. At the hands of Admiral Akainu and the combined forces of the Blackbeard Pirates. But before the cold hands of death could claim him, Edward Newgate had words that would change the course of the world as everyone knew it.
"One Piece....DOES EXIST!!"
With his dying breath, Whitebeard inspired a whole new generation of rookie pirates to hoist their jolly rogers and reach the New World in the hope of finding One Piece and gaining the right to the title of Pirate King! But this was not all that changed. Somehow obtaining the Quake-Quake fruit from Whitebeard after his death, Marshall D. Teach otherwise known as Blackbeard took his former captain's spot in the Yonkou and has also taken many of Whitebeard's islands under his control.
Also, former Fleet Admiral Sengoku and the 'Legendary Hero' Monkey D. Garp have both resigned from their positions to take on a mentor-like role for the up and coming marines. In order to fill the vacant spot left by Sengoku, Akainu and Aokiji fought for days on end on the island of Punk Hazard until finally Aokiji gave out and left the marines while Akainu was appointed new Fleet Admiral.
Now having full control of the navy's forces, Akainu's first order of business was moving the Marine HQ from the ruined island of Marineford to the former location of G-1 Base in the New World so as to better deal with the members of the Worst Generation and any new rookies.
But even with Akainu's iron fist now at the helm, there was still more that could be done while the Navy was occupied with other tasks. This burden fell onto the Seven Warlords of the Sea, a practice that Akainu despised due to the fact that it let pirates who he would have otherwise killed without a second thought free reign to do whatever they please as long as the World Government didn't find out about it.
It would take some time, that wasn't an issue. But he would use his new position to try and bring an end to the Warlord system and bring in all of the pirates that it had otherwise protected. For now however, they had their uses.
That said the Warlords usually didn't heed the beckoning call when a meeting between them and the Navy was assembled. But Akainu knew of a way that would bring them whether they wanted to or not.
"All Warlords are hereby ordered to repeat to Marine HQ lest they be stripped of their
titles
and thus have the full brunt of Absolute Justice brought down upon them. I will not repeat this a second time. Come to this meeting or reap what you sow, scum of the sea."
The decree from Fleet Admiral Sakazuki himself was broadcast far and wide so that every Warlord would be sure to hear it. Now, while Akainu was fully aware that the Gorosei would likely not approve of all of the Warlords having their titles taken away from them, the comment had merely been a ruse to bring any of the Warlords who valued their positions enough to come to the meeting to hear the plan that Akainu had in store.
The first of the warlords to heed the call was by no means a surprise to Akainu or the other vice admirals who had decided to attend.
Barthlowmew 'The Tyrant' Kuma.
Former commander of the Revolutionary Army
Has a frozen bounty of 296,000,000 Berries.
Having accepted to become the first of the World Government's series of living weapons known as Pacifistas under mysterious circumstances, Kuma went along with the orders as they were given to him by the World Government and if that meant attending the Warlord meetings than so be it. Walking past the stationed guards with a slight robotic feel to his walk, he'd reach down to pull out a chair for himself and sat down, bible still held under his arm.
The next warlord to make an appearance gave himself away as two of the Vice Admirals reached over and began to strangle each-other. Being the same vice-admirals from the last warlord meeting before the War at Marineford, they and more importantly Akainu knew full well who was behind these antics.
"I did not order for you to come here to cause mischief, Heavenly Demon. Sengoku may have tolerated such nonsense but I assure you that any more outbursts like this will not bode well for you. Now,
take your seat
."
Akainu warned as his right hand began to emit magma causing a portion of his side of the table to be set ablaze.
Releasing the vice-admirals just as they were on the verge of passing out, a chuckle could have been heard coming from the entrance as the next warlord entered the meeting room.
"Fufufufufufu! Have to admit Fleet Admiral, I'm more than willing to respect any man who isn't afraid to speak his mind. But I'll just let it be made clear that I'll not be threatened. Besides, would you really want to wreck this quaint little meeting room you have here? Pleasant enough for you Navy idealists to kick back and think of how you could try to possibly contain the surge of inspired pirates flowing in thanks to Whitebeard's last words."
Foregoing the usual manner of simply taking a seat next to Kuma, the warlord kicked aside any papers that may have been in his way as he sat down on the table itself and shot a grin Akainu's way as he spread his arms from side to side.
"But you're a smart man, you have to be to get to the position you're in. So you have to know that the dreams of the masses simply can't be stopped through sheer brute force. Fufufufufu! The era of the legends died along with Whitebeard at Marineford and a new one is on the horizon and to stop it would be taking away the entertainment value that all these naive fools will bring along with them!"
Donquixote 'Heavenly Demon' Doflamingo
Captain of the Donquixote Pirates
Has a frozen bounty of 340, 000, 000 berries
"Supposing your inane rambling has a point, that's why I've called you and the rest of your ilk here. You'll be helping to eradicate the filth that your fellow pirates have been leaving. Whether you wish to or not is no longer your decision."
@Jeremi
​
Last edited: