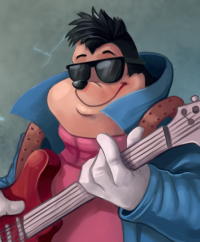 The Janitor Bear of Iwaku
Original poster
[tabs]
[tab=Overview]
- Art by QT
Welcome to our Walking Dead RP! Like any zombie roleplay, there will be action, gore and zombie killing, but at the heart of any RP within this genre is the twists, the turns, the drama, the heartache, and the joy of moral decisions that have both good and bad consequences.
Everything you do and say could have consequences down the line. The walker you killed yesterday was actually the mother of the person you met today. That guy you refused to give food? He decided to take it anyway and killed your best friend. That little boy you helped? He came back with a large group to steal your supplies. In this world, each choice can mean the difference between life and death. Don't ever get too comfortable, because you never know when things will all go to hell.
Of course, it's already there, isn't it?
***
The GMs for this RP are
@Lady Myst
,
@-QT-
, and
@Atomyk
.
A link our OOC Skype chat:
Join conversation
Among the Ruined was a roleplay that went on for a year on another website (Roleplayer Guild) and ended up with four "seasons". Now, we're bringing it to Iwaku with a reboot of sorts. The events of the past RP will be a part of the new RP's lore, but knowledge of the previous RP will not be required for any new RPers joining us!
So, what's the plot you may ask? It is not quite set in stone, but generally we'll be looking at various communities living their lives amidst the zombie apocalypse. Most of the people of these communities are just trying to survive and have to worry about the hardships that come with that. Of course, there will be conflicts between the survivors.
New players will start in and around the cities of
Natchez, Mississippi
and
Alexandria, Louisiana,
though the plots surrounding Alexandria have yet to really kick off. In Natchez, a community has settled within a fortified school once known as
Morgantown Middle School
. "Morgantown" will be where characters new and old alike will be colliding and attempting some measure of peace as they all try and coexist together. There is another group in Natchez involving a walled off apartment complex.
Right now, we're looking for input from past or new players on plots that will run into the future. Any input on plot, characters, or locations is always welcome.
​
​
[/tab]

[tab=Rules][/tab]​
[tab=Rules]
1) Absolutely no fighting in the OOC! You only get one warning, then your character(s) will be killed off and you will be banned from the RP.
2) No overpowered characters. It's okay to have weaponry, but not everyone is survival trained and can make a rocket launcher with a pocket knife, some string and a potato. Be realistic with your character's skills and their weapons!
3) An extension of the above rule-- We won't be accepting characters with military backgrounds. Characters with medical backgrounds will likely be asked to change as well. To avoid any conflicts it's best that you plan on your character having just been a regular person before the apocalypse hit. Stray from creating characters that have a particularly firearms-related background (Like someone who grew up hunting and is a skilled marksman).
4) We don't have many limits when it comes to explicit content. Strong language is fine, and gore is more than likely to come up. However, absolutely no smut should occur. Romance is fine, but anything beyond kissing should fade to black. If you really want to RP that out, take it to PMs or the Libertine section (But make sure you're both of the correct age!).
5) Killing of characters must be agreed upon, even NPCs. NPCs without a * next to their name are free to be moved around/controlled, required that their written personality/history is adhered to.
6) All ideas are welcome! If you have any ideas for major plot-related ideas, characters. locations, etc. then please PM either any of the GMs.
7) Before making any game changing decisions, please PM one of the GMs about it or discuss it in the OOC before posting it. This does not mean we need to make every decision for you, but MAJOR plot twists need to be approved by the GMs.
8) You can have as many characters as you can handle. Do not ignore anyone and post regularly. If you can't post for a couple of days, let us know so we can move around your character. If you do not post in the IC or OOC or PM us for a significant amount of time, then your character will be made an NPC and likely become a walker/corpse. If you want to return after that, you will have to make another character.
9) In that same vein, if you've been in the RP for some time and decide you want to go, the option for your character to become an NPC is there in case you ever return. Though NPCs are more likely to be killed off, the character just may be alive when you come back.
10) People will die. It's a zombie survival RP. We ask that you strongly consider ideas for your character's death eventually, even if you don't really wish for them to die. While we will never kill off your character without your consent, no one is likely to survive forever in zombie fiction. Just keep the idea in mind when making your sheet.
11) An important rule that some may take for granted: NO ONE IS IMMUNE. This is not
"The Last of Us"
, this is a
"The Walking Dead"
RP. There is no cure and there is no immunity to the zombie virus. Everyone already has it. Your character can be working on a cure, but that is all that is permitted.
12) Something we refer to as the "posting rule" should be in effect for every IC post. It is extremely helpful in keeping track of where everyone is. At the top of any post you make put in bold the name of the character you are currently playing, their location, and who you are interacting with. For example:
Kim - Bus Stop - Steven
If you are playing multiple characters in one post, just add their names in:
Kim and Stacy - Restaurant - Each Other
If there are multiple people in the same place and you don't know who you are interacting with at the moment, broaden the terms:
Kim - Office - Everyone
This way, no matter who replies, everyone who is currently in the office knows you might be interacting with them or can start an interaction.
13) We reserve the right to add more rules if needed.​
​
[/tab]
[tab=Maps]
Natchez
Mississippi/Louisiana Area
[/tab]
[tab=Character Sheet]
When making your character, keep in mind that the RP is currently approximately
10 months
, since the apocalypse began and that the current general setting is the
Louisiana/Mississippi area
of America.
Appearance:
(We request that you do not use pictures of an anime style for appearance. Real life images are preferred, but you may also use portraits or art if it's realistic in style. If you have trouble finding these kinds of images, feel free to ask me for assistance.)
Name:

Age:

Skills:
(Is your character good at medicine? Cooking? Electronics? Hunting? Marksman? These can be skills acquired after the outbreak)
Preferred Weapons (up to three):
(Anything they would realistically have. This can be optional if you really have nothing in mind. You could even use it as a sort of character inventory if you want)
Personality:
(Both good and bad points)
Bio:
(Characters generally will not know much about each other at first, so feel free to offer only a brief history, such as what they were doing before the outbreak and what they've generally done since then)​
​
[/tab]
​
[/tabs]
​
- Art by QT
​
Last edited: