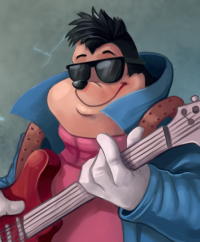 The Janitor Bear of Iwaku
Original poster
FOLKLORE MEMBER
Invitation Status
Writing Levels

Give-No-Fucks
Adept
Adaptable
Preferred Character Gender

No Preferences
Genres

Horror, Modern, Modern Fantasy, Multiverse/Panfandom, Mystery, Paranormal, Scifi, Survival
​
Stacey - Natchez, Morgantown Plaza
In this moment, Stacy was at one with the world. Though the skies above were grey and dull, Stacy felt at ease with her surroundings. She tingled with excitement, feeling a buzz at the back of her neck that felt both familiar and thrilling. She'd taken up yoga with Carley and her crew a few months ago only as a laugh. All she'd wanted to do was make fun of Carley's bullshit zen talk, but all Stacey had got out of it instead was a feeling of anger with herself for not trying the exercises out back when things were normal. Carley was still pretentious as hell, but Stacey had managed to find a begrudging sense of camaraderie with the weirdo. Stacey had managed to let go of a little of that anger she'd always kept trapped inside her, finding new joy in experiences she once found incredibly dull.
Natchez had always been a boring place to live. Oh, sure, people passing through probably found a little joy out of it, so she heard, but for anyone growing up there, they could never wait to get out of the damn place. It was the pit where dreams came to die, one of many such places across the world as it seemed, and anyone with the sense to have aspirations for the future got as far away from the place as they could. Unluckily for Stacey, the world had to go to shit before she could make that happen, keeping her stranded in this dreary small city for what could possibly be the rest of her life. Perhaps it wasn't all bad, as boring old Natchez turned out to be quiet both before and after the apocalypse, which was honestly a load off Stacey's mind. She couldn't even begin to imagine how hectic things were up in Jackson or down in New Orleans. Besides, Morgantown made it a bit better too.
Morgantown Middle School was not a school Stacey had ever attended, but she was kind of glad for that now. Living inside the school she attended when she was just a dumb kid probably would have been a little unsettling, she believed. She wasn't even sure how she and Carlos had gotten the idea of heading up that way in the first place. Mel and the others were still getting settled up there by the time they arrived, which meant Stacey got the prestigious job of helping set up a whole goddamn community inside a school. She probably hadn't been much of a help at all, but she had to say that she was totally proud of it regardless. Even if she had to live with girls named Carley and her dumb friends and her actually-kind-of-cool hobby.
In any case, Stacey was eager to help with whatever Morgantown needed, even if that involved the extremely lame job of scouting. Standing on rooftops for hours at a time was such a damn chore when nothing
ever
happened. The dead never gathered in high numbers around here, and, as of late, the majority of them practically turned into still statues that lingered around Natchez like a bunch of weird omens. Even if a group of living people came by, they were always heading South, determined to get on a boat and sail far far away. Good for them, Stacey thought, but she was content staying where she was, and that was something she'd never thought she'd be for. Scouting wasn't all bad now that she had a new hobby to keep her occupied, at least. The world had been so crazy and fast before, after all; So
loud
, that the idea of meditation seemed so weird to Stacey. Now that everything was quiet, stuff like meditation and yoga seemed like the most natural things in the world.
How was she supposed to know that today would be any different?
She'd been lost inside her own head, her eyes closed and her gun at her side. She was supposed to be watching for anyone coming in on the highway, but so few people ever
did
so... When she finally opened her eyes and saw the large crowd coming in from the South, Stacey could only help but stare. She'd been in the
zone
, fuck these people. They almost looked like an army at the size of them, and Stacey's heart felt like it had dropped into her stomach when she fully realized what she was looking at.
Standing up quickly, Stacey stumbled backwards as she grabbed for her rifle. She quickly pulled away from the front of the building, moving to the back where she would not be seen from the street. Still holding on to some of that calm, Stacey pulled out her radio and spoke clearly over the usual frequency. "This is Stacey." Anyone in Morgantown's operations room would hear what she had to say, in addition to the community's leaders and the other scouts scattered about. "A large number of the living have come in from from Highway 86, South. There's about forty of them, maybe even fifty... I did not get a good look at them, but the majority of them appeared armed. I have not been fired on, but I don't know what to do.
What do I do?
" A moment passed, where Stacey paused to gather a deep breath.
"Over."
​
---​
Tyler - Natchez, Morgantown Plaza
The air was cool, damp, and undeniably calm, but he felt like he was suffocating nonetheless.
A chill permeated the air, wrapping itself tightly around Tyler and settling deep into his bad leg. Everything seemed to collect in that leg, like a funnel for every ache and disgruntlement that passed him by. It had never really healed, the blame for that lying solely on the shoulders of Michael Tremblay, a man that Tyler couldn't be happier to be rid of. He'd died so unceremoniously, killed by some unknown assailant that Tyler had to figure was some hardcore son of a bitch. Tremblay hadn't been like Tyler, not by a long shot. Tyler had wanted nothing more than to gut the man and watch blood spill forth from him like a waterfall, but he didn't think Tremblay deserved to die, not really. He was stubborn and self-righteous, but somehow a good man, something Tyler couldn't say the same for himself.
Perhaps this was why his leg remained how it did, a steady reminder that he should have been dead in the ground right now, a corpse like so many others. Tyler knew death clung to him these days, like a tough cold he couldn't seem to beat. Every limping stride shot a dull wave of pain all the way up to his torso, each one feeling like a tick on some kind of death timer. This was not delusional thinking; Tyler knew his his delusional thoughts well, fuelled by anger he knew got away from him at the worst of times. No, this was logical thinking, for he knew fate had delivered him this fucked up situation, delivering a face full of karma for having so narrowly avoided it before. The Haywood survivors and New Orleans stragglers knew him far too well, and there was no doubt just about every one of them wanted him dead. He expected one of them to just go for it eventually, firing a round into the back of his head as they walked. It would have been so easy, especially during the few moments where they managed to sleep.
Tyler almost wished they would just fucking do it already. His eyes closed tightly at the thought. He imagined it almost too well, his mouth tasting metallic blood that wasn't there. He imagined his body going limp like Reggie's, and his spirit exiting his body to become one with the cool air. He fantasized about flying high into the air and leaving all of this bullshit behind. It would just be over, and Tyler would not have to live another day with himself.
A tug on his arm brought him back to Earth. He opened his eyes and looked down at Katie, who was looking up at him with an air of concern. She squeezed his hand tightly, staring at him with sad eyes; Katie's eyes always looked sad these days. Tyler observed his little girl for just a moment, his chest tightening in guilt. How could he think such thoughts when he had this precious girl by his side? She was his his hope-- his anchor. She not only kept him grounded, but kept him safe from arm. For all the evil Tyler had caused, Katie still thought of him as the most important person in the world. No one dared touch him in front of her, their moral righteousness stopping them in their tracks. If only Tyler had possessed such a thing before. Then, perhaps, Lauren would still be alive. Perhaps Katie would be in better hands.
However, Katie was in his hands, and after the arduous journey that had been their trip to Baton Rouge, Tyler saw no interest in facing the apocalypse on his own. Hated by the majority of them or not, Tyler needed them, at least for Katie's sake. Unfortunately for the group at large, Louisiana might as well have been a dead state for all they had managed to find North of Baton Rouge. They'd stayed on Highway 61 and passed into Mississippi, making it eighty miles from Baton Rouge before their last vehicle ran out of gas. The map they had on them had indicated the next major location along the highway was Natchez, prompting everyone to take on the last ten miles of the pilgrimage on foot. The trek had been hard especially on the children and wounded, the girl on the oxygen tank looking deathly ill in particular. There had been some debate on leaving some people behind to come back for them later, but a prevailing dread of being left behind had been on many people's minds. This group had banded together by hardship, but that did little to eliminate the underlying mistrust many had for one another.
Perhaps some thought that he himself would get violent if left with too few people around him. Tyler could have laughed at the idea.
As Highway 61 turned into Highway 84, they soon found themselves passing into Natchez, though the event was met with little fanfare. By then the group were too exhausted to be happy for the small victories. The priority now was find a place to rest their tired bodies. Finding supplies would have to come secondary. Another small debate ensued over splitting, but people were even less willing this time to entertain the idea. They passed by a number of schools following this, even a Walmart, but none of these locations offered themselves up as inviting. With everyone so drained, taking risks now could have meant the loss of too many lives to spare.
The city here was pleasant enough, with the streets looking rather clean despite the occasional dead vehicle. It was clear to Tyler that Natchez's population couldn't have been beyond 20,000 or so. This was practically the middle of nowhere compared to New Orleans, or even Baton Rouge. While that meant the undead would be far easier to deal with, it also meant supplies would be scarce.
Tyler could tell the group was was growing antsy with every building they passed by. Abram and Jon were looking ready to make a suggestion to possibly head back to the Walmart from before, but movement on the roof of a nearby plaza caught the attention of Tyler and a few of the group's members. Abram caught on quickly and aimed his M24 at the "Morgantown Plaza" roof, prompting Amelia and the other Haywood militia to follow suit. Tyler instinctively fell back, holding on to Katie with an iron grip. Naturally, he found himself beside Scarlett, the one person who seemed to genuinely care for him besides his daughter. It would have been foolish for him to tell her to "Get down" at this point, for he knew she was probably the stronger of the pair of them at this point.
Caleb, who had been holding on to Katie's cat near the back of the group, let go of the animal. The feline stalked away quickly, easily sensing the danger in the air. "KK," he muttered to the big middle-aged woman in charge of the children. "Get the kids near me."
As those near the back exchanged positions, Jon had his eyes scanning across the road from the plaza. "Bastard won't fire on us with this many people, but he might have friends around."
"Just wait," Abram said, looking as still as a statue. His eyes hadn't even blinked since he began aiming, as far as Tyler could tell. He could appreciate that kind of patience in a man. "Wait for him."
A dull pain started creeping up from Tyler's leg once again, as if reacting to the sudden rising tension within the group. The air was still cold and damp, but Tyler could feel sweat break out across his back. Both he and everyone else here knew of the dangers that lurked in this world. Everyone was a potential danger, no matter who they were and where they were found. Time would tell what danger the individual on the plaza roof was to them, and what kind of people they represented.
​
Last edited: