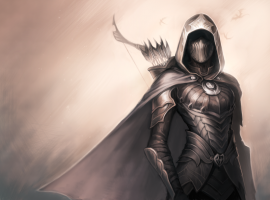 The Vestige
Original poster
FOLKLORE MEMBER
Invitation Status
Posting Speed

1-3 posts per day
One post per day
Online Availability

I can get on aound 3:30 on the weekdays. Weekends I'll be free at all times.
Writing Levels

Beginner
Elementary
Intermediate
Adept
Advanced
Prestige
Douche
Adaptable
Preferred Character Gender

Female
Primarily Prefer Female
Genres

Everything really! I do especially enjoy romance and fantasy aspects to roleplays.
It was Saturday. No, Sunday. No...Adriana wasn't sure. She didn't keep track of the days any more, they all blurred together. Every one of them was the same. Wet or rainy. Gloomy, always. Illness, everywhere. She couldn't take it. She had to get out of this stupid town... But she had work to do. Leaving wasn't an option when she had a duty to do here.

The patter of rain sounded on the rooftop of the home she was occupying. Not her home, certainly. This was far from whatever she'd be able to manage. She watched from the roof as the owner left and slipped in through the top story window just before the rain hit. The woman had a lot of good money. You could just tell this woman was rolling in luxuries. Or, at least, whatever luxuries you could get out of this town. Cups made of gold and silver. jewelry spilling from her drawers. She was proud of her find.

Adriana knew the woman wouldn't be out too long. No one was ever out too long. Only the poor saps who lived on the streets ever spent time outside, and that's because they don't have a choice. She knew she had to be quick. With the upstairs completely stripped clean, she crept past a birdcage and down the steps, slow and steady. She wasn't sure why she was so careful. She even made sure to blow out all the candles upstairs, Even though no one was home. She was almost sure of it. Only one bedroom upstairs. It had a big bed but there was no indication of a boyfriend or husband living here. So she must have been in here alone. Yet still she felt inclined to keep quiet. Just in case.
Last edited: