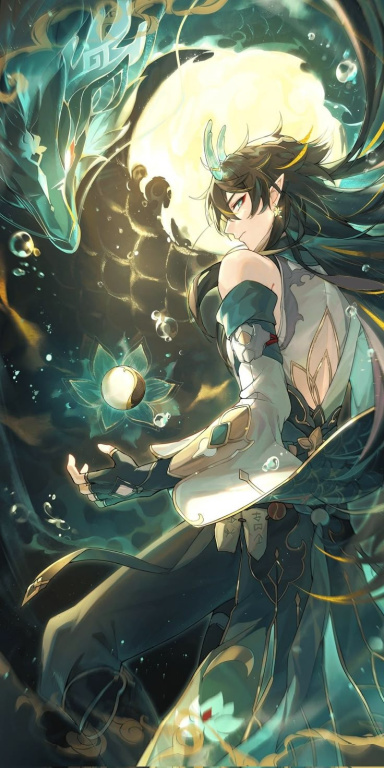 勇気 竜火
Original poster
DONATING MEMBER
Roleplay Invitations

Group Roleplays, One on One Roleplays
Posting Speed

A Few Posts a Week, One Post a Week, Slow As Molasses
Writing Levels

Advanced, Prestige, Adaptable
Genders You Prefer Playing

Male, Female, No Preferences
Playing Style- Passive or Aggressive

Generally aggressive in my own roleplays and a partner's roleplays, however I will take a passive seat if the scene calls for it. In group setting, if not my own then I'm more passive.
Favorite Genres

Fantasy, Sci-fi, Modern, Magical Realism, Slice-of-life, AU, Post-apocalyptic, mythology, time travel, fandom, romance, slow burns. Well, basically anything except for what is stated in the "Don't Like" section
Genre You DON'T Like

Master/pet, emo, furry, horror, hentai, Sandbox rps. Just no.

Romance, to a certain extant. Additional note on the genre, I don't hate romance, I love it actually! BUT, if I am not feeling any chemistry between characters, I will not force myself into it.

Perhaps one of the best things about Fall was the rapidly changing leaves. How quickly something so vibrantly green can turn to an equally vibrant shade of red. Added when those leaves fall and turn the ground into an array of red and gold. No matter how many times Masato Ueda has seen the change, he never tires of it. And he's seen it many times, more than anyone here in Portland, Maine.
Standing before his office window, Masato admired a large oak tree. The leaves were already a deep red with many of them already on the ground. A few teenagers—students at the school he worked for—hung out by the tree, some sitting in its branches while others stood around the base chatting with each other. One of them looked at the watch on her wrist, telling the others something before all of them started walking back to the school. That was Masato's signal that break time was over and he should head to class.
Taking a bundle of papers along with the teacher's version of the assigned textbook, Masato entered the classroom just as the previous teacher—a man in his sixties—stepped out.
"Max," the other teacher greeted, using Masato's American name.
"Hello, Dwayne,"
he greeted cordially. They nodded once to each other, a gesture to signal the transfer of classrooms. Once he set down the items he carried, Masato turned to the whiteboard and sighed. It was covered in various notes and equations, likely related to what Masato assumed to be chemistry. As polite as the other teacher was, he wished Dwayne would at least erase the board when he was done. Masato has brought it up before, though Dwayne's excuse was his joints were in pain and that he feared his back might give out due to his old age. It was annoying and somewhat ironic to hear complaints about being old when he himself was so much older. Then again, they were just humans.
Shaking his head but with a small smile on his lips, Masato proceeded to clean the whiteboard and write his own lesson plan for the day.
Students filed in as he did so, happily chatting with their friends and occasionally tossing him a greeting. A few of them commented on the new unit they were starting: The Roman Empire. Those in the room already seemed excited. His sharper than normal ears picked up on the little trivia bits they exchanged with each other as well as listing off some well-known rulers of the time. Perhaps having read as many books as he had given the very long time he has been alive, Masato should have corrected them in their discussion, but knowing they were eager to learn about the Empire made the teacher side of him stop. They'll learn more about it, so don't kill their enthusiasm.
Once finished, Masato headed to his desk at the far end of the room, turning on the computer and logging into the staff portal. There were a few minutes left before the bell rang, so he used the time to pull up the slideshow he had prepared as well as a link to a video for his students. Once the final bell rang and everyone was seated, he grabbed the bundle of papers he carried with him and went through the rows, handing them off based on the name written at the top.
"Morning everyone. I'm handing out your chapter tests from the other day. I recommend you keep them as study guides to help you in your semester final. As you can see on the board, today we are starting the Roman Empire. I estimate we'll cover it in about the same amount of time it took us to cover the Ancient Greece, maybe even more so since this era had an impact on countries well beyond its time of reign. However, I believe this will not be a difficult subject for many of you."
As he said that last sentence, he slid a paper onto the desk of a young girl named Charity Williams, meeting her eyes briefly before continuing. Written in red ink, was the score of her test: 66% with a letter 'D' next to it, and right underneath was a message saying,
"Please see me after class."
Once all the papers had been passed out, Masato turned on the projector to show the slideshow on the screen and headed for the front of the classroom to begin the lecture. His lecture was on the topic of the Empire's predecessor, the Roman Republic. While the subject wasn't specifically on the Empire itself, it gave Masato a sense of pride and satisfaction when some of his students raised some eyebrows when they learned the famous Caesar was
not
part of the Empire. For the last few minutes of class, he played a video he found that summarized everything he had discussed to help the students retain this new knowledge.
The bell rang and as students gathered their materials, he called out,
"Your homework for tonight is to read pages 125-133 in your textbook, then answer the discussion questions found on 134. We'll be having a group discussion tomorrow so make sure you come prepared!"
And with that, Masato sat down at his desk as he waited for everyone to leave.
Last edited: