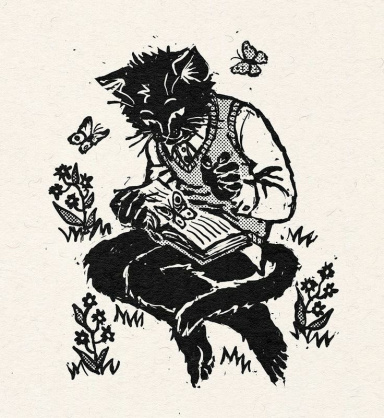 It was unbearable, but she had to bear it anyway.
Original poster

The Sight, a phenomenal gifted to select groups of people, the ones now called vampires, werewolves, witches, and the many other creatures that roam this earth. The main part of the twisted supernatural world, the power to see past the shadows covering the earths true horrors. People who see past it are called the Sighted, and people who can't see past it are called the Unsighted. A gift to some, a curse to others.

~
​
A cool breeze brushes against Coopers exposed arms, providing a much needed coolness. It's a great difference from the overly warmness of his cottage to the cool -bordering on cold- air the fall season brought. While he wasn't a fan of the festivities that happened in Warlington during fall, he could still very much appreciate the beautifully vibrant oranges and yellows that covered most of the town.
"
Master! Master
!"
An annoying voice screeches, his somewhat relaxing moment is ruined. Slightly to his right he can make out the tiny figure of a newly formed spirit. Their appearance loosely reminds Cooper of a mushroom, with their bright red hair poofed up into a round ball and a white dress loosely flowing down their figure. It was pretty surprising when he had reached down to grab what he thought was a mushroom, only for a meek little spirit to pop out. And for some reason, since then they've decided to make him their master. Most spirits tended to stick with the group they formed with, but this one seemed to be a little slow on the uptake.
"Is there a reason you're ruining this perfectly peaceful morning?"
Cooper says his voice still gruff from sleep, his eyes never straying from watching as the light green liquid in his cup creates little worm pools. His pale lips pursue as the little spirit knocks into the cup in its hurried rush to get to him, the now lukewarm liquid splashing onto his hands.
"
Sorry
!"
It squeaks sheepishly, their milky skin turning a bright red. If the thing wasn't such a pest, he'd think it was cute.
"Nevermind.."
He mutters, more to himself really, but the abashed smile the spirit gives him tells him it heard. Using the edge of the blanket propped beside him, he smears the liquid into his hand. The liquid spreads and leaves a sticky residue in its place .
"
But I have news from the town
!"
It squeals cheerfully, it's tiny legs dancing on the windowsill in excitement. Cooper only quirks a disinterested eyebrow, his way of saying 'continue'.
"
Someone's moving into town
!"
Last edited: