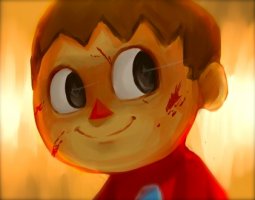 Hi-def
Original poster
LURKER MEMBER
FOLKLORE MEMBER
Preferred Character Gender

Male
Genres

Fantasy, Horror and Sci-fi. I'll try basically anything though. I also love strange and unusual RP genre concepts. Different is good!
Sean woke up early, his shaggy brown hair a hopeless mess. He had been wanting to get a haircut for weeks now, but had been so busy he didn't have the chance. Ever since he moved out of his parents house, his life had been very distracted. Aside from the endless bills and house work, he had a girlfriend that took up the rest of his time. Kalie, his lover. She was beautiful and everything that Sean had ever wanted in a relationship. He thought about her all the time. And to top it all off, they shared powers. Special powers that no one else seemed to have. Sean had the power to set things ablaze. When he first discovered it when he was 13, he was always reminded of that book by Stephen King, Fire starter. It was very simular to that.
Sean got out of bed, his skinny frame standing out against the early mornings light. Sean was well build, standing at 6 feet even. He had medium length light brown hair and a pair of striking hazel eyes. HE got up and started to get dressed, putting on a pair of faded black jeans and a black shirt with the words "Iron Maiden" printed across it, his favorite band. HE was getting ready to meet Kalie at school, always his favorite time of day. he went outside and jumped in his broken down Malibu SS, it was a nice car, but over the years had become little more than a bucket of rust. Inside the car, his gearshift was burnt and melted. He often got excited and released his power, especially when around Kalie.
He rounded the block as her High school came into view, just 20 himself, Sean had graduated last year. He got out of his car and headed towards her locker, their designated meeting place. A couple jocks passed him laughing, Sean gave them a look that said fuck off. He had never been popular at school, but he never took shit from anyone, and he worked out a lot so he didn't have to.






​