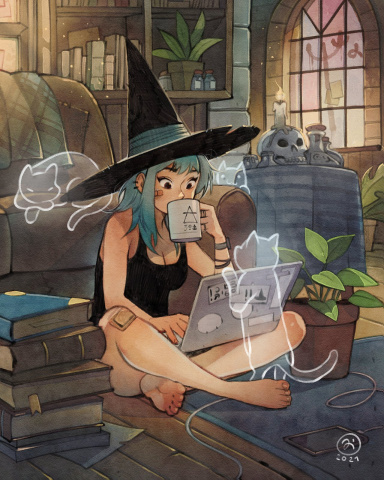 Moon Child
Original poster
Invitation Status

, ,
Posting Speed

Multiple posts per day, 1-3 posts per day, One post per day, 1-3 posts per week, One post per week
Online Availability

Monday - Friday: anytime past 2:30 (depends on the homework I have), Saturday and Sunday anytime I can get online
Writing Levels

Give-No-Fucks, Elementary, Intermediate, Adept
Preferred Character Gender

Male, Female, Primarily Prefer Female
Genres

Fantasy, Modern Fantasy, Modern, Magical, Romance, Medieval.




​

The music of the Neighborhood filled the manor at the edge of town. Inside stood a young girl with black hair as she finished ridding the house of moving boxes. She stood there in a long sleeve maroon shirt with grey shorts on as she raced around putting things away. Quickly smashing boxes and throwing them outside for recycling, she was in a hurry.





"Mindy, slow down," Cried her mother as the young girl nearly knocked the coffee out of her hand. Mindy ignored her mother by waving her hands in the air while mumbling "can't." The older red-haired female walked into the living room and sat next to her wife. "Maybe, we shouldn't have agreed to this. Who knows what kind of house we will return to come tomorrow," She worriedly said. Rachel and Cassie, mothers to Mindy and Wolf, agreed to let the two teens host a get-together at their new home. Of course, Mindy had to clean the house thoroughly, and Wolf needed to fix the mailbox he had run over with the moving truck.





Cassie sat back into the sofa and scrolled through her twitter. "What is the worst that can happen? Mindy has to clean tomorrow, and Wolf has to fix the mailbox again?" She joked. Cassie was worried herself, but not for the reasons Rachel was. Cassie worried that somehow the teens reconnecting would lead to the awakening of Mindy's gifts again. Cassie had done some questionable things to prevent her daughter's knowledge of her gifts; she didn't want it all hitting the fan now. "It's only one night, and we need it frankly. Besides, the hotel room is nonrefundable."





Mindy came crashing into the room with a box of movies. "Mom, where is the bookshelf? I didn't see it in the family room downstairs." Mindy stated as she sat the box down on the coffee table. The movies ranged from horror to romantic comedies set inside. Mindy watched as her mother's thought about the answer. "You don't know, do you?" Mindy groaned and grabbed the box again. "I'm stuffing this in the closet." She confessed as she left the room once more.





"Besides, Rach. Mindy wants to spend an evening with her friends. They haven't seen each other in years," Cassie said as she patted her wives leg. "And don't worry about any funny business. Mindy assures me that she is still a virgin." Cassie added.





Downstairs, Mindy stood placed many blankets on the sofas and chairs. Her friends didn't have to stay over, but if they wanted to, they could. Mindy and Wolf had gathered plenty of snacks and drinks for the evening. Wolf even got ahold of some alcohol for tonight. The family room looked out on the creek just passed their backyard. It was peaceful and when it rained made the place quite eerie. Mindy was in love. She didn't remember her grandmother's home being so updated and beautiful, but returning here was like finding the place she belonged.





Going into her

room

, Mindy checked her phone for any text messages from her friends. Izzy was on her way over with her cousin. Auggie was bringing his cousin too. Ben and Damien, two people Izzy swore by, were leaving their home soon. Sabine and Hales weren't heard from, but Mindy knew they were still coming sometime tonight. Sighing, Mindy looked at her closet. She wanted to wear something cute, but simple enough. It took nearly an hour to pick an

outfit

and freshen up for the evening. Once finished with her makeup, Mindy heard the rumbles of luggage rolling across the floor. Rachel and Cassie were leaving and judging by the tiny footsteps that followed, so was Lyle- Mindy's little brother.





Exiting her bedroom, Mindy ran upstairs and looked over towards the front door. "Bye, Buddy! Have fun at Nana's and Papa's," she called out as she watched Lyle waving. Rachel had arranged for her parents to take Lyle for the weekend. Mindy was grateful. "Mom, did you get the hot wings in?" Mindy questioned Rachel, who nodded. Pointing towards the kitchen, Rachel mentioned that the money for the pizzas was on the counter. Mindy thanked them and then kicked them out. Her friends were going to be arriving soon. Before closing the door, Mindy looked outside at Wolf, who struggled with getting the stack of the mailbox back into the frozen ground. "Just bring it on the porch. We can always get one that hangs on the wall," Mindy mentioned. Wolf seemed relieved.





Mindy went downstairs to the family room before sending a group message out. She informed everyone to enter the house through the lower level patio door. She didn't want to be answering the door all night, and she had already locked the doors upstairs. Now she just needed to wait for others to show up.



Last edited: