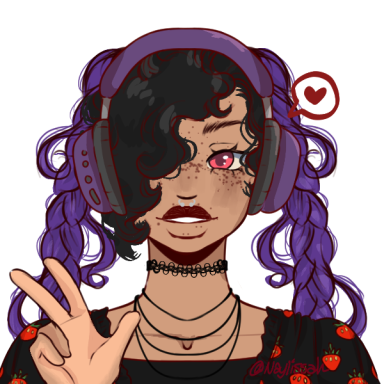 Like ouija except better
Original poster
Invitation Status
Posting Speed

One post per day
1-3 posts per week
One post per week
Slow As Molasses
Online Availability

Weekends or mornings before work during the week
Writing Levels

Beginner
Elementary
Intermediate
Adaptable
Preferred Character Gender

Female
Primarily Prefer Female
Genres

Romance, Horror, Modern day fantasy

Hello everyone!

So, I'm currently looking for a partner or two (maybe more) to do some Libertine roleplays with.
I'm just gonna leave y'all some information below~
​
-I'm of age (over 18) so I can do this.
-I enjoy doing OCxOC pairings but I do have a fandom I rather enjoy and that fandom is Steven Universe. I am not too deep into any other fandoms but if you do wish to roleplay another one let me know and if I don't know much about it, I'd be more than happy to think on it and try to get some type of understanding on it before I give you a definite yes or no.
-Now, subject matter. Sex and romance are always a yes in my book but, I also enjoy non and dub-con without the romance in it or developing romance. I also enjoy gore very much (gore being blood and lots of it as well as people losing body parts or their insides falling out so...)
-Length of writing... I'm open to pretty much anything except novela because I am dyslexic and honestly that would throw me off so please no more than 2-3 paragraphs. By paragraph I mean at least 3 sentences. But you don't have to do para.
​
PAIRINGS

-Mother x Daughter**
-Father x Daughter**
-Brother x Sister**
-Master x Slave
-Vampire x Human**
-Demon** x Angel
-Demon x Demon
-Demon x Human
-Angel x Human**
-Teacher x Student**
-Student x Student
** = Who I would prefer to be in the pairing
I am open for discussion on more pairings but these are the main ones I am in search of

​


That's probably about it. Please PM me if you have any questions or if you'd like to plot.​