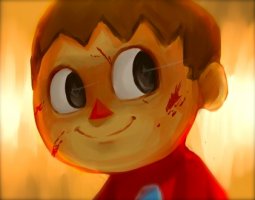 Hi-def
Original poster
LURKER MEMBER
FOLKLORE MEMBER
Preferred Character Gender

Male
Genres

Fantasy, Horror and Sci-fi. I'll try basically anything though. I also love strange and unusual RP genre concepts. Different is good!
Terra found a perfect room in a matter of seconds. It had two -HUGE -beds and a nice black leather couch. There were wrap around windows with an electronic switch to pull back the curtains. When Lance hit it they had a spectacular view of outer space. Orions belt was just to the south and other planets could be seen in the distance. Next to the couch was a small refrigerator. In front of the couch was a huge flat screen TV. Across the room from the beds and TV was another wrap around couch with a nice cherry wood table in the center. It had a small book rack on it, which was empty, but Lance thought it would be perfect for all Terras books and such. He was hopping that they could get signal here to access the Cyberweb, the internet of the future. Lance looked to Terra

"So, Should we get our things tonight or rest first?"