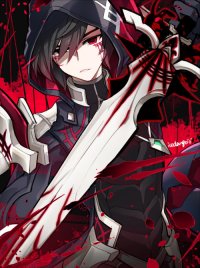 Hellhound of Iwaku
Original poster
Invitation Status

, ,
Posting Speed

1-3 posts per day, One post per day, 1-3 posts per week, One post per week
Online Availability

I usually am online at all times, but sometimes I play MMOs and watch Youtube for funsies.
Writing Levels

Intermediate, Adept, Adaptable
Preferred Character Gender

Male, Female, No Preferences
Genres

I like any genre as long as it has an awesome storyline.

Ok, so I am doing something different right now. I did RP Requests before, but sometimes I either got someone who wants a character I am unmotivated to do, or there is a character that I realize I never get to play with.
SO! I decided on this!
I will create a shuffle request, where there will be four characters posted. Each of them will represent a pairing (MxM, FxF, and a female and a male for a FxM). Stories will be different (or I will try to). And they will be characters I really want to play.
The twist? They will be
switched
within each week (or whenever a character is taken), so that I will have a chance to play at least someone I am interested in. With that, let's give this a try!
Post Content and Length
I enjoy roleplays with posts of various lengths. However, if we fall into a rut of one or two lines I will object. I also prefer Rpers who can contribute to the storyline as well. If I end up being the only one contributing to it, I will admit to slowly lose interest and I might never post. We can discuss where things will go through our OOC if you like, but do please contribute and bring ideas to the RP!
Their pictures will either be anime or realistic, but they can easily be converted if you want to. Age can also be converted if you are more comfortable with playing characters 18+ if need be.
I am more of a PM person than threads because sometimes, I do not have access to my laptop. I can do things through Threads as well, but a reply will be slower than it would be in PMs. I also am a Redstar roleplayer so if you want the RP through threads, we should start our thread in the Redstar forums. If we were to decide to take the story in that direction, I feel it best to be able to do so without fear in there. Doesn't mean we have to, but the option is open.
Please PM me all requests with the title "Among my future" in order to show that you read all of this. I know that it's a lot and that it can be easy to be turned off by seeing so much text, but I have had a lot of dropped roleplays due to people entering with interest only to realize my preferences didn't match up with theirs. Thank you for the time if you did read everything!

Notice: Do not post in here!
If you are interested in the characters, PM me only! This forum should be only for my characters, not you posting interest!
Last edited: