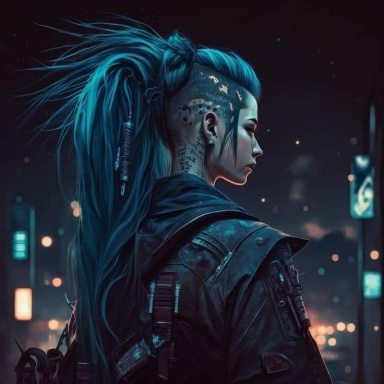 Rising Kpop Star
Original poster
Roleplay Invitations

Group Roleplays, One on One Roleplays, Private Convo Roleplays
Posting Speed

Several Posts a Day, A Few Posts A Day
My Usual Online Time

My posting days are usually Mondays and Tuesdays if I am not preoccupied with Videogames
Writing Levels

Intermediate, Adept, Advanced, Adaptable
Genders You Prefer Playing

Male, Female
Playing Style- Passive or Aggressive

If no one is stepping up their game, I get aggressive, but most of the time, I am passive. Usually I am both
Favorite Genres

Fantasy, Realistic, Romance, Horror, Modern, Scifi, Zombies, Action, Adventure, Fandom, Drama
Genre You DON'T Like

Furry, Animal, Yaoi


Not sure, but its been on my mind for quite some time now. I was hoping to open an RP based off of the four films and the TV series.
The franchise is set in a Dystopian Future where the United States is recovering from a period of economic collapse and social unrest after a Political Organization called the New Founding Fathers of America is voted into office, where they establish into a Totalitarian Government and Police State. In exchange for a strong economy and the unemployment and crime rate being at an all-time low, a 12-hour Event known as the Purge is held annually. In reality, the event is used as a method of artificial population control, as the poor and some working-class people are the primary targets, as all crime, including murder is legal for the 12-Hour Period.
Note: The United States has seen an increase in tourism, as Foreigners will travel to the US to participate in the Purge.
On Purge Night, what are you going to do? Are you just fighting to survive the night? Or are you participating in the Government-sponsored Destruction, Mayhem and Murder?

Rules for the RP:
Please be polite and respectful. If you can't manage this, you will be kicked, and YC will be killed off.
No rushing people for replies. I'd like this RP to last and people hate being rushed. But at the same time, I want this roleplay to be active, so if you aren't going to be active, please do not express interest or make a CS. I get that things come up, that's not what I'm talking about.
Quality over quantity. No one liners. There is a 2 paragraph minimum per post. Be sure to proof-read and spell-check before you post
Romance isn't a must, but encouraged
Be mature. Not saying this RP is going to break Iwaku's rules, but I'm saying there may be mature topics/triggers. Do not bash anyone's character or anything like that.
On the topic of triggers, please be respectful. Do some research if you have to. Triggers are nothing to take lightly, and if someone gets upset, don't bash them for getting upset. Warn us if your post or your character has triggers/trigger warnings.
If you have an issue with someone, come to me first. Or be a big person and actually talk to them about it.
All Iwaku Rules Apply
Plot: The RP will be set in the Summer of 2019. While the Purge has already passed, the NFFA has other plans. A second, longer purge as the one in March didn't do so well compared to its predecessors. However...this one is gonna come by surprise. No Warnings, No Heads-Up. Good Luck...
Rules for the Purge:
Sirens blare throughout the land to signal the start and end of The Purge.
All police, fire, and medical emergency services remain unavailable or suspended for the twelve-hour Purge.
Government officials of ranking 10 or higher are granted immunity (revoked during Election Year to legalize the murder of a political opponent).
Weapons of "Class 4" and below are permitted for use while "Class 5" weaponry (explosive devices such as grenades, rocket launchers, bazookas, etc., weapons of mass destruction, and viral/biological and chemical agents) is prohibited.
Public hanging is the penalty for violators of any rules.