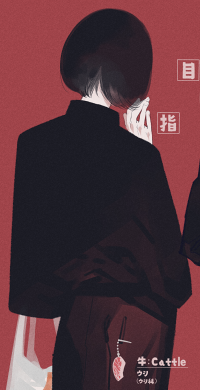 この世は でっかい宝島
Original poster
「TAKAMAGAHARA」
THE PATH OF CHERRY BLOSSOMS
The land of Takamagahara has always been populated with numerous youkai, sealed away from the prying eyes of humans. The beautiful, picturesque land has been closed off by a ring of cherry blossom trees, all ever in bloom and unyielding to weather and damage, for a long time. Only youkai may pass through the trees without harm, humans would find themselves unable to take even one step into the perimeter.
It's another lovely spring. the sky is a bright blue, dotted with lazy clouds. The youkai are dancing, and the cherry blossoms are... not blooming? For some odd reason, despite it being the season where the barrier would be at its strongest, the trees that have stood against time are slowly starting to die, but for what reason?
Rumor has it, a youkai that had once disappeared from Takamagahara centuries ago going by the name Shuten-douji, is trying to find a way to reopen the seal that blocks the entrance to the abandoned Hell...
---
Welcome to Takamagahara
.
Hidden in the countryside away from human cities, this sacred land has been home to youkai and gods since times unknown. Populated by youkai, each unique in their own abilities and personalities, they all live in harmony inside the cherry blossom trees that act as a protective perimeter to their world.
There are several notable landmarks.
Beyond the Boundary
- through the seemingly endless forest of cherry blossom, whose scent seems a little too 'magical', is the misty gateway between the Human World and Takamagahara. Miles away from the country mountains is a busy and bustling 21st century Japan, where technology is rife and business is booming. Slowly, they seem to be caring less and less about preserving nature - and that is slowly causing a lot of problems.
Okanyama - a three peak mountain on the north side of Takamagahara. The eastern peak is home to tengu clans, who are currently fighting the oni clans on the western peak for more territory. The middle peak is home to a shrine worshipping the deity of the mountain, and is sometimes considered a safety point among the tengu and the oni.
Ryugukawa - a lake running from north to south on the east side of Takamagahara. It houses the Palace of the Dragon King, and is home and birthplace to many water-dwelling youkai.
Kinmokusei - a small town situated on the south side of Takamagahara. It is home to humans that have strange, magical abilities of their own, and live together with youkai in this land. It is unknown how humans first came to be here, they may have been here before the creation of Takamagahara, or humans who have been accepted by the cherry trees.
Abandoned Hell - location currently unknown. It was once a place where vengeful spirits were sent to until the death gods found it too crowded for it to be used well. Although they have since relocated, few tightly sealed evil youkai were left within its depths, hoping that nobody would be able to undo the magic that binds them in the darkness.
Please click on these tabs.

1. To follow all of Iwaku's rules and policies, and also to treat all other players with respect. If you have any issues with each other, please sort it out through PMs or message me about it.



2. That you are a INTERMEDIATE to ADVANCED writer. I would prefer a paragraph at the minimum, but quality over quantity. Nevertheless, everyone likes someone who puts in effort into their writing.

3. That you post AT LEAST ONCE A WEEK. I myself am a senior student, so I understand if life gets in the way of things. If you cannot meet this, please leave a note in the OOC or send me a message if you need a bit of an extension.

4. That you will contribute to worldbuilding and plot development. I love it when people throw their own ideas into the pot, it makes the story more interesting. If worldbuilding is not your thing, I would appreciate it if you could be a participant in discussing the plot

5. Take the initiative. There will be no posting order, so please feel free to communicate and collaborate with each other if you would like to branch off or create a subplot.

6. No SMUT. Violence, gore and all that bloody goodness is alright here, no sexual content allowed. Romance is fine.
I will not be limiting what youkai species you can choose. However, you are not allowed to play as named, famous youkai such as 'Yamato-no-Orochi' or 'Tamamo-no-mae'. Abilities are also very open, providing they are not extremely overpowered, I will notify you if there is a problem. Right now, you can have two characters maximum. You may be allowed to create more in the future if necessary.

CHARACTER SHEET
NOTE: feel free to create NEW LOCATIONS not listed as a significant landmark if needed for your character's backstory and or current location.

Name: (self explanatory. You may also provide kanji characters, but keep in mind you don't have to use an Asian name at all!)
Age: (estimated is fine)
Occupation: (if applicable)
Alligiance: (may be self, may be unknown, may be to a god)
Appearance: (please provide a faceclaim, I would personally prefer anime-style ones. You may also have a worded description, you may also include any alternate forms)
Personality:
Abilities:
History: (as detailed as you want. Honestly, it can be anything. They were a princess, they were an exile. They fell from the sky, they came out of the ground. Possibilities are endless!)
Shuten-doji - Mysterious youkai who had disappeared from Takamagahara many, many years ago, only to return now with the deadly goal to unseal the barrier.

Ibaraki-douji - Shuten-doji's right hand. Seems way too interested in Okanyama.

Yamata-no-Orochi (Ryu) - A legendary and malicious youkai sealed away from the Yamas of the Underworld when it was slain by the god Susano-o.



---


Doggugo (Inugami) - A inugami who is unable to take on the form of a human. He loves money above all else, and is known as the banker of Takamagahara. No matter who you are allied with, or what your motives are (even if you're a criminal), Doggugo will guard your money with his life. He also has human money on hand for exchanges.




Beyond the Boundary (境界を越えて) - cherry blossom forest perimeter surrounding Takamagahara on all sides in a circle.

Ama-no-uki Hashi (天浮橋) - a long road reaching from the west of the border to Sakuraboshi, named after the bridge that was said to be the connector between earth and the Shinto heaven.

Sakuraboshi (桜房市) - "sakura cluster city", the central location where youkai live and thrive together. It is known as the location of Miya's entertainment hub - Oodoburu (大都振る), and is a hotspot for big youkai festivals and events.


Ping's Shop (和平の店) - He Ping's special shop is located down a little path surrounded by trees just east of Sakuraboshi. His home is nearby.
Kuraokami's Temple (闇龗神社) - a temple located up a small hill east of Sakuraboshi, is home to many youkai priestesses who worship the god of rain and snow. It is perpeptually cold there.
Koizumi's House - located a small walk south-west of Sakuraboshi.
Dancing Lotus (舞蓮) - tea shop and theatre. Owned by Botan.
Doggugo's Store (ドッグゴの店) - The most loyal banker and money exchanger you'll ever meet.


Okanyama (王冠山) - northern mountain ranges.


Akatsunoshi (赤ツノ市) - the home of oni-kind on the western peak. Is on top of running lava, has plenty of forges in which they make their signature iron clubs.
Tenchishi (天地市) - the home of the tengu on the eastern peak. It is a place full of natural hot springs, which the tengu are very proud of.
Gajettomēkā (ガジェットメカ) - technology reclamation and home of the Eisei twins. Found under Tenchishi on a cliff face.

Okanyama Shrine (王冠山神社) - the home of the mountain deity of Okanyama. It sits on the very top of the middle peak and should not be disturbed.
Norikai's Hut - home of Norikai the hermit. Found on the central peak of Okanyama, below the shrine near the middle of the ascent.


The Whispering Woods (囁く森) - a big forest surrounding the base of Okanyama.


Kodama Tree (木霊の木) - a large tree that is the home of Arakashi's kodama friends. Protected and surrounded by magical charms. Although unique, surprisingly does not stand out in the forest.
Arakashi's Home - nicknamed 'A Leap Away', sits alone on the south-western border of the woods.
Fukuda Household - sits on the north-eastern outskirts of the woods


Ryugukawa (龍宮川) - eastern river that seperates the east from the rest of Takamagahara.


Palace of the Dragon King (龍宮城) - found at the bottom of Ryugukawa.
Kicho (貴著村) - a small underwater village near the top of the river, is popular for youkai who like to swim. There are a few businesses on top to trade with.
Botan's House - a mansion surrounded by a beautiful garden on the east side of the northern lip of the lake.


The Cursed Forest (呪われ森) - Although the Cursed Forest only accounts for the center area of the forest, it is collectively named so. A home for malicious and chaotic youkai.


Garden of Venus (ヴィーナスの庭) - a ring of maneating but beautiful looking plants that surround the more 'peaceful' outer perimeter of the forest. The only safe spot is by entering from the forest's east.
Fist of Fear, Touch of Death (恐怖の拳, 死の接触) - Aku's dojo, located at the heart of the Cursed Forest. Teaches martial arts and a special style of hand to hand combat known as the 'Death Touch'.


Hayasaka Hill (早坂) - A hill found on the east of Takamagahara across Ryugukawa. It is completely surrounded by gravestones and acts as a burial place for youkai and humans.


Hayasakabochi (早坂墓地) - The Hayasaka Cemetery.
Hayasakamura (早坂村) - A village set on top of Hayasaka Hill and is home to many undead youkai.


Rinkorashi (鈴湖らしい) - A huge field full of bright green valleys and meadows. It is home to a rural community and vibrant flora and fauna, as well as fresh water lakes and waterfalls.

Shinkuro (芯畔) - a large upscale town, home to wealthy people, birthplace of entertainment and trend setting town. The highlight of this town is a well known inn and bathhouse, and is also the tallest building in the town.

Kinmokusei (金木犀村) - southern village mostly populated by humans.

Hyogo (標業) - a village home to the Mochizuki clan of the Gyokutou. Found in between Sakuraboshi and Kinmokusei.

Abandoned Hell (旧地獄)- the old location of Hell, has been mostly emptied of its residents.
The following are the allegiance and factions of Tamakagahara. This is a work in progress, more will be added as the plot progresses.
Youkai are separated into three main clans or types. In general, they get along well and do not have problems with each other. These are:


The Daichi - all youkai that live on land. This includes animals that have grown old and developed mystical powers. This also includes the departed. All souls, ghosts and inanimate objects that have gained life belong in this clan, and are considered Daichi because of their ties to the earth.
The Oafu - the 'oarfish', a name used for all sea-dweller youkai or those who originate from the sea, considered to be messengers of the Dragon God. May or may not be true.
The Kyuten - the youkai of the wind. Any youkai that may fly can be classified as a Kyuten. Mostly populated by tengu.


From this point onward they are sorted into clans by species. Tengu are part of the tengu clan. Oni are part of the oni clan. And within those clans, they may be smaller clans that are similar to families.
An allegiance. Includes youkai who are for the unsealing for their own personal reasons. There is no de facto leader, although Shuten-doji was believed to be the instigator and formed the idea and the belief that the seal could be undone in the first place. There may be a race to see who is the one who free Orochi first, and infighting among youkai who are for the unsealing.
A faction and also allegiance. Populated with gyokutou and Tsukihito (moon people), it is sacred and 'holy' place where mortal emotions are discouraged, and where this purity must be maintained. Those who inhabit it were descendants of the Jade Rabbit and the moon goddess Chang'e. As the Jade Rabbit was her subject, it is the Tsukihito who are considered royalty on the moon, though there are few of them.

One of the largest gyokutou clans is the Mochizuki, who have since relocated to Takamagahara.
​
Last edited: