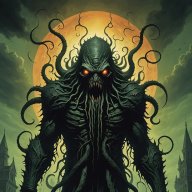 Waiting for Wit
Original poster
SECURITY LEAD
SECURITY DEPARTMENT
FOLKLORE MEMBER
Invitation Status

Looking for partners
Posting Speed

1-3 posts per day
Multiple posts per week
One post per week
Slow As Molasses
Online Availability

On fairly regularly, every day. I'll notice a PM almost immediately. Replies come randomly.
Writing Levels

Adept
Advanced
Preferred Character Gender

Primarily Prefer Male
No Preferences
Genres

High fantasy is my personal favorite, followed closely by modern fantasy and post-apocalyptic, but I can happily play in any genre if the plot is good enough.
She was kneeling, shins pressed against a cold surface, although she couldn't remember falling to the ground. Trembles raced up and down her body, almost in time to the splitting pain that was arcing through her head, down her neck, and seemingly through every nerve in her body. She gasped painfully, lungs almost seeming to resist the intake of air for a split second before yielding to the demands of her body and allowing oxygen down her throat.

There was nothing around her but darkness, and in a desperate moment of panic, she realized that she couldn't tell whether or not her eyes were open or closed. She tried to move her hand to claw at her face, body still fighting to breathe with every gasp she took, but it felt like her entire body was moving through sludge, muscles trembling desperately as her entire body fought her own movement. A moment later and her fingers touched her face, before her nails dug sharply into her own flesh jabbing into the corners of her eyes and catching on the delicate skin at the corners of her mouth and ears. A cry of pain tried to squeeze from between her lips, but the noise was silenced as her entire body suddenly froze rigid.

"Look at me."

The voice was demanding, almost echoing, and for one moment the image of a smiling, wrinkled face appeared in her mind's eye, his gentle eyes at odds with the harsh demands of her voice. And though only a moment ago she could not find her own eyes, she found herself looking forward.

A man stood in front of her, and for a moment an ache of familiarity burned in her chest. However, a second later and the figure distorted around the edges, the uniform dissolving into a haze of green, the face partially warped like the melting of hot wax.

The person in front of her frowned, arms folding in front of his chest before one hand passed through his own forearm. "I hate dealing with the new ones," he grumbled, before eyes locked onto her form and flashed a bright gold.

"You have been Chosen. I, Vaius, God of Ambition, have brought you here to serve Me and My goals. Fight well, and you shall be rewarded. Cower, and I shall slay you Myself."

An echo, a tingle of wrongness, flooded through her at the sound of these words. She didn't know where 'here' was, didn't know what this meant for her, but she knew it was wrong. This wasn't where she was supposed to be, this wasn't what should be happening.

Her body was still fighting her. She couldn't move, and the trembling of her body only got worse the more she tried to reign it in. The god before her looked down on her with some mixture of pity and disgust as her body rebelled against her control. "You won't last long, will you? And I had such high hopes."

The god vanished with a wave of his hand, and even in the darkness that remained the world seemed to twist around her. She tried to gasp, but there was no air to inhale, she tried to move, but she was no longer sure where her body was. Darkness pressed in all around her, squeezing into her, crawling down her throat and through her ears and nose. And just as she was sure she was about to be consumed, it ended.

She landed, kneeling again, but this time on hard packed dirt. Sunlight stung at her eyes, causing them to water, but as she gasped the air flooded easily into her lungs, and the shaking slowly faded away. She lowered herself slowly to the ground, still gasping, before burying her head in her hands.

"There's a new one!"

Another voice wormed its way into her ears, but this one didn't have the strange, echoing grace of the god that had spoken to her before. In fact, it would have seemed entirely normal if it wasn't for the unfamiliar sounds, which somehow contained a meaning she understood.

Gradually, she lifted her head, mid-length dark brown hair falling in front of her face, covering lightly tanned skin and green eyes. Gradually, she began to orient herself. She was crouched in the middle of a circular space, surrounded on all sides by foreign structures. Just on the outside of the circle, which would be large enough to hold two or three people spread-eagled, a man with wild black hair and bright amber eyes was staring at her. Her breath finally settling, she lifted her head to glare back at the intrusive gaze, a frown spreading across her lips.

"Someone go get the Lieutenant," the man said again, before staring at her once more. "You just sit still, someone will come deal with you soon enough."

And, left with those ominous words and little more, she froze in place, awaiting whatever fate was coming her way.