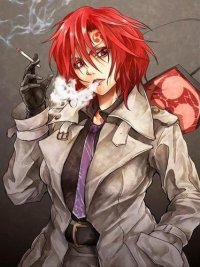 Excuse me? Do I have to kick your ass?
FOLKLORE MEMBER
Invitation Status
Posting Speed

1-3 posts per day
Writing Levels

Advanced
Prestige
Adaptable
Preferred Character Gender

Male
Female
Genres

Horror, Yaoi/Yuri(for reasons), Sci-Fi, Modern, Magical, Fighting,
Krauser chuckled a bit at how irritated Mom seemed to be. Krauser didn't hold any strong dislike for her or anything. But if there was some amusement to be gained by getting her to act serious if even just to get in another quip towards him, he'd take it. "I'm just going to
burst
with excitement at that." He'd say sardonically at the mention that he'd be seeing a lot more of Mom as the two of them and Nemesis continued to linger around whatever the hell this place was.
"Nemesis T-Type, back away."
He'd say before pressing the button on the remote as Nemesis slowly turned to glare at Krauser before backing up and turning away from the two but still staying nearby.
"..Interesting. I wasn't made aware of any such safeguard but I suppose it makes sense. Would be quite the fault if the creation turned on it's creator. But we won't have to worry about that as long as I'm well equipped."
He'd say patting the pocket where the remote was held.
"In any case, our end goals may not align which is true enough. But think about what we could do together in the mean time, Lalonde. With the Nemesis model's strength and durability, my skill, and your intelligence, so much can be done. Even for that daughter you hold so near and dear to you."
As for Add, Krauser gave him a simple nod in acknowledgment. As far as he was concerned, the two of them had already spoken their piece. Nothing more needed to be said between them at the moment. Nemesis gave a growl in Add's direction as well.
"Grrraaaaaahhh.."
@Atomyk @Gummi Bunnies.
​
Last edited: