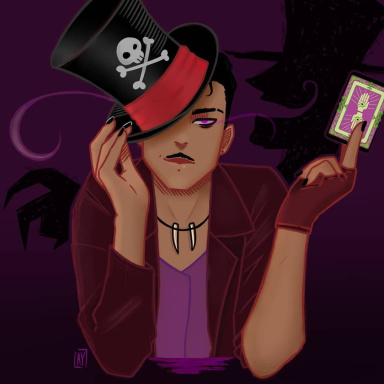 💖 THE P!NK CHAOS 💖
Original poster
MYTHICAL MEMBER
Posting Speed

Speed of Light
Multiple posts per day
1-3 posts per day
One post per day
1-3 posts per week
One post per week
Slow As Molasses
Online Availability

I never know when I will get online, but I usually get on most days of the week and weekend. I am pretty active on here so you will see me around a lot.
Writing Levels

Adept
Adaptable
Preferred Character Gender

Male
Female
Transgender
Primarily Prefer Male
Genres

High School/College, Scifi, Modern, Magical, Horror, Romance, Yaoi, Yuri, Slice Of Life, R Rated xD, Modern Fantasy
The Magical Realm: A Warped Reality Of Magic & Chaos
​

As a kid you've probably heard about magic once before. The stories of fairies, Princes saving Princesses, and evil villains causing mayhem and trying to take over kingdoms. Everyone has at least read a book about magical creatures and places, or has seen a movie about a wonderful world where magic exists and all those magnificent creatures roamed freely about. Did you ever dream of being in that world, where you could become someone new? A place where everyone practices the Art of Magic and could do amazing things, that you could only dream of. Sadly, those places became nothing but fiction as you grew up and became a young adult, thinking of the "magic" of story books and fantasy movies was not part of your everyday ordeal. You've stopped watching those movies and reading those books, never giving one ounce of thought to them ever again.

What if all those stories of Fairytales and Magic was real? Would you want to be in that world, would you want to use magic, would you want to save that Princess...or even become that Villain? Yes...of course you would! Your "real" world isn't the only world there ever was, there's another world out there. This world is known as The Magical Realm. What???!!! You've never heard of The Magical Realm? Well...let me give you some history on it, shall we?​
​

The Magical Realm is a different world, where everything and everyone either does magic, or knows about magic. The creatures in this world are magnificent and malevolent, there is good magic, but there is also dark magic...there is something else called Warped Magic, we'll get back to that later. The Magical Realm is ruled by a kind hearted Queen, she loves every creature the same. Her powers keep everyone safe from all of the evil and dark creatures roaming around the realm. The people and the creatures communicate with one another, living a beautiful and magical life.

So what does that have to do with you, you ask? Well, there is this group of evil creatures called The Warped Ones, they are wreaking havoc in The Realm. For some reason they are getting stronger and bolder with their actions against the Throne. Someone is leading them, a very powerful person...no one knows who. So where do you come in? There's a legend that says The Warped Ones were of your world, and they came here and became corrupted, so maybe your the clue to fixing them. That's just all legend right?


You're in your world, doing your day to day business. As you start walking or moving, you feel weird, like something has come over you. Your eyes feel droopy, you see smoke flowing from thin air. You don't know what is going on, but you can't fight the feeling of sleepiness, as you try to find someone to help you...there is no one around to save you. As your eyes close, you see a dark silhouette in the smoke, is it a woman or a man...you can't even tell if it is a person. BOOM! Everything goes black...

When you finally flutter your eyes open, everything around you is different. There are a number of other unconscious people in a giant circle. When you look around, you realize that you're not where you once were. You feel stronger in this place, like you have powers or something. Standing there, you see flashes of orbs floating around you and the others. You can't make this place out yet, for now you wait for the others to wake up and hopefully all of you can find out what the hell is going on. Were you brought to this world to protect the Queen, fight The Warped Ones, become someone new or...many other options await you in The Magical Realm.



Main Idea:

These individuals from around the "real" world who've never thought about, or who have forgotten about Magic fall into a deep sleep. When they finally wake up they realize that they're in a Foreign Place, full of weird and magical beings. They can either find out why they are there, find a way home, or make their own new life in this world...or maybe there's another option for them...anythings possible when Magic is involved.
​