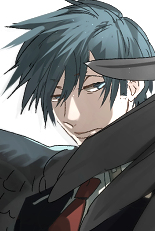 Shadow and Truth
Original poster
LURKER MEMBER
Invitation Status
Posting Speed

1-3 posts per day
One post per day
1-3 posts per week
Writing Levels

Intermediate
Adept
Advanced
Preferred Character Gender

No Preferences
Genres

Anything that actually has, you know, a good plot. I prefer RPs with fantastical elements, however, so generally, a bit of fantasy goes a long way.
Centuries ago, the land was lost to the Ancients of the Sea, who unleashed the Abyssal Gate and drowned the world in an attempt to erase humanity. But the whales, massive behemoths that still had ties with those of the land, became new shelters for humans, going skywards to preserve the races of the earth. Their backs turned to soil, and they grew enormous, becoming arks that floated amongst the clouds.
In the present, mankind travels from whale to whale on artificial wings, powered by magical energy. But the hatred of the Ancients never faded, and with every rainfall, monsters haunt the backs of whales, corruptions of flora and fauna that are bent on exterminating all life they see.
For that reason, a special branch was made, the Zeroth Section of the Military that oversees the destruction of such beasts. Men and women from all over the world are selected and trained in order to combat the abyssal threat, and now, in the season of spring, new graduates leave the nest and take flight, into their professional life.
Name: Kaylee Veritz
Age: 19
Appearance: Profile picture. 5' 2" 109lb
Personality: Timid and shy, but overall kind.
Magical Devices: The Veritz Family Crested Braclet, allows her to use her offensive and defensive magic. Bio-magic wing set. A pair of wings that all humans now possess. Kaylee's wing appear slightly like fire in light flames.
Taking a walk with his sisters on a nice weekend.
Name:
Ier-Briar Myrmesta
Age:
19
Appearance:
6'1, weighing roughly 200 lbs.
Personality:
Brash, stubborn, and friendly, Ier-Briar expects people to either do as much as him or step aside and let him do everything. Is chivalrous, but that can be interpreted at chauvinism as well.
Magical Devices:
Fortress
– A magical device that has a default form of a small dagger, Fortress can transform into any weapon at any size, granted that there's enough magical energy to use it. While most can only change its form into two or three other ones, with a set limit on its size, Ier-Briar has no such limitations, and the versatility of this weapon in his hands has gotten it another name: Ascalon.
Bio-Magic Wing Set
– Attached to his armor, it sprouts out wings of silver and steel when activated, capable of cutting as well. It specializes in short bursts of speed, as opposed to prolonged flight.
Name:
Pray Meyer
Description:
Headmaster of Regalia, Pray Meyer is a woman in her early thirties that, while often bemused by the antics of her graduates and her students, is still a stickler for the rules.
Name:
Sharr
Description:
Ring Operator and Guard of Carnhol, Sharr is a gruff but gentle person, a man with a fatherly aura. An orphan, he understands from his own shattered childhood what other orphans search for, and takes his responsibilities rather seriously behind that relaxed smile of its.
Regana-Hier, a sky-whale the size of a small island, pushed through a cloud, leaving a foggy contrail in its wake. Like most sky-whales, only one city could be seen on its back, the academic city of Regalia, which trained those that would soon join the Zeroth Sector. It was spring, but on the balmy equator, it felt more like summer, an oppressive heat beating down on the back of the whale. While Regana-Hier was pretty much an island, it was still an island capable of thought, and its love for tropical weather had given it the moniker of the 'Summer Whale'.

And while Ier-Briar wasn't opposed to sunny weather, after three years of it, he really missed winter.

Standing on the roof of one of Regalia's many skyscrapers, the red-haired graduate sat at the edge, swaying his legs back and forth while enjoying the occasional breeze. Unlike the many down below who were looking for friends and squadmates, he had been specifically ordered by Headmistress Pray to stay in this area to await for his partner. It irritated him that he wouldn't be able to pick his own teammates and have the freedom to decide who he worked with, but at the same time...the young man should have realized that when he got put into an advanced curriculum one month into his first year at Regalia.

He was special, and apparently, his mysterious partner was too.

"Ah…what a pain…"
With a flop, he laid down onto the cool stone floor, gazing up at the blue sky. Looks like there was still some more time to kill.
Last edited by a moderator: