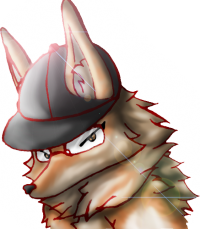 That one other guy from that other joint
Original poster
The sun rose high over the human castle on a warm afternoon, it's bright rays filtering through the various windows and openings to reveal the array of halls and rooms. Each room had it's touch of royalty from red carpet to elegant furniture, but most were vacated and desolate aside from the staff and guards that kept to their duties. It was another day that could be cause for celebration, for it marks another day the human king had survived the mysterious curse placed upon him. This day was different though, for it was the day that fate and the works of one individual will begin placing the pieces that could the fate of the human kingdom.
In the keep where the throne room was erected, the king, surrounded by advisers and lords, sat in his rightful seat with his gaze peering over a man or... Rat that stood before them while he listened to the proposition given to him. A word didn't come from the king, but it was evident his circumstances weren't doing him any good and one could easily see it in his posture and expressions. There was no doubt that there was an inner conflict in the man, but all of that was brushed aside during this important session.
"... You see your highness..."
The rat explained, his focus shifting between each of the seven advisers that stood nearby.
"... This darkness is like no other threat that you as a leader have faced, but years ago, the ancient civilizations encountered the same problem... And they faced extermination. W-"
"So you are saying we are to accept the same fate? Do you think we'll succumb to this... Entity soo easily?"
One of the lords interjected, his tone showing great skepticism. There were nods and a couple other comments, but nobody rejected or accepted the statement on record.
"I am not saying that there is no hope. Before their destruction... The preservers or in your more common tongue the scribes recorded the answer in their archives, but by the time they discovered their solution the darkness was just outside their defenses, waiting to overrun them."
"And you expect us to believe this? Where did you come across this information good sir?"
"Well... As you know I was able to access the archives of my people, and I have come accross records that could point us in the right direction. All we have to do is find the answers... The only issue is that these records have no direct answer and I will have to venture beyond the walls in order to seek the truth."
"So... This... Organization you are developing will accompany you on this travel? You do not even have a sense of direction from what it sounds like."
Another one of the advisers finally spoke out, silence creeping in moments later before he stepped forward and continued.
"This is just myth! A waste of time! Why are you soo keen to follow this if you know that our time is limited... As a matter of fact: Why does this crisis of ours interest you so? You are a beastman from your own lands and your reputation here is nothing compared to your reputation back home.
"
Again there was silence, the rat like creature seeming to be serene instead of angered by the questioning of his knowledge. Deep inside though his heart skipped a beat for he could feel the eyes of his supporters and opposition glued to him, waiting for his response.
"... Well, you strike a good question my friend. Perhaps I am here because of free housing?
" The professor replied, a slight smirk surfacing on his face then fading after he observed the dissatisfied expressions on everyones face. Of course nobody would buy such a dull answer, so he simply gave into the demand and cleared his throat.
"*Ahem* ... Well gentlemen. This is your king, the one who united the human nations under one banner with a strong heart and a clear concience. The moment he dies though, we all know what the outcome might be. With no heir to the throne, the families and clans will go into a struggle for power, and a civil war will rise. And what of my people to the north? Will they still be safe under a king's decree, or face bloodshed and war? It is no secret that many humans despise us creatures, and many creatures despite you humans make no mistake. That is why I took the general's offer to leave everything behind and come here. So when you ask about what's in it for me.. I think you can come to the conclusion that I am here because I believe I can try and find the answer you all speak... With or without the resources you have given me already."
After his long explaination, he fell quiet again, his eyes trained on the king this time while the others started discussing with one another, and then the verdict came.
​
________________________________________________________________________________
Just outside the keep's doors, Ansen, the cianid in blue began pacing around, minutes slowly turning into hours while he waited for his companion to come out. Even for someone who has been through a lot of situations this was indeed a very stressful time for him but eventually the large wooden doors creaked as they were opened, and from the inside surfaced the rat from before.
"So... Were you successful Lux?"
The wolfman asked, his arms crossed and his ears twitching while he waited for the long waited answer.
"The lords and advisers were convinced. We will be able to continue our efforts and finally step outside the walls without an escort."
The one identified as Lux replied, a bright smile showing as he walked past the wolf in blue.
"We can finally search for the cure that will forever terminate this problem... No longer am I having to cling onto the remedies that stalled the darkness' progress, but we must act quickly Grayson. Without me being able to keep an eye on his condition I fear the darkness will consume him if we take too long... How about those rangers near the border you spoke of?"
"Unfortunately they have their hands tied and will not be able to accompany us. Sounds like things back home are getting more defensive. I fear it wont be long before the borders become more difficult to cross."
Ansen replied, a quiet sigh escaping him as he stepped forward to walk beside the rattian.
"Perhaps someone will have interest in the rumor that was stirred up last month... If my assumptions are correct we'll be seeing volunteers at the gate very soon. Would you like to accompany me to greet them?"
"Unfortunately I must get my things... You go Ansen. I will see them in due time just... Make sure you don't shake anyone down. They're volunteers, not footmen or rangers."
With that the two exchanged nods and separated, the wolf proceeding to the front gates while the rat returned to his quarters to gather all of the necessities for his journey.
______________________________________________________________________
At the gate, there were two guards at each side of the road, each wearing full armor and a halberd at hand with the kingdom's flag tied at the ends. They seemed to be observant of their surroundings, but they would not speak unless spoken to, the honor guard discipline being strong with them. The bridge however gave an amazing view of the country that the mountain looked over, the cities and villages being nothing but patches of a dark color while the roads looked to be no smaller than a pencil line. Such a view stretched as far as the horizon, but it was one few had taken the time to see. It was about an hour past the sun's peak, and rumor had it the Cianid general will step out beyond the safety of the walls to look for volunteers that would aid him in a mysterious, epic quest. Still, there wasn't a cianid to spot just yet. Was it only a rumor like many had claimed?