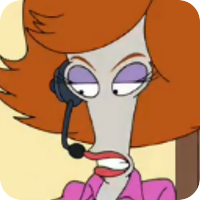 Can I transfer you to my manager?
Original poster
Roleplay Invitations

Group Roleplays, Chat Roleplays
Writing Levels

Intermediate, Adept, Advanced
Genders You Prefer Playing

Male, Female
Playing Style- Passive or Aggressive

I'm good with both! I can lead or follow and I'm equally okay with either. (Although it can change depending on the scene too!)
Favorite Genres

Adventure stories! They can be fantasy, modern, sci-fi, all kinds! Give me some good world travel stories and I'm all over it! I also enjoy romance stories and even though I tend to play females I love playing gay men.
Genre You DON'T Like

Smut. It's not that I dislike it, I just can't write it out, I'm better at just writing smut scenes by myself.
Rules: The person before you posts the query "If you were stuck on a stranded Island would you rather have a..."

(Of course after this it's just ______ or ______ )

You respond with what you'd pick (And add a reason why if you want) and then you give the next person two options!

So:

A rabid panda that will only leave you alone as long as you're picking coconuts for it OR Diana after three hours of trying to fix the forums unsuccessfully?