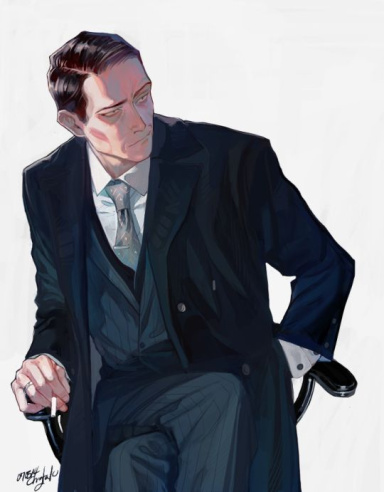 Deus Ex Machina
Original poster
November - 1936
Boston, Massachusetts
BY INVITATION ONLY - The Innsmouth Chronicles (IC)
"Anderson & Co." was the engraving upon the old, rickety sign, hanging above the office firm in the dead of night. It belonged to the smallest private investigation company in all of Massachusetts, run by a total of three people at any given time. Frank Anderson had owned the building for the better half of 14 years, although it was much older than that.
Rain drizzled down on the windowpanes monotonously. There had been a steady decline in the number of cases coming into the firm, a trend that had been going on for a bitter tenure of 4 months. It wasn't like Anderson put up with much competition nowadays; the people knew his reputation and low service fees. He laid his chin into his hand, barely able to keep his eyes open as the grandfather clock signaled the approaching midnight.
The radio was playing whimsical tunes, as it always did, but there wasn't enough time to succumb to lullabies. There was a stack of papers that had to be attended to. Bills, newspapers, the occasional 'thank-you' letter from past clients, nothing unusual. A candle burned indifferently on his hickory desk. Anderson yawned, thinking as to how his life had gotten this far. Things were going fine before the crash in '29.
It all seemed like a distant memory now. Anderson voted for Hoover twice and came out empty-handed both times. He got to the bottom of the daunting pile of papers as the big hand of the clock ticked away to one. He rubbed his eyes, noticing the lack of a return address, even as he held it closer to the candlelight. The handwriting looked frantic, disheveled, unorganized, but still legible if nothing else.
"Dear Mr. Anderson,
I know that this letter probably won't reach you directly, but I am in dire need of your services. My son has run away recently and the police are unwilling to assist me. You're the nearest private eye that I or anyone else knows of. Please... help me. I searched his room for a sign as to where he went, but all that I could find was a scrap of paper that read 'Innsmouth'.
It makes no sense. I went around my neighborhood, asking if anyone had seen him lately, and as it turned out, the mayor's daughter has run away as well. The same note was found in her bedroom. You cannot imagine my surprise, and frustration, when the mayor refused to allow the F.B.I. to conduct any research into the disappearance. It's like both of them have vanished from the face of the Earth.
Dave Norton and Megan Stewart. Their photographs are in the envelope, as are some other documents on them. Please return my son to me unharmed, detective."
Anderson's heart started to pound. Finally, he muttered under his breath. He'd draft up a case profile in the morning and show it to his staff. He got out of his chair and made way for the filing cabinet, browsing it until he found a map of the state. Innsmouth. The name had an uncanny feeling towards it, although Anderson couldn't exactly put his finger on it.
Yes, there was a town called Innsmouth, even if it had been badly obscured by the faded ink of the map in his hands. It wasn't that far from Cape Ann, not to mention a handful of other towns close by. Anderson figured that he could catch a train ride there in no time. He gently placed the map down onto the desk, switching over to the contents of the envelope. It was up to him to look for further clues.
​
Full Name :
Aliases/Nicknames :
Preferred Name :
Age/Date of Birth :
Sex :
Sexual Orientation :
Voice :
Languages Spoken :
Facial Structure :
Body Structure :
Eye Color :
Hair Color :
Height :
Weight :
Skin Tone :
Scars :
Tattoos :
Piercings :
Marks :
Personality :
Five Good Traits :
Five Bad Traits :
Ideals/beliefs :
Physical weaknesses :
Mental weaknesses :
Fears :
@MinxyWolfGoesChup
Finch!
Last edited: