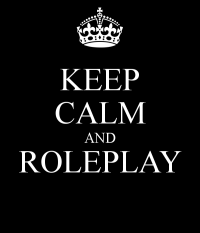 Creator of Creation
Original poster
FOLKLORE MEMBER
Invitation Status

Looking for partners
Posting Speed

Multiple posts per day
1-3 posts per day
One post per day
1-3 posts per week
One post per week
Writing Levels

Intermediate
Adept
Advanced
Adaptable
Preferred Character Gender

Female
Genres

Romance, Fantasy, modern, medieval, Drama. Honestly if it isn't in my DON'T list, I mostlikely do it! feel free to ask!
[BCOLOR=#000000]
There are two types of people in this world. A mass majority of the population believed in what their eyes could only see. Living day by day, absolutely oblivious of the truth of what goes on behind closed doors. Only very few, a select few who were chosen from birth, thought outside the box and asked the important questions. The ones who were creative with the gift of pure innocence and knowledge of the truth behind the cruelty in this world. Ones who could easily create great destruction or grant wonderful power for the hope of peace. This world was not as it seemed to those with their eyes closed.

Starr happened to be one of the blessed. Even at the young age of three, she has shown great potential. Her mother, Rose and father Alex were the ideal married couple. They were very much in love and made sure to show Starr the proper affection. However, every fairy tale had its flaw. Rose and Alex were very important people at their jobs and were constantly forced out of town for business trips. However, Starr was never alone. Nana, her nanny, was very nurturing. She would bring Starr to daycare every morning as well as care for her the nights her family were away. Starr enjoyed the company of the others around her age.

To be honest, if Starr didn't have to worry about much. Even though most children her age really didn't know the meaning of worry. Rose and Alex worked hard and had plenty of money. Starr was very social and had various play buddies, as well as a caring family around her. The house she lived in wasn't luxurious by all means. It was just large enough for her small family and it was homey. Starr had her own room that she was quite proud of! She was very insistent on having the room themed around winged angels. Constantly Starr praised them. She has even told Rose that Starr was going to be an angel when she grows up! It was a subjects that once brought up Starr would go on for hours talking about. Rose tried to make Starr express that energy elsewhere by planting a garden and entrusting it to Starr. That's when they found out Starr had more of a 'black thumb'. Starr couldn't wish for anything more. Even so, She couldn't help but feel lonely, no… Different might describe it better.

"Story time children, everyone sit in a circle." The nice lady who ran the daycare. Mrs. Linda was was what everyone called her.

Starr propped down in front of Mrs. Linda, the others slowly began to huddle in as well forming a rather deformed circle. The giggles and chatter didn't calm until Mrs. Linda shhed them to quiet down, threatening them by saying there will be no story time if there is any noise. That seemed to always do the trick. Personally, Starr loved the stories she read to them.

Today's book was about a colorful hungry caterpillar making sure to eat his fill so he could grow into a big healthy butterfly. Starr was able to picture every word without the dashing pictures provided on the pages of the book. There were no need, her imagination was much better anyways. Slowly she closed her eyes and just listened, picturing how he was such a beautiful caterpillar with furry greens and yellows. However he turned into a miraculously wonderful butterfly. His wings glittered blue, purple, red, and yellow. they would gracefully lift him into the air with such strength. Starr imagined the joy he felt as he soared through the air and danced with the flowers. A smile couldn't help but creep upon her lips. however only to frown when Mrs. Linda folded the book in her hand informing them of the end of the book and time for clean up. It was always a disappointment to leave her paradise that was created by simple words off a book.

Starr graciously began to help out with whatever her tiny hands could grip and made sure to place it in it's proper place. It wasn't long before Nana was there to pick her up. Starr's face lit up, smiling cheek to cheek as she ran to her side yelling out her name as a greeting. Starr truly enjoyed her time with Mrs. Linda and friends but as the saying goes, there is no place like home.
[/BCOLOR]
Starr a the moment~
Rose~
Alex~
Nana~
Mrs. Linda~
Last edited by a moderator: