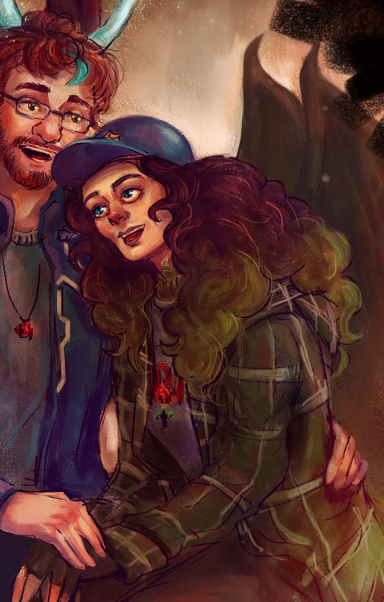 "You'll never be alone."
Original poster
LURKER MEMBER
FOLKLORE MEMBER
Posting Speed

1-3 posts per week
One post per week
Slow As Molasses
Online Availability

Anytime I have internet access, honestly.
Writing Levels

Adept
Advanced
Adaptable
Preferred Character Gender

Male
Female
No Preferences
Genres

Science fiction
Modern
Fantasy
Horror
Survival
Naturally developed romance
OC Fandom (ask about my fandoms!)
Several generations ago, two alien species, the Dryverni and Shiren, discovered each other's existence. Early talks between their governments made it seem as if the two species would become allies. It was a false dream.
Nobody knows who struck first. Both species blame each other. However, what everybody does know is that the Dryverni-Shiren war has been raging since barely a month after the two species met. However, recently,
the war has changed from a hot war to a cold one, and no progress has been made for the past couple years. The two species are at a stalemate, or so it seems. Until now.
The Shiren have just come up with a game-changing plan. They plan to take control of several important figures in Dryvernian government and use their identities to overthrow their deadly enemies. Their plan may well work, if it wasn't for the family members of the Dryverni who are being possessed. A few have realized what is happening, and as a result, they have had to flee for their lives to the one neutral ground: Earth. However, Earth will not be neutral ground for much longer. Instead, it is where the war will end, one way or another.

~~~~~~~​
So, this RP will primarily focus on a small group of Dryverni from noble families, traitorous Shiren, and humans caught in the crossfire. The group will be focusing on fighting back against the Shiren and trying to get word to the Dryverni government, but later I hope to progress into something a little more complicated and delving into the history behind the war. Other characters and groups are certainly possible, but they should at least be involved in the war in some way.
Below is some information on each race and Hzar, our "magic"
of sorts.
Dryverni (Dree-ver-nee) are humanoids covered in small controllable scales with semi-draconic wings, tails, and claws. They have pointed aerodynamic heads, slim, tightly muscled bodies, and are extremely lightweight due to honeycombed bones and generally being made from lighter materials than humans are. Their wings fold into a sort of slot in their back which is then covered by a protective glaze secreted by the wings.

Dryverni have slim, tightly muscled bodies with straight torsos, slightly curved backs with a hollow in them for the wings, thin-ish limbs, and draconic heads. They are made from lighter and tougher materials than humans are, and they also have such things as honeycombed bones to help them fly. Their wings are closer to bird wings than bat wings, being entirely covered in somewhat feather-like scales. However, the design is closer to that of a bat wing, although it blends the maneuverability of a bat and the endurance and speed of a bird. Dryverni skin is composed of similar scales to those on their wings, though their body scales are kept much closer to their bodies and are much smoother. Dryverni have full control over their scales and are able to rotate them out of place, allowing them to basically rotate the points of all their scales outward and become dangerous to touch or smooth them together to create a hard protective layer. Dryverni tails are fully controllable and are your standard dragon tails, albeit a bit thinner. When flying, most Dryverni wrap their tails around their bodies or use them to steer if they have shorter tails. Dryverni scales are typically shades of green, grey, blue, and brown, though a wide variety of colors are possible. Extremely bright hues, however, are nigh-impossible to find short of beauty modifications. Dryverni fingers and toes are typically sharp and clawlike with all the capabilities of human hands and bat feet.

Dryverni government is a democratic oligarchy of sorts. The ruling body of the planetary government, known as the Council, is made up of members of noble families who make important decisions. Their family members fill positions directly below them. New Council members are nominated by the Council and voted upon by the common people. Hence why the Shiren's plan is so effective.
Shiren (Shee-ren) are humanoids with unstable bodies. They live in a semi-corporeal state. This is because they are deeply connected to Hzar, and they have greater control over it than other Hzor generally do. Though they can solidify their bodies, they generally see no reason to. They communicate mainly through telepathy. Their bodies are ever-shifting, so it is hard to tell much about what they generally look like. However, they generally have a wispy smoke-like appearance. When not shifting or incorporeal, Shiren have hard, smooth, and cold skin resembling an exoskeleton of sorts. This skin comes in a variety of colors, all dull shades. Blacks, greys, whites, some browns, and certain reds are the most common, though a variety of colors are possible. Shiren heads and limbs have a skeletal lizardlike look to them, while their torsos and tails resemble a large snake's body. Shiren are also covered in small feathers, primarily on the neck, top of the head, limbs, and tail. The color of the feathers generally matches the color of the skin, though there are exceptions. These feathers are sharp and can be used as weapons. Shiren fingers are long, narrow, sharp claws, as are their toes.

Shiren government is a democratic monarchy. There is a single ruler in power, but the common people can vote them out and vote another in. Although the throne commonly passes to the previous ruler's offspring, the common people may decide to vote another in. It is common practice to vote somebody in who already has a high rank.
There is another fundamental force in the universe, known to most as Hzar. It is what we would refer to as life-force, and it is also what is commonly called energy in fantasy. It is also connected to what scientists define as energy. People who can manipulate this force are called Hzor. It allows for telekinesis, telepathy, transmutation/changing shape, reanimation, control over any energy type and plants, and power blasts, among other things. Humans are rarely Hzor, Dryverni are commonly Hzor, and Shiren are nearly always Hzor.

Most Dryverni and Shiren technology is based off of harnessing and controlling Hzar and using it to power things, hence the magipunk tag.
Posting expectations will be multi-paragraph, adept to advanced posting levels at least, with a post once a week or every two weeks, depending on what everybody ends up being comfortable with.
Now, this RP isn't going to start until July, but an early interest check never hurt anybody, right?
1) Abide by normal Iwaku rules here at all times. This shouldn't have to be said, but I don't want to lose folks because they broke rules.
2) Please make use of Discord if you can.
3) Obey realistic physics as much as possible, and obey the laws of this universe.
4) What RP mods say goes.
5) Please try to keep your power levels near everybody else's if you're a Hzor.
6) Multiple characters are allowed, but make sure you can handle them. If you can't, we can write them out or NPC them, however.
7) Be active in OOC and do your best to meet deadlines.
8) If you have any issues, please contact a mod. Suffering in silence won't help anybody.
9) Interact with people IC and OOC, please!
10) Please contact a mod if you plan to drop out or you are having problems meeting deadlines.
11) Questions about the world are welcomed and encouraged.
12) Use the color guide. Please.
13) This RP is planned for long-term, so please do not join if you think you will not be able to stick around, barring some unforseen life-changing event.
Question: So, are there ever any Shiren without hzar?

Answer: Very, very rarely, yes, there are Shiren who are not hzor. They're considered cripples and generally don't survive very long, since they are not meant to live that way and there's a massive stigma against them, though there are a few living as adults. Their bodies would be stable and solid like most living things, which is kind of a dead giveaway.

Question: Ah, would [Shiren] look like humans, then?

Answer: No. I'm still working on what they look like, but what I have so far is basically that they have hard, smooth, cold skin rather like an exoskeleton in varying dull shades, with monochromatic colors being most common. Their heads resemble humans, but they are somewhat skeletal-looking, and their body shapes are more like a snake with arms and legs, including a tail.

Question: Who's more powerful by the way? Shiren? In general which civilisation is the more powerful?

Answer: As far as manipulating Hzar goes, Shiren are naturally more powerful, though power levels tend to go all over the place. The Dryverni were winning the war before the RP starts, however. Their success can mainly be attributed to technological advances and a controlling government that few question. Shiren haven't developed Hzar-based technology anywhere near what Dryverni have because they're naturally more skilled, but the lack of tech does leave them at a disadvantage. Plus their government is generally more lax and less controlling, and it's not a huge presence to be honest.
If you're interested, post below or shoot one of the people tagged below a DM! Those people are the co-GMs and mods, so ask them any questions you may have!
We do have a Discord server that you will get an invite to if you express interest or just want to spectate.
GM:
@Joan
Co-GM:
@Kimberlyn
Mods:
@IceQueen
,
@Starlighter
Last edited: