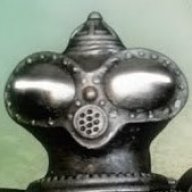 The Wizard
Original poster
One day, in the heart of the Human Empire, on the planet of Mars.
A young Human, born on the Earth, and raised on the planet of mars, named Reilly Atwood, was scavenging for materials in one of the red planet's myriad scrapyards, when he came across a seemingly undamaged military ship, and recognized the model as one engineered by the HCA (Human Colonial Armada.) to end a large string of pirate raids on weaker transportation-class ships. As soon as he pried the door open, it reactivated, revealing an extremely rare and valuable find... it still had a functional AI operator.
Following the careful instructions of the operator, he repaired the ship, at least to a functional state. In exchange for this, he was granted the title of captain, and immediately set to hiring a loyal crew, so that he could live his dreams of a life of excitement and adventures, becoming a ranger of sorts, going around and doing tasks others dare not attempt, in exchange for large sums of money.
The deadline for joining was a few months after the actual posters and online articles were put up, with the instructions to meet in the spot where he found the ship on a specific date, exactly six months after the ship was discovered.

Six Months Later.
As the future crew reaches their destination, a small clearing in the hills of rusted metal, Reilly Atwood, the captain of this ship, which he renamed
"The Phoenix"
waited as the ship cruised to the location of the meeting. He paced his way through the interior of the ship, quite clearly anticipating what was to come, and he had a big smile on his face. In his eagerness, he was also slightly impatient, and decided to talk to the AI aboard the ship.
"Well, Aika, this is it... this is my big chance! This is the start of our story! I mean... holy shit I can hardly believe it! Seriously, I want to thank you, for this opportunity, this means everything to me..."
He calmed down slightly, though his breathing remained heavy, a clear sign of anxiety... He spoke once more.
"Oh man... do you think I've got what it takes?"
He shook his head.
"No... I can't doubt myself now, the dice are already rollin'!"
His air of confidence slowly returned, as he sat back in a built-in couch facing the main door to the ship.
The ship was now nearly to it's destination.