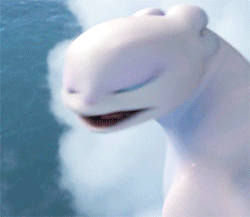 The Light Fury
Original poster
He was....kind of right. They didn't know until they tried. And yet, why was she so scared? Scared to have hope that she might possibly be able to get her sister back? Perhaps it was the fear that she would get her hopes up and convince herself she could, only to find out her sister couldn't be revived. What would it feel like if int he end they couldn't save her? Would it be like loosing Anna all over again? What if the trolls refused to help them because of who she was? After all, didn't everyone hate and fear her by now? And what would happen if Anna woke up? Would Anna blame her and hate her? What about everyone else who would be unfrozen as well? Surely they would want to harm her for everything she had done. There were so many things to think about here. So many things to fear and worry about. She could feel the temperature began to drop again just like it had done the day before and her hands trembled slightly.
That was, until she felt him take her hand. Even it was to just drag her out of the room it still felt nice and comforted her slightly. She couldn't keep thinking of such things. She would make the weather too bad for travel if that happened. For now, she just had to think that she could neither hope for the best or think the worst. Just....go along with the ride. That's all she could do and help out where she could. Looking up at him, she frowned,
"I...I've never actually dissolved them before. I mean, they have been destroyed in battle and such, but as far as putting an end to them using my magic I've never tried."
She said, pursing her lips in thought,
"But I suppose they should listen if I tell them you're not a threat."
She carefully opened the door and sure enough as they made it down the stairs, in the hallways were a few of the golems. Most of them turned their attentions to she and Marensius and many noticed the way he had her hand. Some roared threateningly and a few even moved forward as if to come at them. Elsa though moved in front of him, shaking her head,
"Stop."
Even with how calmly she stated this, they all listened, stopping their advances and standing up straight,
"Prince Marensius is hereby cleared of all charges against the kingdom of Arendelle and its queen. You are not allowed to harm him from this point forward."
The things didn't seem too happy about the orders but begrudgingly obeyed, stepping to the sides to give passage to the two of them.
Taking a deep breath, her shaky hand still in his, she looked over at him and nodded slowly,
"Lets go save my sister."​