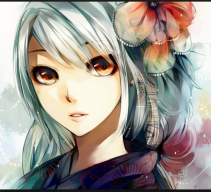 [REDACTED]
Original poster
Invitation Status
Posting Speed

Multiple posts per day
1-3 posts per day
Writing Levels

Intermediate
Adept
Adaptable
Preferred Character Gender

Female
Genres

Fantasy, Romance, Sci-Fi, Unrealistic, realistic, Modern times, Medieval Times
The red head's eyes snapped open and the first thing she noticed were the towering trees surrounding her. Her eyebrows furrowed before she felt the cold around her. Where was she? Slowly, she sat up, her gaze observing her surroundings. An endless amount of leafless trees, thanks to the winter, surrounded her and snow was all around covering everything. Her breathing began to quicken as her mind went into a state of panic. She didn't have a single ounce of clue as to where she was and more importantly who she was. The only thing she knew was her name: Aspen.
There was no trace of any past memories. No tragedies, no familiar faces, just absolutely nothing. Her mind was just blank, save for her name and the thought of her current situation, which was being lost in the middle of the forest. She hastily rose to her feet as her eyes darted around. Swallowing, she took off in a random direction, the snow making it difficult for her to move at a quick pace. Instead, she ended up stumbling in the snow that ended a couple of inches below her knee. After a couple of minutes of stumbling about, Aspen leaned against a tree and watched as he breathes came out in small little clouds. Hot tears stung her eyes, but Aspen refused to let them fall. She refused to go like this, so she took off again in a random direction.
A cry resounded from her throat and out her mouth as she fell forward into the snow. It was then that the tears that had formed began to cascade down her face, since the thought of her freezing to death came into her mind. She didn't want to die, not like this at least. Aspen squeezed her eyes shut for a moment, before opening them and hopelessly starring at the tree in front of her. How had she even gotten here? Who was she? These thoughts kept playing on in her head and she feared that she would never find the answers to them.
​