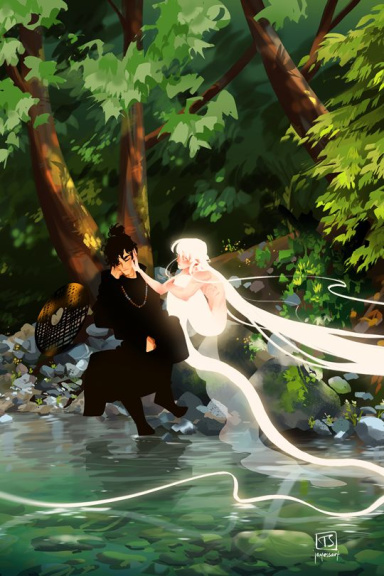 Chaotic Lawful
Original poster
SECURITY LEAD
SECURITY DEPARTMENT
DONATING MEMBER
FOLKLORE MEMBER
Invitation Status

Not accepting invites at this time
Posting Speed

One post per week
Slow As Molasses
Writing Levels

Adaptable
Preferred Character Gender

No Preferences
Y - without a name
The Stranger
---
The way the sunlight danced through the leaves enthralled him, as if inviting him to join in flitting around peacefully. He remembered it so clear, yet so vaguely. The cool shades and the rays he chased, at the back he could hear a voice calling him not to go out too far into the forest while his feet carried him in. Away from the burning sun, away from the warm home that always smelled of bread and stews. Away from that embrace that enveloped him so dearly…
The sun tickled his eyelids, its heat nibbling at his nose ever so gently stirring him awake. Y hadn't remembered since when his bed had been so warm and soft. The faes liked to sleep in beds made of leaves and twigs, often sticking him here and there and causing discomfort as he couldn't find enough soft leaves without harming the environment. Bushes were often no option either, with their twigs sticking out and all. The dense soft yet firm substance underneath him was a welcome change and the fabrics draped over him even more so.
And the smell! Sniffing his nose the male twisted and turned in his bed once more, keeping his eyes pinched as he mulled over the smell that he caught. It felt so long ago, so far away…
Flinching the male sat up, green eyes sighting upon the small room he was occupying. It was strangely familiar, yet foreign. Familiar in the sense that he had once seen this before, perhaps not in the exact setting, but at least similar. Somewhere, long, long ago, when he wasn't a single letter, Y knew.
It was then that everything came back to him. Crawling out of his bed Y pushed his hands over the blankets and the mattress, pushing it up and down to test it as he blinked. He had escaped the forest, he had done it just as he had wished! It was too surreal and the male couldn't quite believe himself as he lingered around his bed for a few more moments, testing out the bed before judging that it really wasn't made of soft leaves and moving over to the cabinets.
Stockings, dresses, shirts, pants… So many articles he only remembered the name of from so long ago. Without realising that it might belong to someone, or any consideration of dignity Y pulled out a long slip of fabric, taking it with him as he followed the scent of bread that lured him again. He only now realised how hungry he was, having collapsed from exhaustion before and too fascinated by the place he had ended up at.
It all had been so long, and yet the male had a feeling only days had passed since he entered the forest.
@Greenie
Last edited: