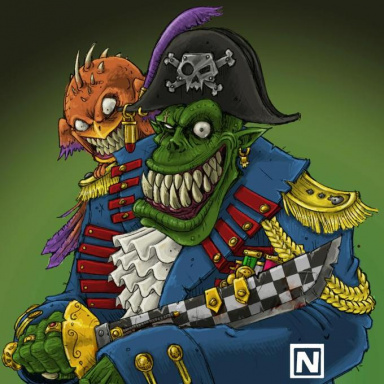 Alleged Terror of the Seas
Name: Railakka Heikkinen
Age: 23
Gender (Can be genderless too): Female
Sexual Orientation: Don't touch me I'm Finnish
Species: Skunk Girl
World and Universe they are from: Finland, Earth. A universe 2 blocks down and around the liquor store from our own
Appearance: Height: 163cm Weight: 49kg
Personality: Abrasive and Standoffish, Railakka prefers to not be around people and it shows. When forced to be around people she's either very quiet or swearing a blue streak in an attempt to make people go away. Rather enjoys her liquor and is usually pacified if she's drinking or drunk. Behind the wheel is a whole other story as Railakka loves racing of any kind and is very competitive, even accidently racing just normal commuters on the road minding their own business. She has discovered that, either through actual skill, some natural talent, or lack of inhibitions keeping her below any speed limit, she is a much better driver while drunk than she is sober, especially at higher speeds.
History/Bio: Constantly drunk or wishing she was drunk, Railakka hates being around people, and most people in general. You'd find it surprising for such a person to become a media icon of any kind but in Railakka's eyes becoming a youtuber was an easy way of making money without having to personally interact with people. Learning that she was actually good at it was a shock to her though, or that her abrasive and stand-offish personality was actually popular. She enjoys such titles as GLOOM, Duty Calls, and various horror games. One day after having finished streaming she passed out drunk on her bed, but when she woke up she was definitely not in her home. The only saving grace being that not only was she apparently clutching a bottle of booze, which is now long empty and forgotten, but also her grandfather's old rifle that she uses while hunting. Though frankly at this point Railakka just wishes people would leave her in peace.
Powers: Railakka has all the powers, of a Finnish person, also a skunk
Power limitations: The Finnish don't really have a lot of powers at all, and really the only powers a skunk has is spraying someone with stench, which frankly is kind of just rude.
Skills (Any skill your OC is particularly adept at, from swordsmanship, to piloting, to knitting should be mentioned here. Should also state their skill level D-Slightly Above Average, C-Above Average, B-Excellent, A-Master, S-Above Master, SS-Grandmaster):
Gaming - B
Drinking - B
Swearing - SS
Scrimshaw - C
Driving - B
Drunk Driving - S
Hunting - D
Shooting - A
Weapon(s)/ Equipment (You may use pictures from any non-accepted fandom as a description, but all effects/abilities must be described. If it's any kind of technology, please give the specs.)
An old battered SAKO M/28-30 that used to belong to her grandfather.
Strengths: Gaming, Drinking, Swearing, Scrimshaw
Weakness/ Fears: Doesn't like being around people, afraid of zombies after one too many late night horror games
Other: