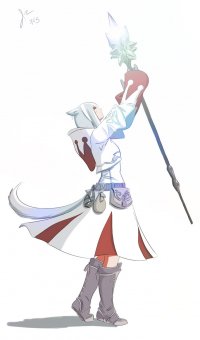 Invitation Status
Posting Speed

1-3 posts per day
Online Availability

12:00 A.M. - 6:00 A.M.
Writing Levels

Intermediate, Adept, Advanced, Adaptable
Preferred Character Gender

Female
Genres

Fantasy, Sci-Fi, Magical
"Fall back? Why would we fall back? They're coming right to us! That's exactly where I want them!" replied Lavaetain. She had stayed quiet so far for two good reasons. The first was that her flame summons were all she really NEEDED right now to actually fight. Their weapons seemed to be super-heated plasma which meant they were completely ineffective against her armor. The droids could have shot at her until she had fallen asleep and not left a mark on her. Sure, they could bash her if they got close, but she knew they had another weakness.

They didn't have bloody magic shields on even the most basic of levels. She felt certain that the shields of the bug droids would have been impressive to most people trying to get through them. That the thick armor of the tank would be threatening to most. She had fought tanked before. These droids were nothing. She had been gathered her magic, her focus, and she was ready to unleash it. Her conjurations vanished away as she snapped her fingers and a series of explosions rippled throughout the enemy ranks.

These weren't simple explosions flung hap-hazardly. No. Just the opposite. They were targeted. Their point of origination WITHIN the area covered by the droids shields. Effectively turning their own shields against them as explosive bubbles. And she had plenty of magic to spare to deal with them. The same for the tank which not only would likely immolate any crew inside but, if any did survive, they would find themselves without oxygen to breath from the fire. A death sentence either way.

"I am the eternal flame of the Emperors Will! The Heroine of Fire! Come at me and be consumed!" she said defiantly as she snapped her fingers and a blazing wall of fire appeared between the retreating group and approaching foes. With that done she turned to fall back, though she was clearly unafraid of the foes approaching.