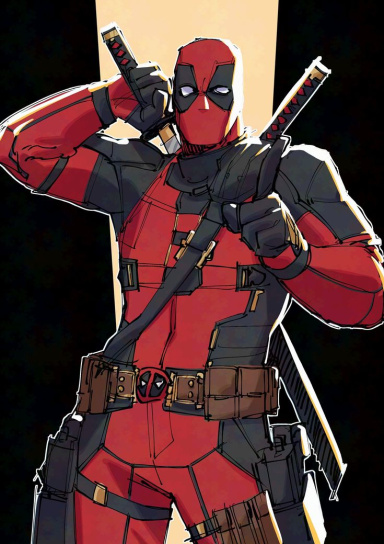 Cult of Personality
Original poster
Previously on:
Heroes of different realities were transported suddenly from their home worlds. A flash of neon green light blinded them, and they felt as though they were falling from a great height. When they could feel ground beneath them, they were unharmed, but now placed in the ruins of a destroyed metropolis city.
Snow was trickling down from the sky, and the cold was reaching well below zero, with a snow storm creeping forwards. Exploring the city showed they were not the first to arrive, as corpses littered everywhere, each of a different military or race. Monsters of varying sizes stalked the old buildings, and off in the distance, even more bright green flashes could be seen. Some who arrived here were not the friendliest. (Hint: Nazi's.) While questions continued to build up as to how this world became this way, and why they were brought here, they were ambushed. Squads of advanced soldiers rushed them before they could even defend, acting with such precision timing, using weapons seemingly designed to incapacitate even the strongest among our heroes, the heroes were taken off guard by a force created just for them. They were taken prisoners, and flown hundreds of miles away from the city to a desert surrounded by mountains. Hiding between them was a base, used to contain 'scattered:' a term used by the soldiers for those who came from other worlds. It was a prison, one that went miles under ground, and designed solely for one thing. Experimentation.
The weapons and armor the soldiers used were designed here, made by testing the prison's prisoners. Corpses were burned by the dozen, screams echoed around the halls, guards played sadists with weaker prisoners, and the experiments done to our more powerful heroes left them bloodied and near death, all to see what made them tick, and how to put them down for good. Their stay did not last too long, however, as hours after they arrived in this place, the power shut down. And off in the distance, another bright flash of green light appeared, this time with such a force, it was like staring at a nuclear bomb going off. What came from that flash was a swarm of hundreds of the most dangerous predators one could ever meet face to face.
Xenomorphs.
Soon after they arrived, music began to play over the comms, speakers, anything with a microphone; playing loudly enough to attract the aliens. Without power, and their systems hacked, their defenses were weakened, and soldiers were massacred while trying to fight them off. The aliens soon traveled down into the prison below, but thankfully the cells were opened, and prisoners quickly tried escaping. Our heroes teamed back up again, with healers doing their best to revive the weakened comrades, but their escape wasn't just stopped by the Xenos, but also a suddenly influx of water. The base had suddenly gone into self-destruction, as all air vents were flooded with enough water to drown the whole underground. Exits were shut off, and airstrikes bombarded the base from the skies to kill off the aliens. Escape seemed impossible.
Thankfully for our heroes though, a Doctor came in to help. The Doctor. And not just one, but three, each taking charge to find a way out of the prison before the aliens got them, or the flooding did. By complete accident, when everyone was in the contraband warehouse of the prison, storing the gear of what seemed like hundreds of 'scattered' gear, someone actually managed to find a TARDIS, the famed ship of The Doctor. (Though the man standing in front of the box hiding the TARDIS got knocked out cold when a wall of the box suddenly fell onto his head.) The heroes rushed into the ship, and before the aliens busted in, they were gone. Now out of the fire, our team will now try to find the answer to the questions they arrived here with.
Where are they, why were they here, and what was doing this?
---------------------------------------------------------------------------------------------------------------------------------------------------------------------------------------------------
As the TARDIS flew out of the base,
well it more just dematerialized,
the whole place shook side to side, like it was sailing through a storm. It lasted for only a few minutes, but once it finished, everyone was sure to be dizzy and nauseous. 10 held onto the center console, keeping to his feet while the TARDIS shook, and when it all calmed down, he shouted,
"Everyone alright?"
A few groans escaped some people, but Amy was first to shout,
"I'm fine... Landed on my tailbone."
"I landed on my actual tail."
Garrus commented, with Amy looking at him with that 'do you actually have a tail?' And Garrus quickly retorted with,
"Nah, I'm kidding."
"Yeah, figured, you don't look the tail type of aliens."
Amy again commented, offering a hand to help Garrus up, which the Turian accepted.
Rory, meanwhile, had landed on top of Laval his body sideways to hers. The moment he realized he was on her, he quickly got off.
"Oh, s-sorry about that!"
He also offered a hand to help her up.
Callintus was helped up by John, and Kirby jumped onto his feet by himself, already venturing around the TARDIS' interior to look it over. Alec probably had the most luck with people falling onto him, because a very flirtatious Abby commented on them being on top of each other another time, which..... Well, a small blush on Alec's cheeks showed that clearly took him off guard. "Oh, uhh... You love teasing, don't you." He said, trying to shake off the warm feeling on his face.
Luxem somehow ended up squeezed between Moire and Morgan-- scratch that, he was the luckiest, Morgan's chest was right in his face, and his arm was stuck under Moire's head. This...... shouldn't feel nice right now.
"How, by Julianos, does your door keep the water out?" Callintus asked. There wasn't a single drop slipping through the door, even though the water had reached past their hips by the time they got inside.
"We're not in the prison anymore, TARDIS moves through time and space using a thing called a time vortex, allows it to sort've 'move' without really moving, it sort've lives inside time itself, shifting its exterior to the vortex, flying to the appropriate point in the vortex, and then placing itself in the appropriate space & time within the physical universe... Imagine it like a rock,"
The Doctor made a hand gesture like he was holding a rock,
"it's floating just above the ground, but when the Earth moves, it doesn't, so when you put it back down, it hasn't moved, rather the planet has."
He also made a circle with his finger under his other hand to demonstrate the point.
"So.... it seemingly defies the laws of physics?"
"A bit, yeah."
"......... HAHAHAHAHA!!" Callintus let out a uproarious laugh, then hugged the good doctor; patting him on the back. "The things I've witnessed in my life, I yet still find myself discovering anew!"
The Doctor grunted once he got put into a hug, because Calli has very tight grip.
"Well.... glad to broaden your horizons..."
He just gasped out. Callintus let go and looked to the other Doctor's. "As well to you both! I can't say I've ever had the good fortune to meet reincarnated gods!"
"Wait, what?"
Amy asked, as she came over to her Doctor.
"You think the Doctor's a god?"
"You both mentioned something of 'regeneration,' isn't that simply another word for that?" Callintus argued. "I'm assuming you control the wonders of space and time from your worlds, no?"
-------------------------------------------------------------------------------------------------------
As Callintus and the Doctors spoke to each other, and the others got reacquainted or explored the TARDIS a bit, a sudden bang would draw everyone to the center console. John, had thrown Scott, the prison guard caught up with them, back first into the controls, and when John threw a punch into his stomach; sending Scott to the floor, John drew his gun.
"NONONO!"
10 shouted at Wick, attempting to grab his gun, but only to end up on his back, as John threw 10 over his shoulders the moment he tried grabbing his weapon.
Alec threw his own gun up to the back of Wick's head. "Put it down!" He shouted, as Garrus joined the Scotsman; aiming his rifle at John's chest.
John stayed quiet for a moment, before speaking up.
"He was working for the prison. He has answers we need!"
"Y-Y-Yeah, I-I'll tell you everything!" The guard promised, as he threw an arm up from the floor, while the other hand clenched his stomach in pain. He coughed a few times, before speaking up.
"Everyone put your weapons down!"
10 shouted even louder, showing his rage.
"We have had enough killing for one day, and what I don't need is blood shed within my TARDIS, so if you want to go back outside, you do what we say,"
pointing to himself, 11 and 13,
"AND PUT, YOUR GUNS, AWAY!!"
He screamed right into John's face, nose to nose with him, yet Babayega was unphased by it. A few more moments to silence passed, before Wick holstered his pistol. The moment 10 looked to Garrus and Alec, they did the same.
"That prison,"
10 focused back on Scott,
"what was it used for?"
"Keeping you all locked up." Scott quickly answered, leaning against the console as he stood back up.
"In cells or chains?"
10 asked, aggravated still.
"You were holding many of us in this group in labs designed to torture them, why?"
"W-We have those labs to experiment with new tech we receive from scattered. From how diverse the scattered are, some don't die conventionally, so we try figuring out how they die--"
"Why?"
".... Did-Did you forget where we got you all from?--"
"No, why imprison them? Your world underwent catastrophe after catastrophe, you were invaded constantly by forces you didn't understand, but surely someone in your military or government knew that maybe there was a chance that one of these invaders could be spoken to, reasoned with, bargained with, so why capture every 'scattered' you come across and kill them?"
He understood why they needed to evolve their defenses, as the threats this world faced were mighty. People were scared, and needed to adapt or die, but to kill all who came here without so much as to question them, why?
"We..... We never really gave it much thought." Scott answered honestly.
"Well, then your bosses are clearly stupid and ignorant if they believe sadism is how to solve the issue."
"L-Look, most of us there didn't want to do this!" Scott tried to explain. "I-I was horrified by what was happening there, I wanted to protect my home, I didn't--I didn't--"
"You didn't what?"
The Doctor now got closer to Scott, anger and fire in his eyes as he stared directly back at Scott's.
"I-I-I... I-I... M-Michael, Michael Elgin, the man in charge of the prison, he enforced these rules about treatment of prisoners, and-and he punished soldiers who didn't abide, if-if-if I didn't do what he said, he-he'd have me executed for treason!--"
"No lieutenant has that much control in a prison, much less a military base!" Alec commented.
"But-But the brass he worked under didn't care, they just wanted results, and he gave them! They don't give a shit about regulations, everyone knows they're corrupt as hell"
"The military?"
"Them, the government, congress, it's all trumped up, they just want scattered dead under any circumstances!... L-Look, I know you all want my head, but trust me, I didn't want to be there as much as you! I was told I was going to be on recon for scattered territory, places where scattered show up the most, I didn't think that meant I'd end up watching people get spikes stabbed into their arms!"
"So what, is this a 1984 government system?"
Rory asked, to which Michael asked,
"What the hell is that?"
"Of course he doesn't know."
Rory threw up his arms.
"So we're facing Ingsoc apparently!"
"Ingsoc?"
Garrus asked.
"Fictional totalitarian party in a book about authoritarian governments ruling the world."
Rory answered.
"You really think the government in this world would become that?"
"Well given how destroyed this world is, I'm shocked there's even still a civilization standing, and if there is, I'm not shocked."
"Make enough people scared, they'll follow anyone who can protect them... even if they're the ones they should be the most scared of."
10 commented.
"Your government, where is it located?"
"Central Europe. Most of the cities bordering around the oceans were the first to be invaded by scattered, so many leaders went inland."
"Wait, wait, wait, I wanna guess......... Moscow?" Alec asked.
"I don't know what the city was called before."
"Does it have the Kremlin?"
".... Yes?"
"Oh I knew it!" Alec shouted out with laughter.
​
Last edited: