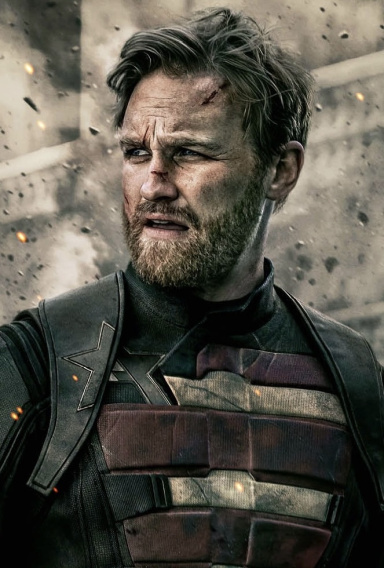 Where Did This Beard Come From?
Roleplay Invitations

Group Roleplays, One on One Roleplays, Private Convo Roleplays
Posting Speed

Several Posts a Day, A Few Posts A Day, One Post a Day
My Usual Online Time

Will be updated when school year starts. For now, pretty much whenever
Genders You Prefer Playing

Male
Playing Style- Passive or Aggressive

Mostly Passive, Sometimes Agressive
Lincoln Campbell
Lincoln was catching his breath as he tried to process everything after he had given the man the stress ball and he really wished that he kept something longer than a sweatshirt for the woman who was only wearing his hoodie. Of course, he was a gentleman and was looking directly at everyone in the face.
Panicking wasn't going to get them out of the situation and he knew that was a fact. They needed to work together to figure things out.
"
I agree with the woman, it isn't going to help us get out of here and figure out where to go next in this wasteland. First thing is first though, we need to get the fuck out of the building and I'm guessing the way that the panicking soldier is the only way down."
He did note however that the window that the man had broken was an alternate option, but he doubted everyone could handle a fall from that height. He wasn't even sure he could even with his powers.
Lincoln had to take a moment to think of their option and remember his basic survival instinct from his time on the run. One thing was certain, they were going to need to find the woman from the bathtub something better than his hoodie, so they would have definitely find a clothing shop in this wasteland. He was sure that there had to be at least one, as it felt like this was once a city and not always like this. It was a good thing he knew enough about cities to know where it might be a good idea to head and he took a deep breath, thinking of where else they would need to go.
The next for sure thing they were going to need to locate was food and water. If they didn't have that, it didn't matter how many of those monsters there were, they would die of starvation and dehydration first. Being starved and dehydrated, they were more likely to betray each other for food which meant there would be death and he didn't want to have that either. He was thankful that between Marcus and himself, they had gotten the younger boy's head screwed on straight before he had to be quieted or injured in any way. He was also relieved to see that he was using it to relieve himself of all the things that were ailing him, He also knew they were going to need a ton of medical supplies to make things didn't go wrong though.
"
It's okay, we all have moments where we lose ourselves a bit, "
he replied, thinking of what else they were going to need to do. He took a deep breath and seeing as there wasn't any way he could see it get worse, he knew that it was going to mean working together. Of course, they were going to have to start by going down. Even if the city was on fire, there would still have to be remnants of the civilization that used to be there. It was the truth of the matter and he decided it might be good to bring it up though too,
It would seem that Alec was right on where to go as this city didn't seem to brimming with life and he had a feeling that nobody would be found here. He could be wrong, but he highly doubted that was the case though as it would seem to be quite honestly though.
"
I agree with her, we have to go down first and then as much as I hate to say it, I have a vague idea of what might be a good idea to head too, but first we go down.
He paused and wondered if there was something other then the stairs, but it seemed like it was their only option as far as they can tell, so he decided to ask the question. "
You came from the stairwell, what can you tell us about what is happening downstairs?"
He asked Alec.
The last thing he wanted to do was run head first into danger without knowing anything. It seemed that nobody else was here to attack them, but who was to say about downstairs?
Lincoln took a deep breath and decided to point something out to the group. "
I think once we get out of the building, there are four things we are going to have to address though. Though the hoodie is a temporary solution, we are going to need find Alicia some more clothes so that she isn't attacked or scratched by whatever those things are and become one of them. The next two things that we are going to be certain that we find is some food and water. I doubt we are going to find any five star dining restaurant here that isn't on fire, but some candy bars, whatever we can raid and make use of to make sure that we don't die of starvation or dehydration."
It was with a slow realization that there was a fifth thing that he had completely forgotten about and he realized that he should have remembered about it sooner. "
We also should raid a hospital in case any of us are hurt during the attacks. I have some medical supplies in my bag, but it won't sustain the whole group."
He waited to think if he should mention the last thing as it was truly for the worst case scenario, but seeing as the city was on fire and none of them knew how they had gotten there, it was the most important thing as well.
He took a deep breath and composed himself before he said it.
" There is one more important thing we are going to need to find if it gets too dark or things start to look back, we are going to need find a form of shelter to barricade ourselves that isn't on fire and where we can sleep. I doubt that these are going to be easy things to find, but first thing is first, we are going to have to travel downstairs and get out of this burning building first, but we should keep those things in the back of our minds."

Silvir

AIM Leader Wade

Snowtwo
Nero Kunivas
@Minerva
1