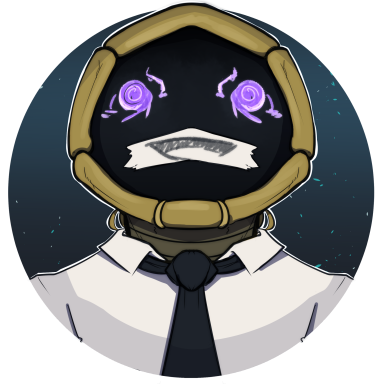 Mysterious Stranger
FOLKLORE MEMBER
Invitation Status
Writing Levels

Give-No-Fucks
Preferred Character Gender

Male
Genres

Any.
Abby peers over the edge of the hole watching Vaudeville descend in a circle into the cave. She puts her hand over her stomach and steps back, unsteady on her feet for a few moments before righting herself.

"Maybe flying ain't for me. I just watched her and..huggggh." Abby pulls off her helmet and heaves once, but does not vomit as she fears in the moment.

"I'm okay….I'm good." She tells Alec who would be concerned for her(she assumes if he is a good boyfriend) and puts her helmet back on.

Hearing Pete gripe about 'someone' starting a forest fire, Abby shakes her head.

"Come on…fire can just…happen ya know? Don't got to be that somebody set the fire on purpose or accident." She argues lightly.

Chum uses her flail to float down after Vaudeville, earning a "Huh, that's nice." from Abby before she goes "Wow" at Volare making an ice that would take them down. People started going down right away, either with the ice ramp or in the case of Nolan, a parachute.

"Hey hey now, weren't we waiting for golden girl?" Abby asks of the others. Abby was not the brightest bulb in the house, but she was a good listener, and she was certain Vaudeville had said to wait for her before going down. She watches Lancer and Reta go down, and shrugs.

"Well, guess that ain't what we're doing." Abby says and steps onto the ice ramp. Her boots grip the surface of the ice with each careful step, and she holds tight to the rail of the ramp with her left hand while her right holds her Death Pod, ready for action at any moment.

Circling and gliding down, Vaudeville is aware that at a certain point the sunlight does not follow her even as she knows the cave goes straight down with no turn or curve. When fully enveloped in darkness, she clings to the sides of the cave and crawls down. To aid this, she forms four tendrils to act as extra limbs in her climb.

With eight limbs working in concert, Vaudeville reaches the bottom quickly and is immersed in cold water. Oxygen is filtered from the water allowing her to keep going without slowing down. Her hands and tendrils feel things in the cave wall that are not rock, but smooth glass.

Lights. Now we're getting somewhere

Her hands touch the bottom of the cave, and it is smooth metal.

Could force this one open. Huh. Maybe hijacking one of their ships first would have made this much easier…oh well we're here. Now to tell the others.

Vaudeville skitters up out of the water and ascends the cave.

Sure hope nothing crazy happened while I was down here. Like the Indominus and her posse showing up. I'd really rather not have to fight that thing off. Then again between just Batman and Kassandra are they really a threat? That would be cool to see. And the chick with the ZF-1. And the wizards. Yeah they'll be fine. Wait. Is that Nolan?"

This last thought happens as she reaches light again, and sees someone coming down in a parachute that yes, is Nolan, and the ice ramp coming into view.

Seriously?! Did nobody listen to me?!

Vaudeville leaps off from the cave wall to intercept Nolan in mid-air, ripping off the parachute and hugging him to her chest as she reaches the other side of the cave wall and clings to it with her tendrils.

"Nolan, sweety, did you not hear me about scouting the bottom first?" Vaudeville asks, exasperated as she holds him to her chest and keeps skittering up the cave.

"Hey! You all got gunk in your ears?! I said to wait dammit!" Vaudeville yells up at the others as she comes into view for all, red eyes narrowed.

"Anyway! There's a door…gate…whatever at the bottom I could maybe get open, but you can't see anything down there. No way we're getting everyone down and in quietly without one of their ships. So be ready for a fight when I get back down, wait for you all to reach it, then force it open. Got that? Sure hope so because here I go." She tells all of them quickly and descends again with Nolan in tow.
When Abby looked over to her boyfriend, in need of some comfort for the long trip down an endless black hole, she would find that he was not a great boyfriend in this situation, because he was by the ramp Volare had made; staring down it with contemplation.

"Hm?..... Oh, yeah-yeah, it'll... it'll be fine." He half assed assured her as he went from looking at her, to back down the ramp and his voice trailing off by the end of his sentence. "..... I.... Don't know when this'll happen again, but I refuse to wait for another time to do it,"

Honestly, this seemed way too fun not to try. Backing up for a running start, he bolted to the ramp down the hole, and right as he touched the ice, fell to his back to slide all the way down. Even letting out a, "Weeeeee!~" raising his hands in the air like a child going down a waterslide or snowy hill.

His armor would make for a good sled, but because of how rough the ice was so people wouldn't slip, to say he was even sledding would be not entirely accurate. More like gently floating, going fast enough to pass everyone else, but not so fast that they couldn't see or hear him in time to move.

He tried staying on the side where he wouldn't run into people, but everyone would hear him before he even came close to them. Whenever they looked, his expression went from joy to disappointment that this had not gone his way, but didn't stop himself, so he just kept on going until he reached the bottom, using his hands to give himself extra momentum if he slowed down too much.

Pete, following what Vaud has asked, which was to wait until she scouted ahead, couldn't help but sigh in frustration at everything happening. You got soldiers acting like a child, one team member pushing another into the goddamn hole even with a parachute on, the ogre jumping down after Vaud and everyone following after her. These were the people he was putting his faith in to get him off this planet alive. At least there was a way down, following everyone else AFTER Vaud gave the go ahead.

Drake and Batman would have their own ways of getting down. The Dark Knight would simply jump off the edge like a cave jumper, before his cape turned into a glider that allowed him to gently breeze down along the sides of the cave. Drake, however, did almost the same thing, but with a noticeable difference. With his large hoodie cloak still wrapped around his body, and believing he didn't need to be on the ramp with the others, Drake a took a moment to concentrate on himself.

He shut his eyes and took deep breaths, as a purple aura formed around his body. Along his back were four translucent dragon wings taking shape, slowly extending outwards to stretch, before he also took a running leap off the ledge and flew across the air. He followed along behind Batman, leaving a small trail of purple light that gently faded like smoke.

Once reaching the bottom, Drake's wings and purple aura vanished into the darkness, and Batman pulled out several small glowsticks from his belt to illuminate the darkness of the cave. Alec reached the bottom with an anti-climatic thud on the rock once the ice ended, and simply sat there feeling like a bit of a fool for everyone to look at. "..... Didn't go how I thought it would." He simply said, with Pete passing by him to comment,

"Figured that out now or halfway down?" His tone was unimpressed annoyance.
Nolan Madison
Once again in the arms of a lady, feeling embarrassed
One thing Nolan wasn't expecting when descending, doing his best from hitting the walls as he somehow maneuvered the parachute. Was easily the sight of light fading despite the sun shining bright above. He was positive that they'd need flashlights by the time they reached the bottom.
This fact kept Nolan's attention so much so that when he saw a flash of yellow and that keen sense that he was about be impacted, Nolan's breath was caught in his throat as he was grabbed by Dominique, Nolan wrapping his arms around her out of pure instinct as if to brace himself. Especially when he heard the parachute being ripped and the weight of the parachute bag falling away and the only thing keeping him from falling the rest of the way was the yellow symbiote clad woman.
Nolan not quite realizing what he was being held close to until last moment and he quickly got flustered, especially when he heard her words about him not hearing her previous statement. Nolan tried to stammer out a response, but he just couldn't find the words. He just kept making noises as she climbed up. Eventually startled out of his stupor as she yelled up at the others.
"I....Uh.....Was looking at the parachutes....And I guess someone thought I wanted to jump down...Sorry." He finally got out as he did his best to focus on the approaching ground or the sky. The former making him realize how far down it was, he tightened his hold out of fear, choosing to close his eyes to avoid thinking about it.
@Amber Franklin
@Grehstone
@Wade Von Doom
@Jenhal
@Valkan
@Wiggin