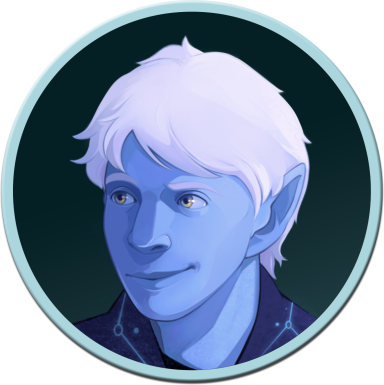 Stargazer
Original poster
FOLKLORE MEMBER
Invitation Status

Look for groups
Looking for partners
Posting Speed

Multiple posts per day
Writing Levels

Adept
Adaptable
Preferred Character Gender

Nonbinary
Transgender
Agender
Primarily Prefer Male
Nonbinary
As the lights dim, a seductive haze envelops the theater, caressing the air with the intoxicating scent of rich wine and heady incense. The audience settles into plush velvet seats, their anticipation as palpable as the smoke that hangs in the air.

Dionysus steps forward, his presence commanding attention. Clad in flowing garments that whisper with each movement, he exudes an otherworldly charm. His voice ebbs and flows like a river of indulgence as he addresses the gathered souls:

"Welcome, seekers of the forbidden, to a realm where senses awaken and boundaries dissolve. Behold the maddening tapestry that unravels before your very eyes! I, Dionysus, conjurer of revelry and a master of masks, bid you entry to the labyrinths of the human psyche.

My dear audience, in this realm where pleasure and pain intertwine, your hidden cravings may stir, yearning to break free. Can you resist the call? Will you confront the demons that dwell within, lurking beneath the surface of propriety? Or will you suffer the same fate as those chained to the stage?"​
***
Welcome! This is my first time creating a group roleplay thread, and I'm equally nervous and excited to dive into it.
The world I've created takes place on modern-day Earth and within the boundaries of Greek mythology, which is to say, whatever exists inside the mythology exists in this world. However, this is not like the Percy Jackson series. The gods will not answer your pleas, nor will a horned friend be there to catch you when you fall.
Involved with a struggling theater troupe, a group of aspiring actors and actresses discover an ancient manuscript tucked away in the depths of an abandoned theater called The Elysian Playhouse that their acting company had recently acquired. The manuscript is said to be penned by Dionysus, promising unrivaled success and fame to those who dare to perform the play contained within its pages. Excited by the prospect, they decide to stage the play, unaware of the forces they are about to unleash.
As rehearsals commence, the boundaries between performance and reality begin to blur. The actors find themselves caught in a nightmarish loop, unable to distinguish the stage from the real world. Their performances elicit powerful emotions, tapping into their deepest desires and fears, while strange occurrences haunt them both on and offstage.
Posting requirements are at least once a week (if you need longer, that's fine, you can PM me and let me know). Writing level doesn't matter, but please write at least one paragraph per post!
Be warned that this is a
horror
plotline with some hard stops (no depictions of SA, please, off the top of my head) and whatever else you aren't okay with. I've included a line for you to write in your hard stops on your character sheets.
I'm looking for at least four people to start. Of course, I could handle more, but this is the bare minimum I can kick this off with.
If you'd like to play a non-human character, don't be afraid to PM me to work out the details if you want more than just a decorative flair for your character. The other caveat is that there is no Mist, and you are limited in disguise, but I refuse to say nothing in that aspect is impossible or unworkable. If Daedelus created leg coverings for your hooves, or you managed to get a spell from Hecate's brood or something, fuck yeah.
For the character in the play, you can also make them non-human if you so wish. That one is more limited, but again, I'm willing and able to work with you on this! I'm a character-driven DM, so I start with a rough outline and center your characters just as I would in a one-shot or campaign.
Main Character
Content No-Gos:
Name:
Pronouns:
Age:
Species:
Gender:
Orientation:
Appearance:
Personality:
Background:
Best Quality:
Character in the Play:
Name:
Pronouns:
Age:
Species:
Gender:
Orientation:
Appearance:
Personality:
Fatal Flaw:

The Play and Reality​
The story takes place in modern-day Chicago, where the Elysian Playhouse, a once-thriving cultural haven, stands as a forgotten relic in one of the city's northern neighborhoods. With its grand facade now weathered and worn, the theater carries a sense of melancholy and nostalgia, a testament to its former glory.

How it will work is that I will play both Dionysus and the character I create for the mortal realm; they will be my tools in guiding you along between reality and Dionysus's realm. The further we get into learning the play, the more often you will witness... Strange things. "Visions of the Unbound" is a haunting and macabre tragedy that weaves together elements of body horror, psychological torment, and existential dread, delving deep into the darkest recesses of the human psyche. The play follows a diverse group of individuals who unwittingly stumble upon a hidden realm known as the Obsidian Vale after a night of drinking and debauchery. Dionysus, pleased with their chaotic merriment, makes them an offer: spend the night in his grove and receive their greatest desire, or return to the mortal realm and leave the Obsidian Vale as a distant dream.
Let me know if I missed everything!

​