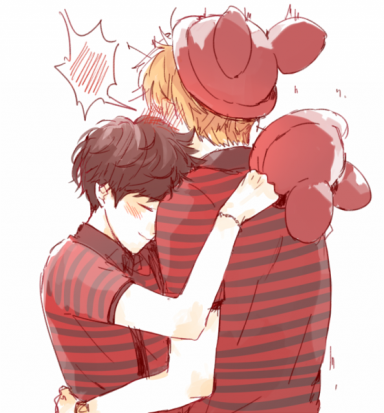 The Lovers
Original poster
Invitation Status
Posting Speed

Speed of Light
Multiple posts per day
1-3 posts per day
One post per day
1-3 posts per week
Writing Levels

Intermediate
Adept
Advanced
Adaptable
Preferred Character Gender

Male
Genres

Romance - Action - Drama - Fantasy - YAOI .... I feel like I can put everything here so don't make me do it ^^;

Arden
"I cannot run away from my problems, but if I stop they'll eat me alive."
"Leave me alone! Please!" A female voice called out as she was running through the streets. No one spared her any glances, in a way, this was close to normal. Arden had been stuck doing this on several occaisons, running through the town to escape the men that was chasing her in black. They were persistent, but most beings would be when they were only breaths away from riches. It was a horrible fate, but no one seemed to care as most valued her bead over anything else. To be born as a Kumiho was close to a curse, a life of running and hiding for the rest of her life, it had always been like this. They were chasing her for the damned bead she had been born with, a Kumiho's heart one could call it. If taken or given away by a Kumiho, it would grant a wish to whoever held it, one wish before it broke, and it was unconditional. There were limits to what it could do, obviously, as it could not alter the world in any shape or form, but wishes for riches and love was possible, the same with youth or even immortality. It was why Kumiho's were close to exctinct, in the beginning, there were several clans and houses, they were almost as common as humans, but then greed consumed most when the news of their beads was spread like wildfire throughout towns. They were hunted like mere animals, beads ripped out of their bodies as their souls were shattered like a piece of glass. Beads had been easy to buy once, but now they were almost as rare as the purests of diamonds, making her a prime target to all who held greed above her life, which was most.


"Stop her!" One of the men called out. "She's getting away!" Another one added.

Her silver ears were bending backward to listen in on their conversations. Amber eyes not daring enough to look behind her, scared to see if the numbers of chasers had increased. Normal humans would sometimes help in these hunts, wanting a reward or a part of the money when the bead was sold, which was why Arden had learned that she could trust no one but herself. It was why she wasn't screaming her lungs out for help because it never came. The blue markings on her body were visible, which would usually hide underneath her clothes or magic, but in her panicked state, she did not manage to do so. There were illuminating in faint blue light, in the dark, they would have lit up, but it was in the middle of the day, so they were less visible. However, the markings' faint glow become more evident when Arden stomped her foot on the ground, raising the pavement behind her to create a wall. It was her transmutation power, which made her valuable enough. The ability to take dirt and make it into gold was priceless too, but thankfully they only knew of her bead.

"Are you so blinded by greed that you'll die for it?! Are you?!" Arden yelled out to the men. She was out of breath, a hand coming up to dry some sweat away from her forehead. She had been running all day, they had found her early in the morning, and she had only lost them for an hour, there was no rest for her. "There is wealth for you elsewhere! Leave me alone!" She added to her pleas.

They fell on deaf ears, as they usually would, and the wall of pavement she had created got punched through. They were magic users like her, which made getting away so much harder than if they had not been, and Arden was already so tired. "Come with us Kumiho; we wouldn't want to hurt you-- too much," the man gave off a disgusting grin followed by laughter by his fellow hunters.

"You are nothing, but a group of hyenas laughing at an injured lion!" She yelled at them, her voice hoarse from all of the yelling she had done today. "If you are so willing to fight, then I'll give it to you!" Arden called out as she surrounded herself with sharp lances made out of ice. Unlike the legends, she was not a monster nor a demon. The last thing Arden saw herself doing was ripping someone's heart out and eating it as the myths foretold. Even the mere thought of hurting someone was unappealing, but this was self-defense, and she could not stand down if they were willing to go as far as to use magic. The ice shot itself forwards as the men charged at her, none of them aimed to kill, but all of them were sharp enough to do so, she made sure to focus at their legs, cutting them or stabbing them to slow or stop their movements entirely. Her only thought was to get away, to run away and hide so her tired body could rest. She was chanceless in a fight, Arden doubted she would last five minutes, which was why she needed to run.

Arden didn't wait to confirm whether or not the ice had gotten them all, instead, she turned around and ran again. Her attack should slow them down a bit, buy her a few minutes where she could lose them behind a corner or in a busy street. Their steps were still behind her though; they were approaching at a rapidly fast pace, making her hand reach itself out and touch a car. It changed into a flock of birds, catching the men off-guard as they flew straight into the men before flying away. Her power of transmutation wasn't limited to objects, but whatever life she created with her ability was not hers to control, which was why Arden could not make the birds attack the men, but she would have summoned some willing birds if she had the power to spare.

It was only for a millisecond that she glanced behind her, but it was enough to slow her down just a little bit as her arm was grazed by something sharp. A yelp escaped Arden as she raised the pavement again, but this time her hand touched it and turned it into metal, making it tougher for them to punch through it. The Kumiho ran to the closest alleyway, quickly hiding in the dark before leaning up against the cold brick wall. Her eyes traveled to her arm, blood was seeping through a deep cut, but the problem was not the injury in itself, it was the dust she could see in it. It had to have been poisoned, cursing underneath her breath, Arden attempted to heal it, but her strength was already fading. "Dammit," she added before she heard steps approaching her again. Her gaze lifted itself from the dirty pavement ARden was sitting on, to the men that had chased her only movements earlier. She could not hear their voices, but they were talking about something. Her vision was already becoming blurry, and the last thing she could remember is the man grabbing her arm and lifting her up before she got engulfed in blackness.

A groan escaped Arden when her consciousness returned. It was cold, her entire body felt cold and even a little bit wet. The Kumiho had to struggle a bit to sit up, blinking her eyes to get her vision back. It was dark, she could barely see, but it was enough for her to know she had been taken to a room, perhaps even a basement? The floor was damp, which was why she felt cold and wet, and water was dripping from the roof. There were no windows, only a door that she presumed to be locked. It had to be some sort of storage room for the black market; they had gotten her. A sob escaped the girl as the realization hit her, though she shook her head quickly and dried away a tear that threatened to fall. This was no time to cry! She had to get out, if she wanted to live, she had to escape! The only reason she was still alive must be because they failed to find her bead, which was good. The bead could not get taken away from a dead Kumiho, which was why they were too scared to kill her before finding the bead's location.

The drug was still affecting her body and mind, making her a bit hazy, though she managed to stand up. Standing was difficult, for some reason, she couldn't find her balance, and ended up having to lean up against the wall. Arden reached her hand out, wanting to create a little flame to give herself some light, but a sharp pain rushed through her body which caused her to collapse again.

"She's awake!" A male voice spoke from outside the room. The door did not open, but instead, it became transparent as a man stood at the top of the stairs. Unlike those earlier, he was well-dressed and did not hide his face behind a pair of sunglasses. He had sleek dark brown hair that was brushed back, matching dark eyes that were staring at her like an art fanatic looking at a painting, only trying to find out its value. He let out a chuckle when his eyes landed on hers, fearless enough to start approaching her.

"Do not step any closer to me!" Arden growled out loud as adrenaline allowed her to step back up on her feet. Her hand once again reached out, the markings on her body glowed a dangerous blue before the pain from before returned. A loud scream of pain escaped the Kumiho before she collapsed back on the floor again, the man tapping her head with his black shoe.

"Stupid fox. You cannot use your magic in here. The drug must be keeping your body numb, around your neck is an enchanted collar. It will keep giving you pain should you attempt to use your magic," the man informed before squatting down in front of her and lifting up her face. "Now, do you wish to sit in here and starve for a few days or will you make it easier for yourself and give up your bead? You could have made an excellent pet, but your bead is more valuable and less time-consuming," it sounded like an offer, but there was no real choice in the manner.

Arden gathered what strength she could and lifted herself a bit off the floor, shrugging her chin out of the man's hand before slapping it away. Her eyes were lit up with pure hatred; she would rather die of starvation than to give this man what he wanted.

He sighed but stood back up. "We'll see if you're this stubborn after a few days without food, drink, and light," it was his last words before he stepped through the transparent door before the steel barricade appeared once again.

All alone, Arden curled up on the cold floor, hugging her knees and resting her chin on top of them. One hand moved over to her neck, touching the cold metal that surrounded it. It was true; she had the accursed item around it. Her fist raised itself into the air before hitting the cold stone floor, the little puddle doing nothing to make it hurt less, but she barely felt the pain, even when the hot blood ran down her knuckles.

Arden had nothing to do now, but to wait for dehydration or starvation to get her, but only if they were merciful enough to let her die.

@SkittlesAndSpike
Last edited: